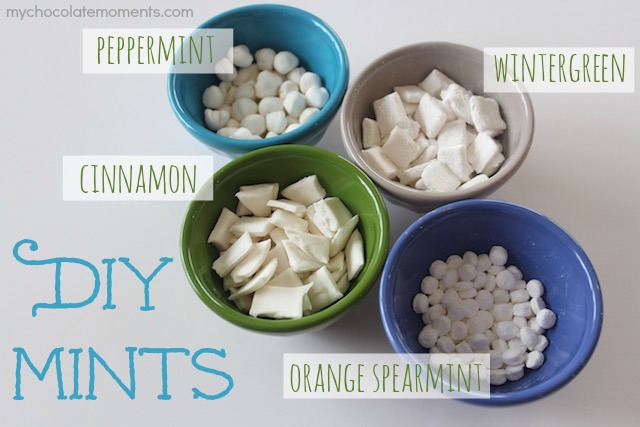 Did you know it's super easy to make your own mints?  Yep!  Like, crazy ridiculously quick and easy.
All you need is some gum paste and essential oils (powdered sugar is optional but not necessary) as well as a rolling pin and something to cut with.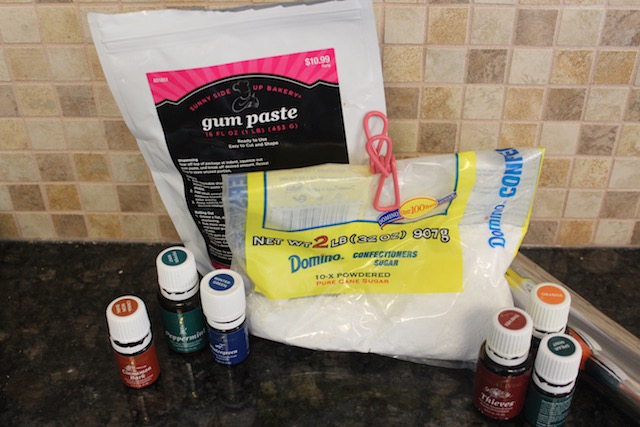 There are a TON of oil flavors and combinations you could use but these were a few that I had in my stash that I thought would be good (orange, peppermint, Thieves, spearmint, wintergreen, and cinnamon bark).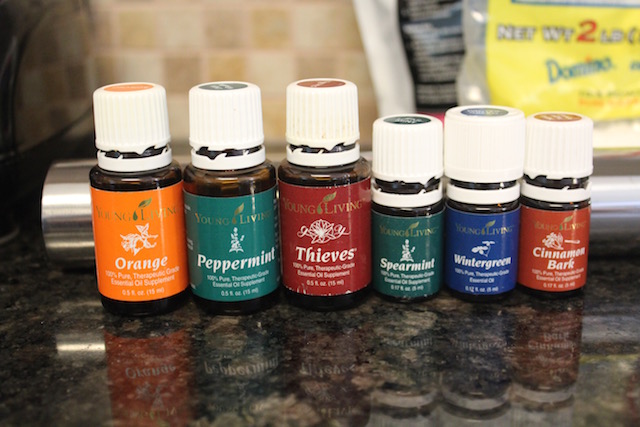 Take approximately 1/4 cup of the gum paste and knead it in your hands like playdough until it's nice and pliable.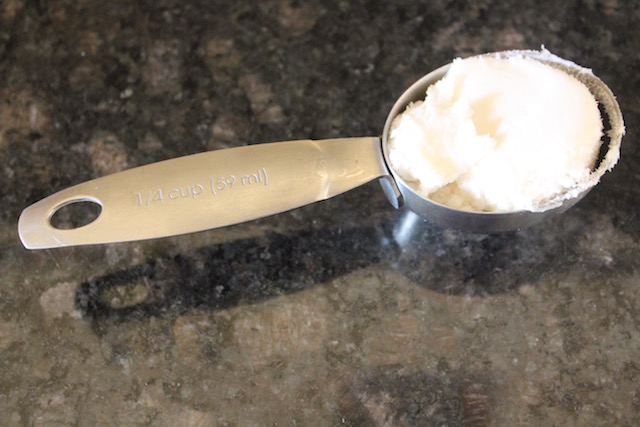 Flatten it out a bit and add your oil drops (I'll talk a bit about how many in a minute).  Fold the flattened "pancake" in on itself to keep the oil in the middle and then knead some more until you think the oil is evenly distributed.  This step smells amazing!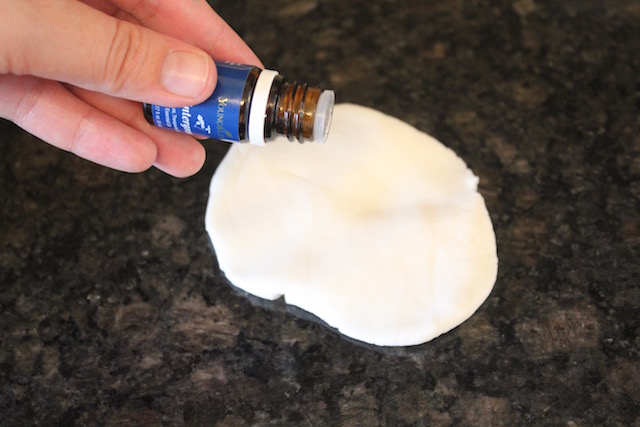 Roll your ball of oily gum paste out on a flat surface using a rolling pin and then cut the mints into whatever shape you desire.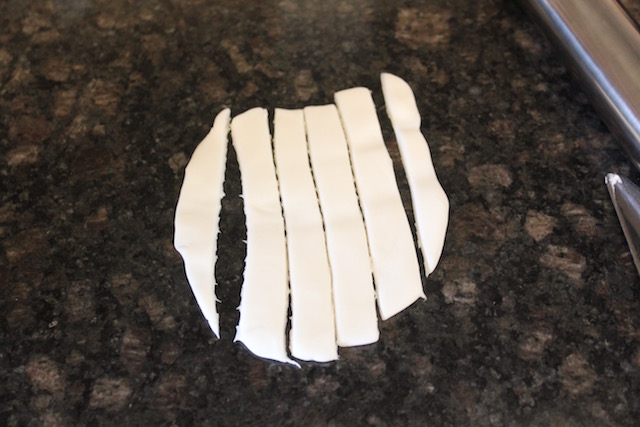 My first batch I cut them into squares and then rolled them into balls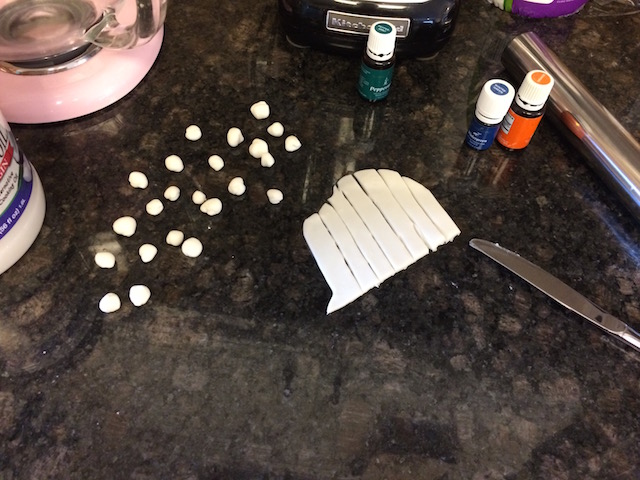 My second and third batch I left them just as squares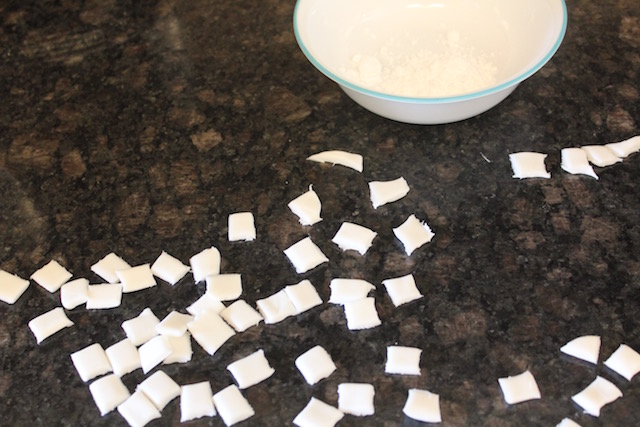 My fourth batch I used a straw (the straw with the largest circle opening I could find, which was the plastic bendy one from the cup they gave me at the hospital after I had Hudson) to cut out small circles.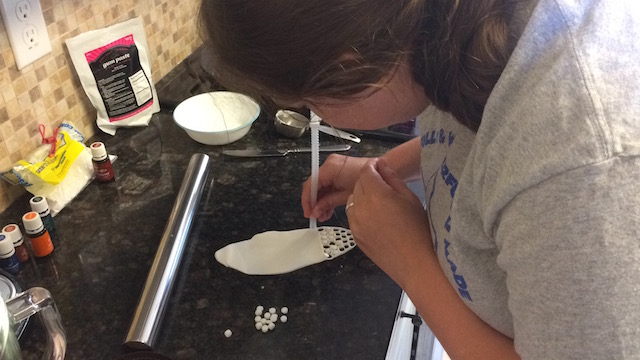 Two of the batches I tossed in powdered sugar as soon as I cut them out and before they had started drying (trying to get that altoid-like feel) and the other two batches I left plain.  Personally I prefer them without powdered sugar.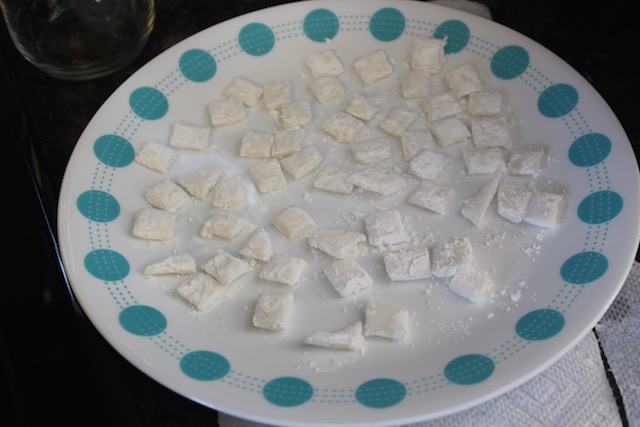 Then let the mints sit out and harden.  It takes several days before they are really good and hard.  The first few days they have a chewy, gum-like consistency.  After a few days though they harden and become hard enough that you have to suck on them instead of chew them.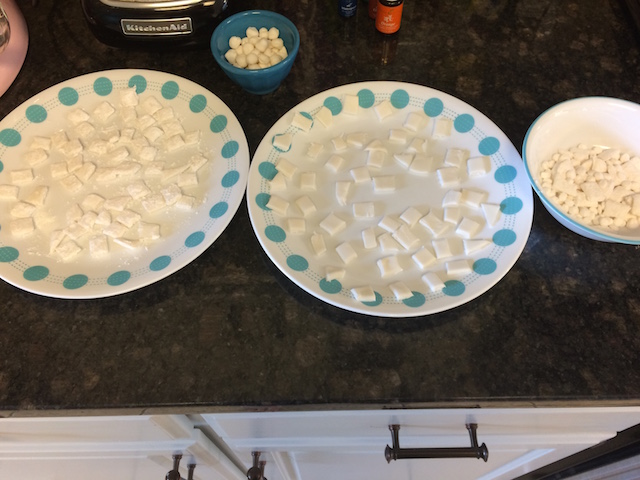 DIY mints
What you need:
– gum paste (I bought mine at Hobby Lobby, it's in the cake decorating section)
– essential oils (I use Young Living)
– powdered sugar (optional, only if you want to coat your mints with powdered sugar)
– rolling pin (I'm loving our new stainless steel one)
– something to cut the mints out with (knife, straw, tiny cookie cutter, etc.)
What you do:
Knead 1/4 cup of gum paste in your hands until soft and pliable.  Flatten out and drop oil onto the paste.  Fold the paste in on itself, keeping the oil in the middle so it doesn't roll out, and then knead some more until you feel like the oil is evenly distributed throughout the paste.  Dust a flat surface with powdered sugar and roll the paste out flat to whatever thickness you prefer.  Use a butter knife or other sharp utensil to cut into squares or use a straw or small cookie cutter to cut into circles.
Once the mints are cut out you can toss them in some powdered sugar or leave them plain.  Then spread them out and let them dry for several days.
Depending on how you cut them, one 1/4 cup recipe yields about 50 mints.
How do I know how much oil to use?
This was my main concern when I started making the mints.  Essential oils are strong so it doesn't take much but I wasn't really sure how much to use.  I tinkered around with the recipe and found that 5 drops seems to be perfect for my taste but of course every person (and ever flavor) will be different so play around with it!
These are the combos I tried:
– 3 drops peppermint (definitely not strong enough in my opinion, a very light peppermint flavor, not even close to that of an altoid if that's the strength you're going for) rolled into balls (I liked rolling the mints into balls.  It increased the drying time since they were thicker in the middle but they didn't have sharp edges like the squares)
– 4 drops cinnamon bark (not my favorite flavor and not strong enough) cut into squares (the edges of the squares are kind of sharp and can be pokey while being sucked on).
– 5 drops wintergreen (this is perfect and my favorite of the four flavors that I made!) cut into squares with powdered sugar (not a fan of the powdered sugar, it's like an initial super-sweetness that you suck off in the first few seconds and then the rest of the mint is not quite as sweet so it's an obvious difference)
– 5 drops orange + 3 drops spearmint (Michael loves orange mints and wanted me to make him some; these are his favorite of the four but my least favorite) cut into little circles with powdered sugar (the circles take a bit more time but look much more like a "real" mint)
– I had so many mints made that I decided to take a break and let us use these up first.  However, I think a Thieves mint would be wonderful too and you'd be getting some extra immune support as an added bonus!  One of the girls in my group made an orange Thieves mint and said it was really good.
I'm not sure that I ever would have thought of this on my own but one of the girls in my oils group asked one day if anyone had made mints with their essential oils.  She found this recipe, did some experimenting of her own, shared with the group, some others of us tried it out, and then I wrapped it up into a (hopefully) easy to follow recipe.  So it was definitely a group effort and I certainly don't want to take all the credit.  I'm just the one with the blogging platform to share :).
What do you think?  Worth a try?  What flavor or flavor combinations sound good to you?