I just have to share with you my homemade pizza dough recipe and the trick I recently learned to make it even easier.
I found this pizza dough recipe back in college when I started trying to eat healthier and in the years since we have made many, many pizzas using this recipe.
All you need is flour (we use white whole wheat flour), yeast (I've used all kinds and it doesn't seem to matter if it's rapid rise, specifically for pizza, etc.), water, salt (although I can't even tell a difference when we don't use it), and oil (the recipe says olive oil but you can use whatever).
ingredients
Dissolve the yeast into water.
Add oil and salt.
Add flour.   Mix.
Up until a year ago, we would then have to just plunge our hands in and mix and knead the dough until it was all mixed in.  This was an effective, although somewhat messy and time consuming, method.  Last year for Christmas I got my fabulous pink KitchenAid mixer.  It came with a bread dough hook so the next time we made pizza dough we decided to try it out.  Wow.  That thing is like magic!  You just put in the flour, fire up the mixer, walk away, and let it do it's thing.  About two minutes later, your dough is done!  Amazing.  I know today is not Works for me Wednesday, but using the KitchenAid to mix my bread dough definitely works for me.
Anyway once the mixer is done mixing the dough, or you are done mixing the dough if you did it by hand, cover it and let it sit for about five minutes.
Spread a little oil on your pan and lightly cover with flour.
Spread your dough out on the pan.  This takes a little time so be patient.  Ignore my crazy veiny hands.
Then just top with your desired toppings, cook, and enjoy!  Tonight my side had mozzarella cheese, green pepper, and banana pepper.  Michael's side had mozzarella cheese, colby jack cheese, bacon, and green pepper.  We use Ragu pizza sauce.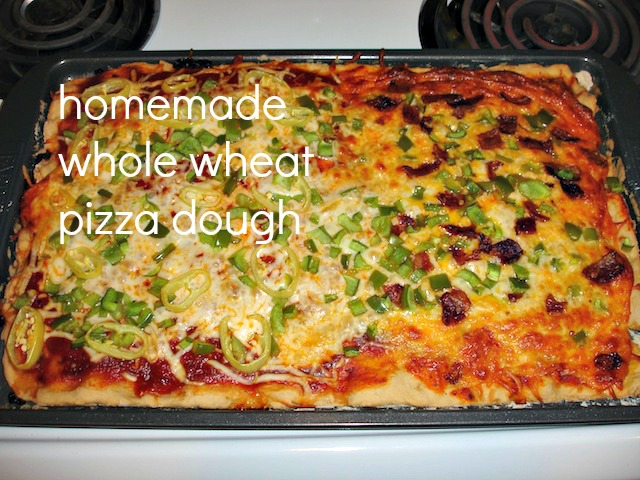 Recipe:
3 – 3.5 cups flour (mine usually takes about 3 cups, but it varies)
1 package yeast
1/4 tsp salt
1 cup warm water
1 TBS olive oil (or any oil, I used canola)
Dissolve the yeast in the water.  Add the other ingredients.  Add enough flour to make a soft dough (you want your dough not to be sticky to the touch).  Knead for about 5 minutes.  Cover and let rest 5 minutes.  Lightly oil one 14 inch pizza pan or two 13 inch pizza pans (I just use a cookie sheet).  Sprinkle with flour.  Form dough in a smooth ball and roll out or pat with your hands to fit the pan.  Spoon on sauce and add toppings.
The recipe says to bake at 400 for 15 minutes or until lightly browned, but we've found that baking at 350 for about 30 minutes makes a perfect (for us) pizza.
Another fun trick is to get disposable pie plates and let everyone make their own little personal pizzas.  Just make the dough as usual but let each person spread it in their pan, put on their desired toppings, and bake.  We did this once with some friends and it worked really well.