I've been making these quiche cups since I first started South Beach.  The recipe is loosely adapted from a recipe for quiche cups from the South Beach Diet book but I've tweaked and changed them a lot to suit me.  I never really used a recipe or wrote down amounts but I've had several people ask for a recipe over the years so I'm finally writing it down.  These make a great, healthy breakfast.
eggs, black beans, cheese, green pepper, turkey bacon, and crushed red pepper
Just so you know, the eggs are the base of the quiche.  As long as you have eggs to "glue" everything together you can add all kinds of other ingredients – spinach, sausage, tomatoes, onions – think of it like a pizza or omelet!  Like I said, I've played around with this recipe quite a bit until I found a version that I really like.  I've also found that this is a great way to get some veggies in with breakfast.
start with 6 eggs
add cheese
rinse a can of black beans and add to the mixture
chop the green pepper
cook your turkey bacon (I use one of these bacon cooker things that you can use in the microwave that catches the grease)
add your seasoning(s) – I used a liberal amount of crushed red pepper (I didn't measure that part – sorry!)
spray a 12 cup muffin tin
fill with the mixture and bake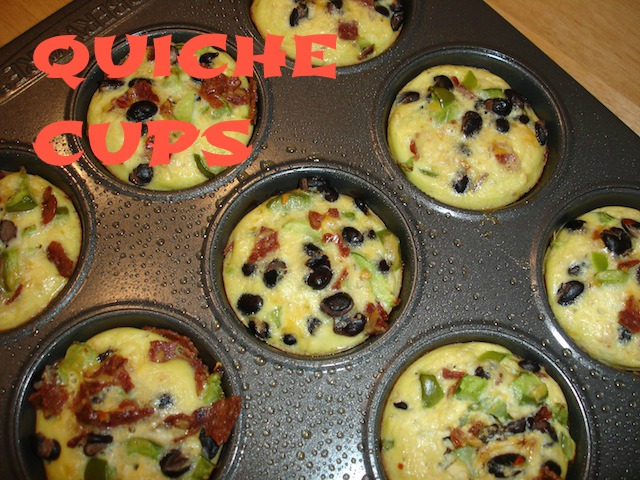 now you can start your day with a healthy breakfast!
Recipe
Ingredients:
6 eggs, beaten
1 cup cheese
12 strips turkey bacon, cooked and crumbled
1 can black beans, rinsed
1 green bell pepper, chopped
crushed red pepper
Instructions:
Mix together eggs, cheese, bacon, beans, green bell pepper, and crushed red pepper.  Spray a 12 cup muffin tin with cooking spray.  Divide the egg mixture evenly between the 12 cups.  Bake at 350 for 30 minutes or until quiche cups are solid.  Cool and store in the refrigerator.
Each quiche cup comes to 135 calories.  If you are doing South Beach, these are perfect for Phase 1.  I usually have two for breakfast – two quiche cups contains one egg and two pieces of turkey bacon so that's a good serving size.  Each morning I grab them out of the fridge and it takes just a minute or two to heat up in the microwave.
I think these are just the greatest things ever!  They don't take very long to prepare and can be made ahead of time.  They are quick to heat up in the morning so you can have a healthy breakfast without much preparation.  You could even take them with you to work or on vacation as long as there is a microwave nearby.