I really love traditions.  One of the traditions in my family growing up was that you got breakfast in bed, whatever you wanted, on your birthday.  When I got married I decided to carry on that tradition in our family so every year for Michael's birthday I make him breakfast in bed.  He always picks cinnamon rolls and the past two years I just made the Pillsbury ones in the can.  While browsing on Pinterest (of course) I came across a cinnamon roll recipe and decided to make homemade cinnamon rolls for this year's breakfast in bed.
I've never actually had Cinnabon cinnamon rolls, that's just what the recipe was called, so I can't really say if these are better than Cinnabon.  However, I can tell you they were amazingly delicious.
The recipe takes a long time to make, but it isn't particularly time consuming (mostly you just have to do a little bit, then wait, then do some more).  It's also much easier than I thought it would be.
I did tons of baking on Tuesday and Wednesday to get ready for Thanksgiving and Michael's birthday.  I tried to take pictures of all the steps but I missed a lot in my preoccupation with all the details.  You'll have to forgive me and just imagine a lot of stuff.
Start by dissolving yeast into warm milk
add butter, flour, salt, sugar, and eggs (imagine pictures of the flour, salt, sugar, and eggs)
I then threw all this in my KitchenAid mixer and let it do its thing until I had:
dough!  Cover and let sit for one hour – it will grow quite a bit
plop the dough on a surface that you can use to roll it out on (I used a rectangle cookie sheet)
roll out the dough
spread on the butter, brown sugar, and cinnamon mixture (which I failed to take pictures of before putting it on the dough)
roll it up, then cut it into 10 pieces
put them in a pan or pans (I would have used a large, rectangle pan but they were all in use for other Thanksgiving dishes so I improvised)
The recipe says to let them rise for 30 minutes then bake them.  Since I wanted to make these for Michael's birthday breakfast but didn't want to wake up nearly two hours early to make the dough, let it rise, yada yada, I decided to do as much as I could ahead of time.  So after I put them in the pan I covered them with Saran Wrap and put them in the fridge.  I left them there for about 36 hours before baking them and that didn't seem to hurt them at all.  This morning I set my alarm for an hour before I wanted to bake them.  I got the out of the fridge and set them on the counter to come to room temperature (then went back to sleep).  An hour later I put them in the oven and made the frosting.  So in case you want to make these ahead of time, know that they will still turn out fine.
this is what they looked like this morning after being in the fridge then sitting on the counter for an hour but before baking – you can see they got a little bigger than when I first put them in the pan
while they baked I made the frosting – it was very easy and very similar to my chocolate chip cheesecake dip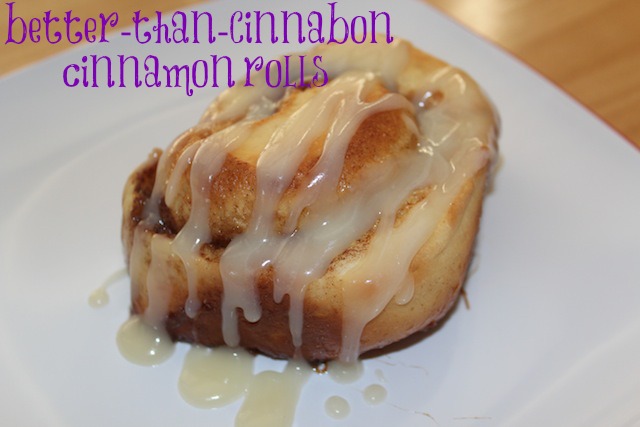 recipe (adapted from Bobbi's Kozy Kitchen)
ingredients
1 cup warm milk
2 eggs, room temperature
1/3 cup butter, melted
4 ½ cups all purpose flour, sifted
1 teaspoon salt
½ cup white sugar
1 package active dry yeast
1 cup brown sugar, packed
2 ½ teaspoons ground cinnamon (the original recipe calls for 2 1/2 Tbsp but that is way too much for me!)
1/3 cup butter, softened
Frosting:
 (I doubled the original frosting recipe from
Bobbi's Kozy Kitchen
'cause I'm a frosting-lovin' gal – check out her recipe if you want to make less frosting)
8 ounces of cream cheese, softened
1/2 cup butter, softened
3 cups confectioners' (powdered) sugar
1 teaspoon vanilla extract
1/4 teaspoon salt
instructions
1.       Dissolve the yeast in the warm milk in a large bowl. Mix in the sugar, butter, salt, and eggs. Add the flour in gradually and mix well (by hand or in your stand mixer)
2.       Cover the dough with a dish cloth and let it rise in a warm place for about an hour, or until doubled in size.
3.       Preheat your oven to 400 degrees.
4.       Roll dough into a large rectangle (Make sure not to roll it too thin, or it will rip when you roll it up). Spread dough evenly with the softened butter, brown sugar, and cinnamon mixture evenly. Roll the dough up and cut into 10 rolls.
5.       Place rolls in a lightly greased 9×13 inch baking pan. Cover and let rise until nearly doubled, about thirty minutes.
6.       Bake rolls in preheated oven until golden brown, about 15 minutes. While rolls are baking, beat together the ingredients for the frosting. Spread or drizzle it on warm rolls before serving.
These were fantastic!  I loved them and Michael loved them!  These will definitely be a repeat.  The only thing we didn't like was that the butter/sugar/cinnamon mixture kind of caramelized in some places and made really hard pieces.  I don't know how to fix that, though, so we'll just have to live with it.  I forgot to spray my pans before putting the rolls in and I definitely regretted that – they stuck to the bottom.  Also, the circle pan took longer than 15 minutes – maybe about 25 minutes to bake (I think because they were so squished in there!).  I highly recommend these yummy cinnamon rolls.