One of my 2012 goals is to lose 20-25 pounds so Monday I started back on Phase 1 of the South Beach Diet (I did South Beach 6 years ago with fantastic results and have continued following the South Beach lifestyle for the most part since then, but have gotten way to lax and gained some weight – you can read my whole story here).  Since the first 2 weeks of South Beach (aka Phase 1) consists of no sugar, fruit, bread, etc. it really limits what you can eat.  I like salads but I can only take so much, so another huge staple for me when doing phase on is soup.  Red chili, white chicken chili, chicken taco chili, enchilada soup, tomato soup – all great, healthy options.
Eating soup works for me!
Today I'm going to share my white chicken chili with you.
you need navy beans, great northern beans, chopped green chills, oil, chicken broth, and cumin
not pictured: chicken and onion (I had already chopped up the onion and was cooking the chicken when I took this picture…oops!)
cook the chicken and chop or shred it
chop the onion
cook the onion with oil in your pot
add the green chills and cumin to the cooked onion
then your beans
and the chicken
mix it all together, cook, and…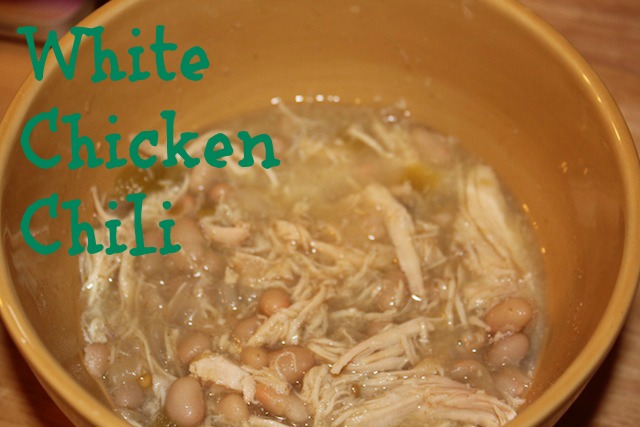 white chili!
Recipe
Ingredients
1 1/2 cups chopped chicken (I use 2 chicken breasts)
broth retained from chicken (depending on how you cook your chicken you may need to supplement with a can of store bought chicken broth
1/3 cup onion, chopped
2 TBSP oil
2 TBSP chopped green chilis
1 tsp ground cumin
1/4 – 1/2 tsp cilantro (I DO NOT use this because I can't STAND cilantro, but it's in my mom's original recipe and lots of people use it in their white chili)
1 can navy beans
1 can great northern beans
Instructions
Cook chicken using your method of choice.  I cook my chicken breasts in a crockpot which doesn't yield much broth (which is why I have to supplement with canned chicken broth) but you can also cook it on the stovetop in water.  Once the chicken is cooked chop it into cubes (or just shred with a fork or your KitchenAid mixer if you've cooked it in the crockpot).  In a large pot cook the onion in the oil until transparent.  Add chilis, cumin, and beans.  Add the chicken and then add broth until you've reached the desired thickness you prefer (for mine I just used one can of broth – I wanted a thick stew).  Bring to a boil, reduce heat and simmer for 10 minutes.  Add more chicken broth, if needed.
Serve with sour cream, shredded cheese, and tortilla chips.  (If you're on Phase 1 use reduced fat/fat free sour cream and cheese…and no tortilla chips)
For more Phase 1 food ideas, see here.
Linking up to Works for Me Wednesday at We are THAT Family.