I'm home from a fantastic week of camp.  I've unpacked, the last load of laundry is drying, and I'm managing my wicked sunburn.  However, my brain has not quite caught up yet so I'll save a full recap for later (*short version* – it was wonderful).  But I do think I have enough coherence to write about one little part of camp that I am so proud to announce.
I conquered one of my big fears.
I am afraid of heights.  I try to avoid them as much as possible and never willingly participate in activities that involve being up high.
The camp that we use just recently added a zip line.  I had no desire to dangle high about the ground from a skinny rope thing so I didn't even consider participating.  After watching the big kids (10 and up) do the zip line Wednesday I realized that it looked fun but I was still scared.  However, I found out that on Thursday the little kids (9 and down) were going to get to do the bunny zip, which was just one little zip line that went over the creek.  I have no idea what possessed me but I decided I that I might be able to handle the little zip line.  I asked if I could join the little kids and give it a try – they laughed but said yes.
So I suited up and hopped in line.  I was so scared at first and the instructor had to give me a push off the platform to get me going.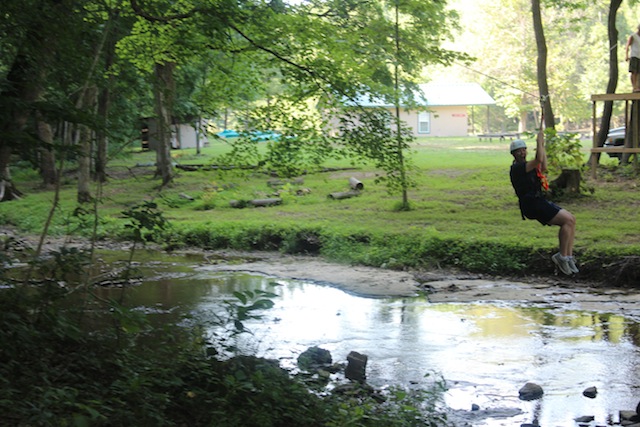 On my first trip across…holding on for dear life and screaming (one of the campers said, "Mrs Caitlin you are the only one who screamed and you are an adult!")
We had a 45 minute time slot so once we got to the end we could unhook and run back around to the other side to get on again.  So I got to go six or seven times.  By the end I was jumping off the platform myself (no push needed), letting go of the rope, and landing on my feet.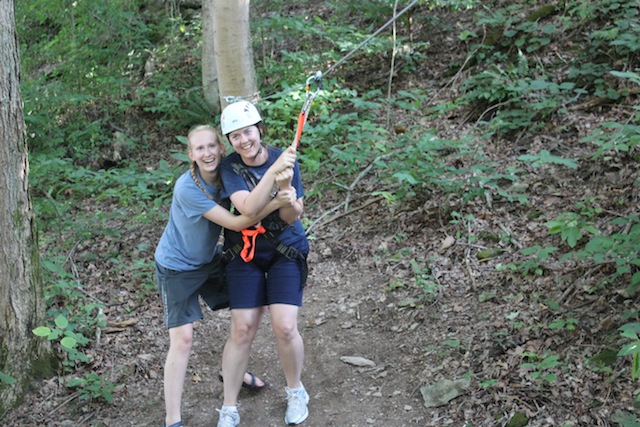 A huge thank you to Jessica for catching me at the end and teaching me how to land properly!
I had so much fun!  And I am so proud of myself for trying in spite of my fears.  I've already decided that next year I am going to do the full, big-kid zip line.  Guess what?  I can't wait!