*update* I no longer use this Dawn and vinegar shower cleaner.  While it was very effective, it was also super strong smelling and it was hard to even breathe in the bathroom while I was cleaning with it.  I have since switched to natural cleaners.  You can read more about that here.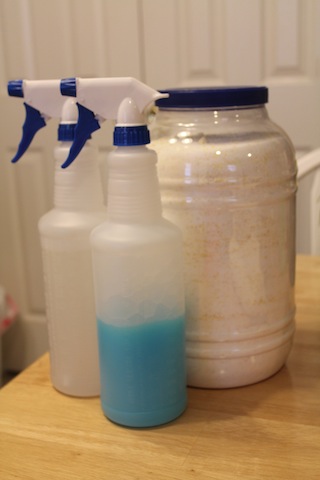 If you've been on Pinterest for any more than two minutes, I'm sure you've seen the pins for the Dawn+vinegar shower/tub cleaner.  I told you a couple of weeks ago that I had mixed up a solution of it and would let you know how it worked…well I've since tried it out and want to share my thoughts with you.
This is the pin that I've seen the most and that got my attention plus, several of the teachers I worked with raved about how the Dawn+vinegar had worked for them.  I felt optimistic since so many people had said they had good results but I was still a little skeptical – surely it would take some effort to get it so clean.
So I mixed up my solution – it was super easy: heat 12 oz white vinegar in the microwave for 2 minutes, add to 10 oz of blue Dawn, shake to mix (after this first mix you shouldn't have to heat or shake it anymore…until you make the next batch…because there will be a next batch!).  You can go here to see several different people's versions (they're all pretty much the same, but just in case you need some extra reassurance).
Then I sprayed it all over my dirty tub.  I let it sit for about three hours and then wiped it down.  I used a scrubber sponge, nothing special like a Magic Eraser, just a basic 'ole sponge.  I would wet the sponge, wipe a section, then rinse (it gets pretty sudsy because of the Dawn).
I. Was. Amazed.
You know the soap scum you get on the sides of the tub?  The kind that takes a body builder's strength to clean off?  The kind that you just swipe over with the cleaner when you don't want to scrub for hours and you know it's still there but you figure, hey at least it's been sanitized (or is that just me?).
Well, that nasty soap scum came right off – no elbow grease required.
I am not even kidding you.  It just took a few rubs with the sponge, a little rinsing, and I had my whole tub cleaned.
I know…I'm as shocked as you.
Cleaning the tub has always been one of my least favorite cleaning jobs, mainly because I felt like it took forever to get it really clean.  No more!  I can now clean the tub thoroughly with minimal time or effort.
I'm also trying it out on my shower curtain – you know how the curtain liner gets all mildewy and gross at the bottom (or again, is that just me?  I sure hope not, if so then I'm incredibly embarrassed for you to know that my shower curtain liner gets all kinds of funky nastiness on the bottom – in lovely colors like pink, black, and orange…).  I have sprayed the mildewy yucky spots with my solution and I'm going to let it sit overnight and try to wipe it off in the morning…fingers crossed that it works!
*update on the shower curtain* – The next morning I wiped off the shower curtain with a wet sponge.  Quite a bit of the black stuff (I'm not sure if it was dirt or black mildew) came off, but the pink and orange mildew didn't budge.  So obviously this Dawn and vinegar solution works well on soap scum but not so much on mildew.  However, after I cleaned off the part with the Dawn and vinegar, I was able to get the curtain almost 100% clean by spraying some Clorox spray on the mildewy parts, letting it sit for a little while (maybe an hour, possibly less), then putting the whole curtain in the washing machine.  I washed it on the delicate cycle using some bleach (about 1/4 cup).  That got almost everything off the curtain and I was able to hang it back up looking nearly as good as new!
Have any of you tried this yet?  How did it work for you?  If you haven't jumped on this bandwagon yet, I command highly recommend you mix up a solution of this and give it a try in your tub.  Then let us know what you think!
(Oh and fyi, I did not take a before and after picture of my tub.  I love y'all, but not enough to show off dirty tub.  Sorry.  You'll just have to take my word for it.  But I promise you won't be sorry)
So anyway, using Dawn and vinegar to clean my tub works for me!
Linking up to Works for Me Wednesday.
---
Like I mentioned at the top of this post, I no longer use or recommend this cleaning mixture.  Partially because of the very strong smell but also because the past few years I have been on a journey to rid my home and life of as many toxic chemicals as possible and dish soap (like Dawn) is one of those items I've replaced.  You can read more about the alternatives I've switched to here.