Sometimes I break my no t-shirt rule.  Sometimes I break it a lot.  Like the past two weeks.  Last week I was at church camp all week and this week I've been working in my library every day cleaning and organizing.  So pretty much every day I've worn things that I don't mind getting dirty – lots of t-shirts, workout capris, and men's shorts (to get them long enough to meet the knee length shorts dress code at camp).
I'm not even quite sure why I'm doing a What I Wore Wednesday post this week, other than just keepin' it real and showing you what I really wore.  In fact, the only time I think I wore "real" clothes was on Sunday and of course I forgot to take a picture of that.  Alas.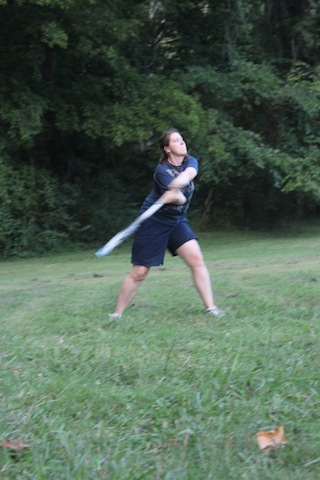 typical camp outfit – t-shirt and shorts (with tennis shoes…yuck…I hate wearing tennis shoes other than at the gym)
t-shirt/made by me; shorts/Fruit of the Loom outlet store
And I'm sure that any of you that know me in real life are puzzled by this odd picture of me participating in something that requires a ball, hand-eye coordination, athleticism, and sweating.  There is definitely a story behind this that I'll be sharing soon.  Stay tuned.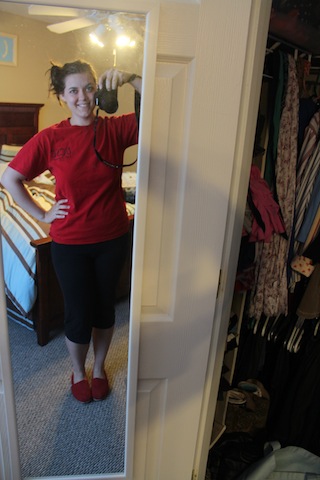 getting ready to clean my office/library
t-shirt/???; capris/Champion outlet store; shoes/TOMS via Journey's
Why no I hadn't washed my hair in two days.  Why on earth do you ask?
So yeah, I didn't exactly dress up this week.  But at least I didn't wear this…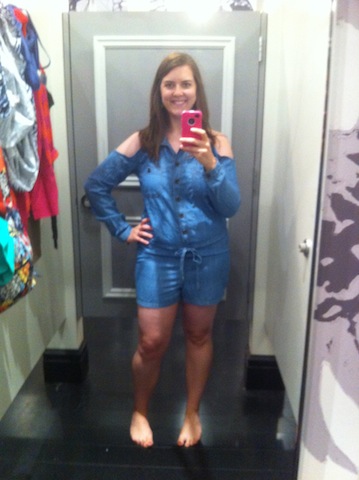 This denim collared jumpsuit with shoulder cut-outs is definitely what I DIDN'T wear Wednesday
(I'm sorry, I know I've already posted this picture…I promise I'll stop now before your eyes start burning)
jumpsuit/Forever 21, just in case you really wanted to know
Linking up to What I Wore Wednesday