Do you have a hard time doing a personal Bible study?  I know I sure do.  Now, I'm not talking about just reading your Bible everyday.  I think that is a wonderful habit to develop and as you know, one of our 2012 goals was to read through the Bible together.  But studying your Bible, really diving into the scriptures and learning how to apply the truths found there to your life is a whole different ballgame.  One that I'm not so great at.
Many people like to read a chapter or a few verses and think about how that applies to them.  Or journal about what they've learned.  Or write out their prayers.  I've tried all of these things and I've found that I'm just terrible about letting my mind wander.  One minute I'm meditating on a verse, the next I've planned my outfit, picked out what we're having for supper, created a lesson plan, and made my to-do list in my head…and then I realize I'm totally off track.
What really works for me is to have some sort of workbook, worksheet, or book that has questions that I need to answer.  That really helps keep me on track and focused, plus I'm a Type A personality that just likes to take notes and have things all nice and neat in front of me.
One semester in college we had a girl's class at church where we did a workbook called Echoing his Heartbeat: The Life of David, written by Cassandra Martin.  The David study is part of a series of Bible studies she has written called Women Opening the Word.  Some of the other studies cover the topics of Paul, the Psalms, prayer, and the names of God (go here to see all the choices).  Each workbook is designed to cover about 13 weeks, with four lessons to complete per week.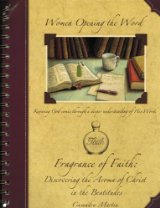 [source]
I really liked that there were questions to complete each day, which game me some direction as to what to study.  I know lots of the girls in our class didn't like using this book because they didn't like having "homework", but for my personality it was perfect.  I also learned so much about David that I didn't know before.
When I recently resolved to work on getting better about doing a personal Bible study, I decided to try using another one of Cassandra Martin's studies.  I had actually ordered and started her study about Paul (Paul: By the Grace of God) two summers ago but quit doing it once school started back (yikes!  that's embarrassing to admit!) but I picked it up and started working on it again this summer.  I had recently finished attending a women's Bible study over the Acts of the Apostles so studying the life of Paul was a perfect complement to what I had just learned.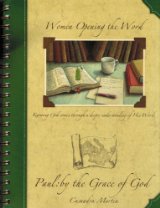 [source]
This was such a good study!  It amazes me just how much pain, torture, agony, rejection, and hatred Paul endured and  yet he kept pushing forward to do God's work because he knew that was what was right.  He cared more for people's salvation than he did for his own comfort.  Wow…I'm pretty sure I can't say that about myself.  Paul is definitely one of my favorite Bible characters.
I was so proud when I finished my study about Paul that I had actually stuck with it!  And I was excited to learn more, so I ordered another Women Opening the Word study called ABCs of a Godly Heart, which is about the psalms.  I just started this one this week, but I'm already enjoying it.  It's helping me to learn about the character of God, the character of a godly Christian, and how to pray using the psalms as a guide.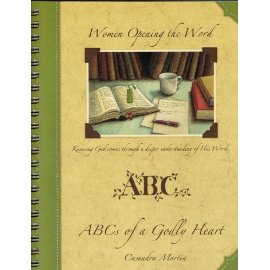 [source]
Just in case you wondered, I am not being compensated in any way to write this post.  I just really like these Bible studies and I highly recommend them.  I think they are the perfect blend of questions – there are questions that you answer straight out of the Bible, and then there are questions designed for you to reflect on your own life and apply what you have learned from the Bible.  She also adds in some history, background, and other little details that help you to understand the text better.
If you are looking for a way to improve your personal Bible study and need some direction on where to start, I suggest you take a look at these workbooks and see if they are something you might be interested in.  They certainly work for me!
Linking up to Works for Me Wednesday