Today I'm wrapping up our 9 year anniversary love story posts (if you missed the first two, go check them out here and here!)
As I alluded in part 2, I really wasn't quite sure if our relationship was going to go anywhere after the initial newness wore off.  And like I mentioned, Michael was my first real boyfriend so I didn't know what to expect.  I honestly thought that once we went back to school, our relationship wouldn't last.  We were a grade apart and we didn't really have the same friends.  He was in band, I was in chorus.  For some reason, I just figured it wouldn't last.
In fact, a few weeks after we started dating, he held my hand in church and for some reason that just freaked me out (I know…hand holding, so scandalous…).  I wasn't sure if I was ready to have a boyfriend, I wasn't sure if there were any "sparks", I just wasn't sure about anything.  I told my mom that I thought we needed to break up, and she said she thought I should give it a little bit more of a chance (and I am SO SO thankful that she said that and that I listened to her!) before just giving up.  So I did.
We started back to school in August and surprisingly it wasn't all that strange.  We saw each other in the mornings before school and occasionally during the day when our paths crossed.  After that first "date" to his brother's birthday, we mostly hung out in groups or with our families.  It was a few months (September, I think) before we went on our first date all by ourselves.  I remember that we went to a Mexican restaurant and that I was so incredibly nervous.  Our first kiss folllowed a few weeks later.
As the year went on, we spent more and more time together.  We grew out of the awkward, nervous stage and became comfortable with each other.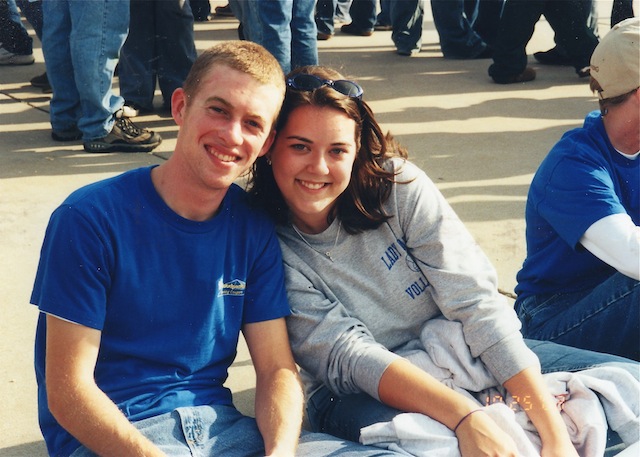 the earliest picture of us together (and one of my favorite pictures ever) – at Michael's band contest, October 2003 – ages 17 and 16
Michael's high school graduation grew close, and so did we.  On his graduation day, when he was taking me home after his party, 10 months after we had started dating he told me he loved me.  At that point I knew that I loved him too.  Ten months seems like a long time to some (and a short time to others), but for us it was perfect.  We just knew.  Did I love him as much then as I do now?  Of course not.  But I definitely loved him more and in a different way than I had ever loved anyone else.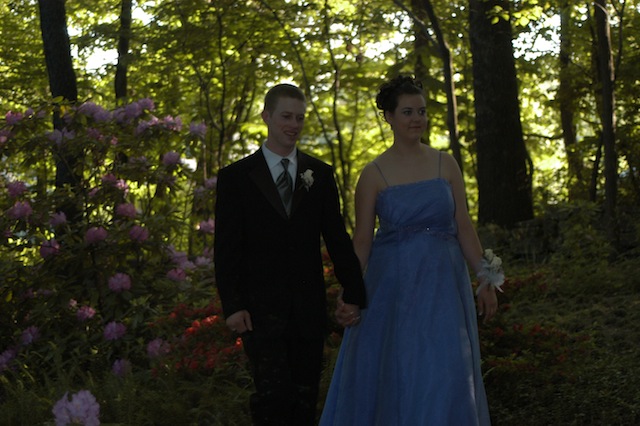 Banquet, Spring 2004
In the fall he went off to college and I started my senior year of high school.  It was hard being apart but we made it work.  Some people thought that we wouldn't make it; that he would go off and find a college girl that he liked more, but that didn't happen.  We wrote letters to each other every single week and talked on the phone nearly every night.
That year I started my own college search.  I visited and applied to several different ones.  Nearly all colleges have education programs so I basically had my pick of schools, I just had to decide which one I liked best.  There was part of me that didn't want to go to Tech because I knew lots of people would say that I only picked it because Michael was there.  There was another part of me that really wanted to go to Tech so that we would be together.  I waffled back and forth for a long time, finally deciding to go to Tech.  I had loved the school, the people, and the church when I visited, but Michael was definitely the deciding factor.  My parents never really said much, but I'm not sure that they approved of my choice.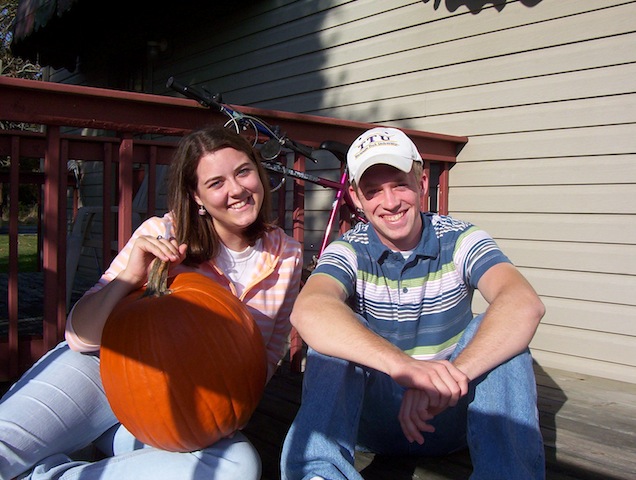 carving pumpkins, fall 2005
I do not regret for a second the choice that I made.  I had a blast at Tech; those four years were some of the best of my life.  Of course it was wonderful to be close to Michael, but I really loved everything about school, church, and my friends.
It was sometime during my freshman year, his sophomore year, that we realized that we wanted to get married someday.  We weren't engaged by any means, and we didn't really talk about it much, but we knew that this thing was the real deal.  We both wanted to graduate before getting married so we knew it would be another almost 4 years before we would get married, but we also knew that we wanted to spend forever together.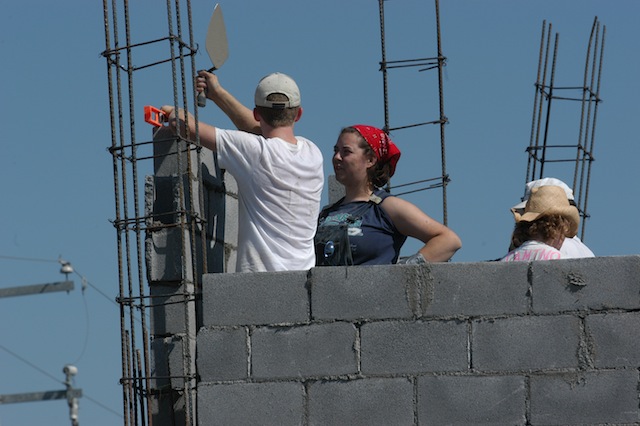 Mexico mission trip
You already know our engagement story and have seen pictures of our wedding.  The years leading up to that were full of school, church, studying, dates, friends, meals, trips, laughs, tears, and love.  Typical college stuff.  There wasn't really anything major that happened.  After the initial rockiness (on my part) of our relationship, it was basically smooth sailing from there.
We got engaged in May of 2008, soon after Michael graduated college.  I still had a year left before I graduated, so we set our wedding for the following May.  Michael had accepted a job in Lexington, KY so we had to spend another year apart.  In some ways, it wasn't so bad because we knew that there was light at the end of the tunnel and we'd be married soon.  In other ways, it was way harder than when he had been in college and I had been in high school because we were so used to being together.  But we survived and after six wonderful years of dating/being engaged we tied the knot :).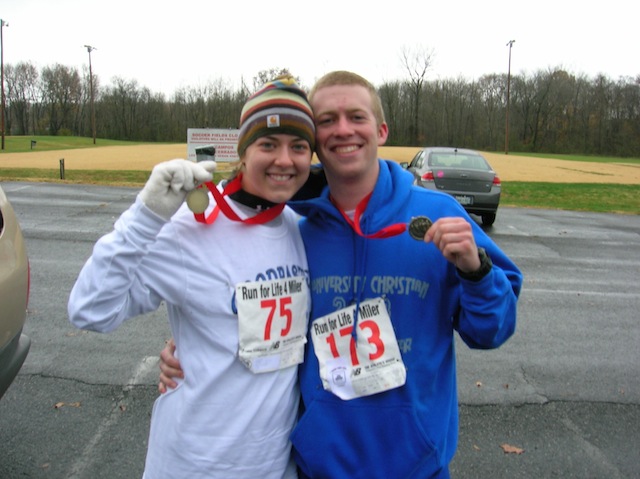 He is my best friend and I absolutely cannot imagine my life without him.