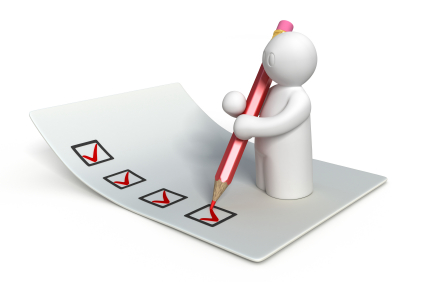 [source]
It's always nice to earn a little extra money when you can, and taking online surveys is one way you can do that. (I just realized as I typed that sentence that it sounded very spam-ish…as in "I'm your long-lost uncle, send me all your money and I'll send you a million dollars…sorry about that, I promise I'm not spamming you)
I found out about taking online surveys from SouthernSavers.com, a completely reputable blog that teaches you how to use coupons to save tons of money (and in a former life I used to do a lot of couponing, thanks to Jenny).  She wrote three very detailed posts about online surveys – how they work, how much money to expect, what types of rewards they have, and which ones are quality sites (I'm not going to go into as much detail as she did, since she has way more experience than me, so I highly suggest you go read those posts yourself here, here, and here.)
Although I felt a little skeptical and nervous that they were going to spam me or go all Big Brother on me, I decided to sign up for a few online survey sites.  This was sometime after we moved to Bowling Green and I did not yet have a job so I thought this would be a way for me to make a little bit of money.  I signed up for three sites: MySurvey.com, Opinion Outpost, and Survey.com.  I ended up dropping two of the three because they were frustrating and not very user friendly…and not worth the hassle to me.  So now I only use MySurvey.com and I've been very happy with them.  However, in those posts I mentioned and linked to above, she recommends several more survey sites that you might want to look in to – I just don't have the time to do anymore surveys than I already do.
Each time you take a survey you get points.  After you've accumulated enough points, you can cash them in for rewards.  I always choose Amazon gift cards (you go to the MySurvey rewards store, redeem your points, they give you a code which you then type in to your Amazon account and it credits your account – I've done it twice and it worked perfectly each time).  So far I've earned $50 to use on Amazon, and I'm getting really close to having enough points to get another $25.
In addition to earning points, sometimes they will send you a product to test and review.  Usually it's a full-sized product, and that saves you money when you don't have to go out and buy that yourself.  Some of the things I've been sent to test are:
A package (6 rolls) of toilet paper
2 full sized sets of shampoo and conditioner (I had to use one set for two weeks, then the other set for two weeks, then take surveys about them…but they worked fine and I get to keep all the products I review so I've kept using them, so that's two sets of shampoo and conditioner I don't have to buy)
pretzel snacks
sunscreen (this is the only one that I was very unhappy with – I used the sunscreen to test it out, and within two hours of using it I got the worst burn I've had in years)
A full container of those dishwasher packet things
A full tube of toothpaste
It's very easy to use.  If you don't have time to take the surveys when you get the emails, you can just wait until it's convenient and then they'll be there waiting for you.  Plus you can earn a little money from your nice cozy home.  You won't get rich or anything, but it's an easy way to make a few extra bucks.
So there you have it, using MySurvey.com works for me!
Linking up to Works for Me Wednesday
(By the way, I am not being paid or compensated in any way to tell you about MySurvey.com.  I've just had a good experience with them and wanted to share some ways that you could make a little extra money by taking surveys.)