Let's talk about cardigans.  I love them.  Do you?  I used to think cardigans were totally grandmotherly or *ahem* for librarians (cough, cough).  But then I realized just how wonderful these little pieces of clothing can be!  Of course, they are great for winter as a sweater-alternative, but I've recently discovered them for the warmer months, too.  After buying my first short sleeved cardi (the gray BR one in the last picture) and wearing it to death, I realized I needed to add some more of these babies to my wardrobe.  So when we went to Gatlinburg in the spring and I went shopping at the outlet malls, I saw that Loft had their cardigans for buy one get one free.  So I got four.  Excessive?  I was a little afraid it might be at the time.  But you know what, now I wish I had bought more.  I wear them all the time.  You might have noticed the turquoise and purple ones from past WIWW posts, and you can see the coral and pink ones in the following pictures.  Not only are they perfect for layering, but I really like the cut and think it's slimming.
I just love how I can toss one of these over a sleeveless shirt and make it totally work appropriate!  Plus I'm always cold so this adds a layer of warmth to my clothes without being bulky.
What about you?  Are you a cardigan fan?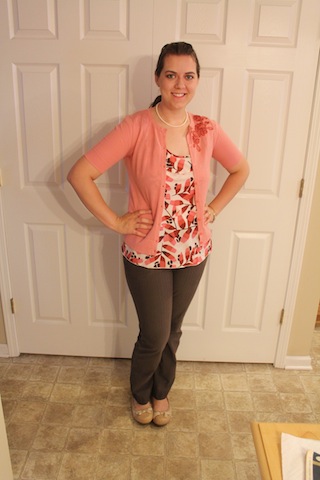 Wednesday or Thursday (how terrible that I've already forgotten!) – work
cardi/Loft outlet; shirt/Banana Republic outlet; pants/Kohl's; shoes/Maurices
When I bought the coral cardigan I just knew it would match the BR top perfectly, it took me forever to get around to finally wearing it and I can't believe I waited so long!  I love this combo!  Expect to see it again because I'm already envisioning it with a pencil skirt and heels for church.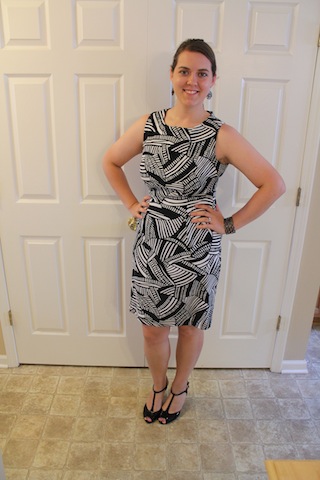 Sunday – church
dress/??? the brand is Scarlett, I think it bought it at TJ Maxx or Stein Mart or Marshalls or a similar type store; shoes/Loft
I actually almost added a cardigan over this dress before church on Sunday, but then stopped myself since I seem to wear one everyday, but now I sort of wish I had…it looks a little boring in this picture and could have used a pop of color.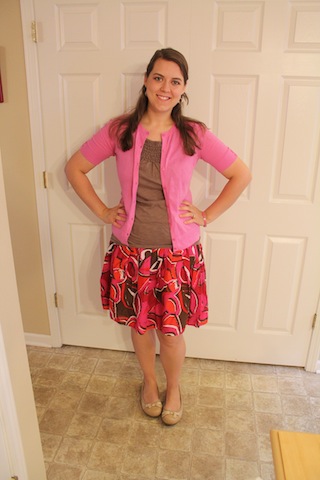 Monday – work
cardi/Loft outlet; top/Loft outlet; skirt/Goodwill; shoes/Maurices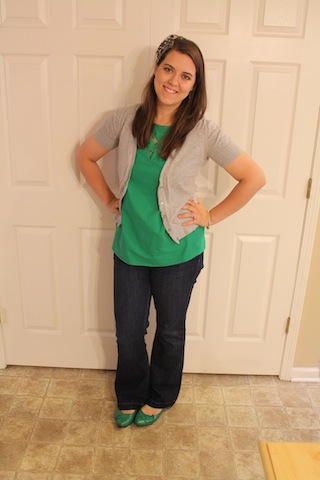 Tuesday – work (actually I was at a training all day and not at school, hence the jeans on a non-Friday)
cardi/Banana Republic outlet; top/Banana Republic outlet; jeans/Gap; shoes/Qupid via Rugged Wearhouse (Gabriel Bros)
And on a semi-related note (to jeans, not to cardigans), I'm happy to announce that my jeans, though they are from Gap, are not mom jeans.
(Rachel from Grasping for Objectivity, one of my favorite bloggers, recently revealed the earth-shattering news that Gap and Old Navy are guilty of procuring mom jeans…fortunately I'm one of the few who has the right body type and is able to wear them without incident…whew!)
If you haven't read about Mom jeans and the dreaded long butt, or checked to see if your Gap and Old Navy jeans are guilty of this too, read these links NOW!  But not while you're drinking anything because you'll choke from laughing so hard.
Linking up to What I Wore Wednesday