So…I got home from camp and guess what?  Life got in the way.  I started work, we've been house-hunting (still nothing yet), canning ourselves silly to get lots of produce put up for the winter, you know the drill.  So I'm finally getting around to talking about camp.  Of course, the day I got home from camp I had to share my massive victory of overcoming my fear of heights and doing the zipline, but then I failed to follow through on my promise to write more later.  Fail.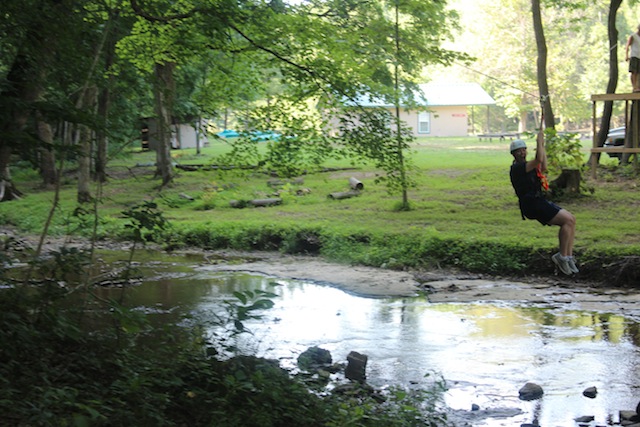 terrified the first time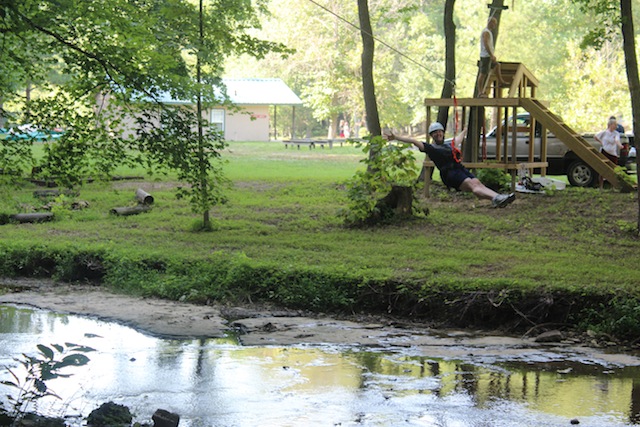 but totally loving it by time 2 4 7
If you've been paying attention, you know that this summer I was blessed to get to go to not one, but two wonderful church camps.  I started off my summer with a week of church camp with our church here in Bowling Green.  Then I ended my summer with a week of camp with the church that my family attends, and the people that I've been going to camp with for years.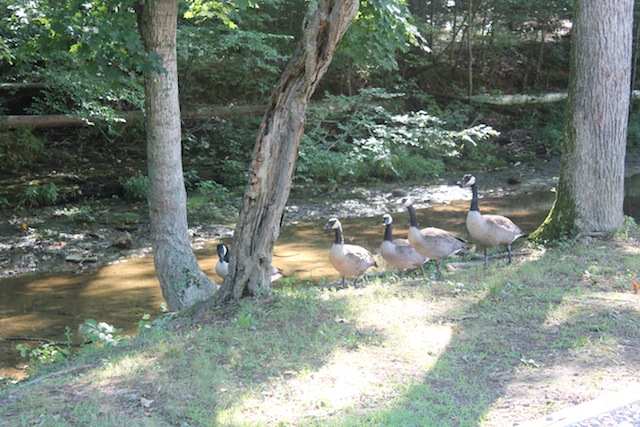 cute family of geese that live at camp
I can't tell you how excited I was that my work schedule worked out perfectly and allowed me to go to camp.  I did have to drive back to BG one day for a training (and take advantage of my nice, clean shower), but other than that I got to spend the whole week at camp.  There is just something about spending that week with people who I don't get to see all the time that feels like coming home.  Not to get all mushy gushy about camp on you, but it really is one (or two!) of my favorite weeks of the year and I have some of the best memories there.
We were very fortunate that the extremely hot, 100+ degree temperatures from earlier in June and July let up a little that week.  It was hot, but not unbearably so.  Thanks to some of the men from church, we also had air conditioning in the cabins for the first time this year, which took the edge off a bit.  We had one MASSIVE storm Thursday night.  I mean, I don't get scared during storms but this one made me a little afraid that we were going to get blown away.  Other than that, we had pretty good weather.
I had the youngest girls cabin (3rd and 4th grade).  What a great age!  I liked that this year I got to have the oldest girls (at my first camp) and the youngest girls (at my second camp).  Both come with their unique challenges but they're both really fun to spend time with so I'm glad I got the best of both worlds.  My girls at camp this week were so good.  Several of them I've known since birth (two were even the flower girls in our wedding) and then we also had a few new faces and a few visitors from an outreach program.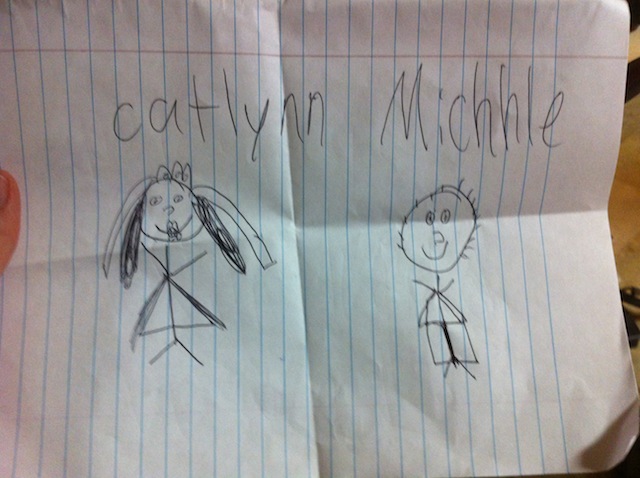 lovely picture of our wedding, as drawn by one of the aforementioned former flower girls
I'm particularly fond of my lips and "Michhle"s hair
In addition to being a cabin counselor I also helped with Bible class and with crafts some.  Our theme for this year was "There's An App for That" and we talked about how the Bible is the only "app" we need to have in order to know how to live a righteous life and get to heaven.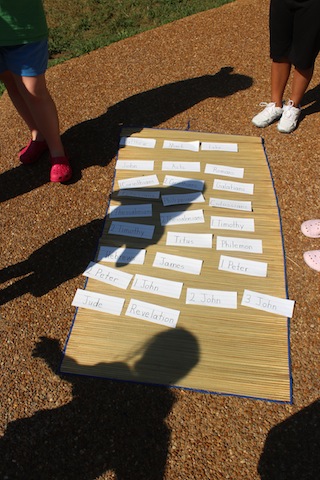 learning the books of the New Testament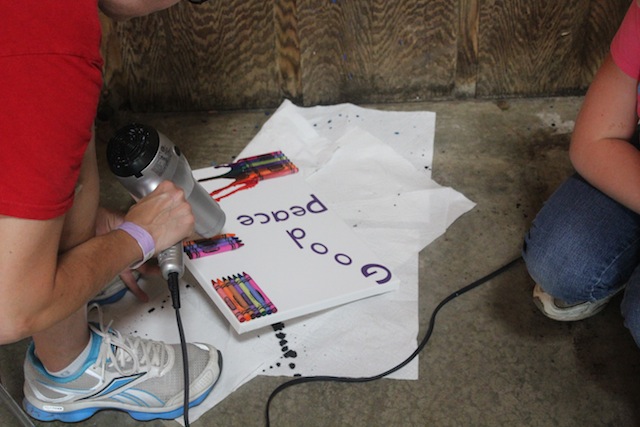 We made crayon art in crafts, which was so super fun.  I love crayon art!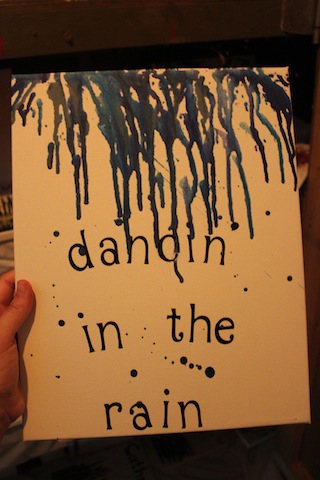 one of my favorite canvases that a camper made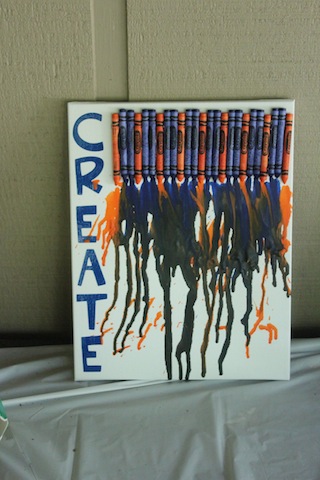 another favorite, made by one of the adults for her classroom – I'd love to make this for my craft room!
In addition to overcoming my fear of heights and doing the zipline (which I said I'd never do), I also did something else that I never planned to do again…play a sport.  I've mentioned a little before (and someday I'm going to go into great detail because I've got some hilarious stories, I just need to find the time to sit down and write them) but I'm terrible at sports athletically challenged.  I've tried many but never been very good.  And I never really had the desire to participate in sports activities so I didn't really care.  But at camp, they announced that there was going to be a camper vs. counselor softball game.
I'm not sure what possessed me, but I said I'd play.
Because for some odd reason, seven years ago when I bought my car, I tossed my softball glove in the trunk with a bunch of random other stuff.  You know just in case.  Not that I ever planned to play again.  In fact, the last time I think I even used that glove was the last softball game I played…at age 15.  So 10 years later, I decided to give it a go.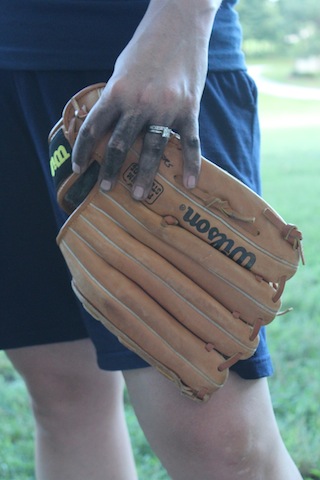 Something funky happened inside my glove over the last 10 years (dry rot? no idea) and the first time I put my hand in, I got that black ick all over my fingers.  Weird.
And guess what?  I wasn't great, but I wasn't half-bad!  I play waaayyy better ball at 25 than I ever did at 15. (We'll just pretend that it had nothing to do with the fact that we were playing slow-pitch softball against a hodge-podge middle school kids, not fast-pitched softball against girls who cut their teeth on ball gloves.  Or that I actually exercise regularly and am no longer the pudgy, out-of-shape kid that I used to be.  No, surely it's not either of those things.  It has to be that I've magically become athletic overnight…)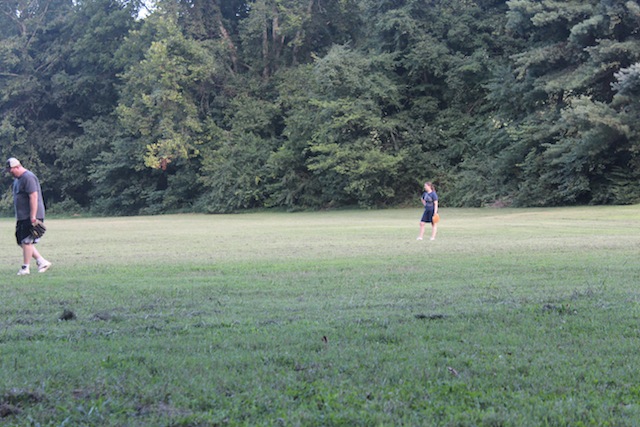 And most of all, we had fun!  I really did!  In fact, if I ever get a chance to be on a church league team, I just might play.  I know, will wonders ever cease? (oh stop laughing)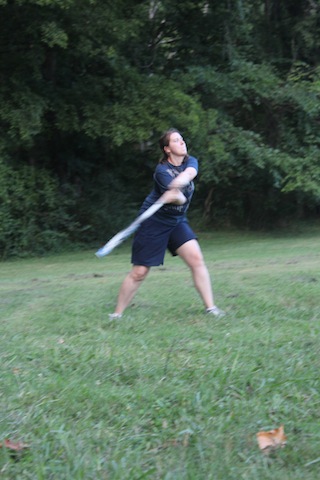 I'll try not to look this awkward while batting, though
Anyway, so there's camp week in a nutshell.  I loved it.  I enjoyed getting to spend time with the kiddos (who make me feel super old, and now I totally understand why people used to tell me they couldn't believe how fast I was growing up…because I feel that same way when I see kids I babysat as infants and toddlers becoming unrecognizable, mature, fantastic, Christian teenagers…sniff sniff) and I had fun catching up with the other adults who I don't get to see much (and who very politely overlook my weirdness…like essentially setting up my own little mini-kitchen in the mess hall so I could stick to our 100 day challenge).
Ok, who's ready to go back?
(Oh, and by the way…in case you wondered why I posted about camp, but there were no pictures of actual campers doing camp things…I try not to post pictures of kids unless I know their parents are ok with it, and usually not adults either if I think they'd rather me not…and since I know that I don't prefer pictures of myself in my sweaty, no make-uped camp state, I figure others don't either.  Just explaining so you don't think I'm a total narcissist who only posts and/or takes pictures of herself.  Nope, just trying to retain a little privacy in this insanely digital world)