Wow am I glad it's Friday – this has been an intense (but good) week!  Here's what I'm excited about right now…
1.  I moved my blog (obviously)! I've been planning to do this since, um, Christmas, and last weekend I  finally got around to following through.  It was not easy, and I definitely wouldn't recommend doing it yourself unless you have some mad techie skills (which I don't) and I'd say just bite the bullet, pay the money, and get an expert to do it (which I didn't because I don't like to pay money, and it was way stressful).  But I guess it was a good learning experience, and I'm so excited to get to personalize things a little more around here (WordPress.com is great for some things, but a bit strict on what you could or couldn't add to your blog).
2.  After the big move I was freaking out a little because I seemed to have lost my email subscribers and pictures in the transfer, but thanks to the wonderful support at WordPress, I have them back (so if you're getting this post via email, sorry that you got left behind for a while…you did miss much, just this and this)
3.  I completed another 2012 Bucket List item this week and made/canned pickles.  What an experience.  I have never smelled anything as awful as the vinegar mixture that we had to heat on the stove.  I'm not kidding, I thought my nose and throat were going to burn off.  I had a bandana wrapped around my nose and mouth to block the smell (sure wish I had taken a picture of me looking like a bandit and making pickles).  I sure hope they are worth it!  We are also unofficially declaring ourselves done with canning for this year (we may or may not can some apple butter later in the fall, but we're basically done with all the veggies and such).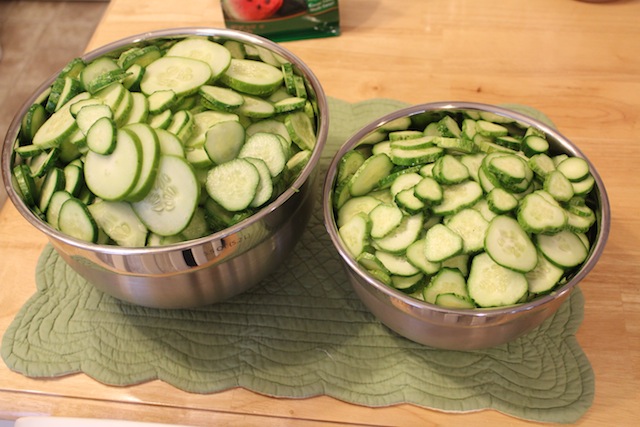 These turned into seven quarts of sweet lime pickles
4.  Three weeks ago I had never even seen the inside of a computer, much less known what all the parts were in there.  Yesterday, I saved two of our computers from certain computer-death by switching out the PSUs from some other unusable computers.  I have learned so much since becoming the school technology specialist and I am so proud of myself!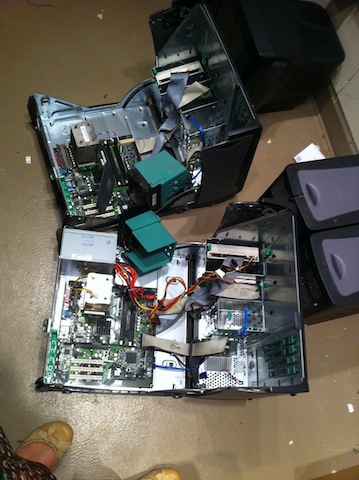 Boo ya
5.  After not being able to find a calendar/planner/lesson plan book that fit my needs, consulting Pinterest, and recruiting Michael to help me with Excel, I have created my very own, customized plan book.  I am totally jazzed about it.  I'm hoping to take it to Staples today to get it spiral bound.  And very soon, when I start my classroom organization series, I'll be sharing the details and a how-to so you can make your very own planner (it's not nearly as hard as I expected).  Get pumped.
Have a fantabulously wonderful weekend!
Linking up with Lauren