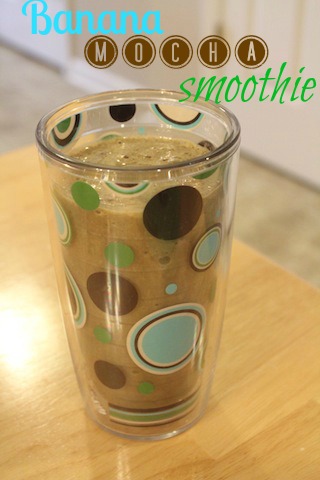 The people have spoken…I mentioned a banana mocha smoothie in a recent High Five for Friday post and several people mentioned wanting the recipe…which I have happily provided!
Since starting our real food challenge, we've been eating lots and lots of smoothies.  They are a nice "dessert" without being full of sugar and junk.  One of my most recent smoothie creations is a banana mocha smoothie.
I love mochas and mocha frappes – in fact, I've actually posted recipes for South Beach friendly mocha and a copycat McDonald's mocha frappe.  However, while pretty low-calorie, neither of those recipes could be considered real food since they both use lots of fake, processed ingredients.  I had to get a little creative to figure out a way to make a mocha "real", but I think I've found a pretty good solution.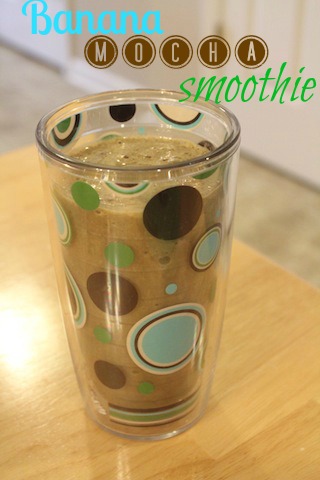 Yum yum.  So easy, and quite healthy while still tasting like a decadent, frozen coffee treat.
Recipe
Ingredients
1 banana
1/4 cup yogurt
1 to 1 and 1/2 TBSP instant coffee
1/2 TBSP cocoa powder
1/2 TBSP honey
1/4 – 1/2 cup milk
12-14 cups of ice
2 cups leafy greens
2 TBSP flaxseed
A note on these ingredients – all of these amounts are approximations and can be easily changed, substituted, removed, increased, or decreased to your liking.  If you like your coffee black then you may not need the honey as an extra sweetener.  If you like your coffee strong, you may want to add more that what I use.  I'm not really sure why I use both yogurt and milk – I'm sure one or the other would be fine (yogurt if you want a thicker, smoothie like consistency, milk if you want a more drinkable shake).
The greens and flaxseed are 100% optional and don't really effect the taste at all.  I just add them in so I can get a few more nutrients.  The flaxseed can be a bit gritty, but I blend my smoothie on the liquify setting on my blender because I like mine drinkable, so the flaxseed gets pretty ground up.  If you haven't tried putting greens in your shake, I challenge you to give it a try.  Start with just a little and work your way up to a big 'ole handful (that's what I did).  You really can't taste it (at least, I can't) and it's like eating a bowl of salad while having a yummy smoothie snack.
Instructions
Add all ingredients to the blender.  Blend until smoothie reaches desired consistency (hint: add more ice if it is too runny, more milk if it is too thick).   Enjoy!