You know how some weeks you don't seem to like anything you wear and then other weeks you adore every outfit you put on?  This week was one of those where I liked every outfit I wore.  I tried out some new combinations and they turned out great (at least, I think so, but there is always a chance that my woefully underdeveloped fashion sense is steering me in the wrong direction).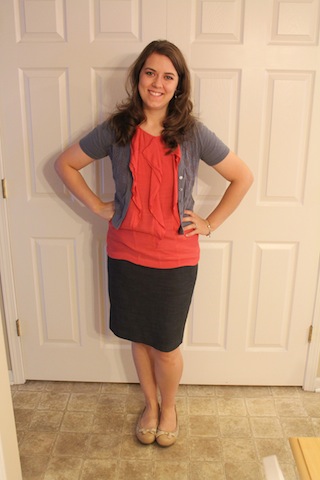 Wednesday – school, picture day
skirt/TJ Maxx; top/Limited; cardigan/Loft outlet; shoes/Maurices
How awkward is it to take school pictures as an adult?  Very much so.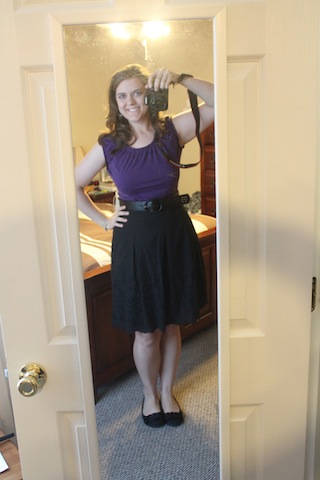 Thursday – school
top/Loft outlet; skirt/Gabriel Bros; belt/Gabriel Bros; shoes/Fergalicious via DSW
Michael had to leave for work early, then I went straight from work to the gym, so there wasn't a time for him to take my picture (he's my handy-dandy outfit photographer every morning…the glamourous life of a blogger's husband), so I had to take my own picture in the mirror.  Which is normally fine, but I was just so pleased with this outfit and I don't think the picture-in-the-mirror does it justice!  I'll just have to wear it again so I can get a better picture :)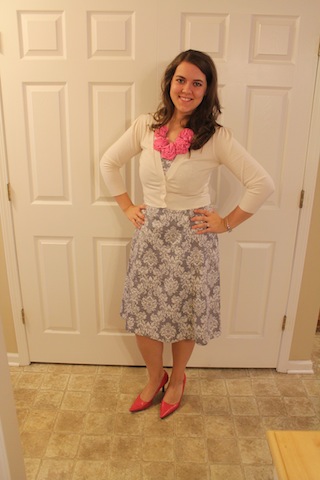 Sunday – church
dress/Loft; cropped cardi/???; shoes/Shoe Carnival; necklace/made by me
I'm loving this outfit for two reasons right now: 1. I think it is just so classy and me, but also 2. I can actually zip that dress up now!  (thank you real food challenge) – it's still a wee bit snug, but I was so happy that I could actually fit in it that I wore it anyway.  I know I'm not the only person who does that…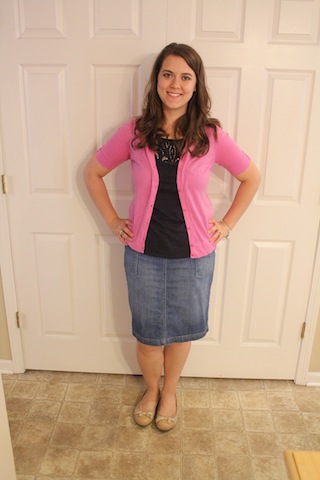 Sunday – travelling to Lexington for Labor Day, church
skirt/NY&Co; top/Loft outlet; cardigan/Loft outlet; shoes/Maurices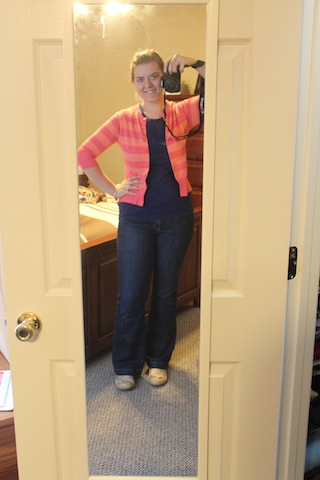 Tuesday – work (professional development day)
jeans/Gap, t-shirt/Kohl's; cardigan/Gap via Goodwill; shoes/Maurices
Linking up to What I Wore Wednesday