An elementary teacher friend once commented to me that she saw Jesus in her students' eyes.  I didn't really know what she meant until I started this new job as an elementary librarian.  Now that I've been with these kids for a month, I completely understand what she was saying because I see Him in my own students.
These kids love me – no strings attached.  And not because I'm great or anything.  They just love that easily.  The first week of school, after I'd only seen these kids one time for just 30 minutes, they were already telling me that they loved me and that I was the best ever.  And trust me, I'm not worthy of that love or such high praise.  They are just so very willing to give out their affection.
When does that unconditional love fade?  I can already see a difference in my 4th and 5th graders versus my primary grade kids.  The older ones are much more skeptical of a new person – student or teacher.   And you better believe that the high schoolers I used to teach didn't hand out their affection that easily.  But more importantly, why does that fade?  Why do we lose our willingness to treat everyone with kindness and love, regardless of how well we know them?
My students wave at me every time they pass me in the hall…and they've done that since week one.  When was the last time I waved excitedly at someone that I barely knew?
They run up to me and give me huge hugs.  When did I last hug someone outside my little comfortable circle of close friends and family?
I can scold them one day, maybe even have to march them to office; and yet the next day they are right back in the library, asking about books and telling me about their day, as if it never happened.  When was the last time I forgave and forgot that quickly?
I didn't have to do anything to earn their love.  They just gave it to me, not knowing if I was going to be nice or mean, not caring about the color of my skin, how much money I make, my religious beliefs, my political stance, or if I was cool enough.  They didn't take a few weeks to evaluate me before making a decision about me.  They came right into that library the first day ready to like me.  When was the last time I accepted someone immediately, without passing judgment or waiting to see if I liked them or not?
Why don't I give my love so freely?
I can guarantee you that these kids have definitely taught me more about God's love in this short time that we've been together than I've taught them about reading.  I see Jesus in each one of these precious children.
Now the big question is, do they (and the rest of the world) see Him in me?  If not, then I have something to be working on.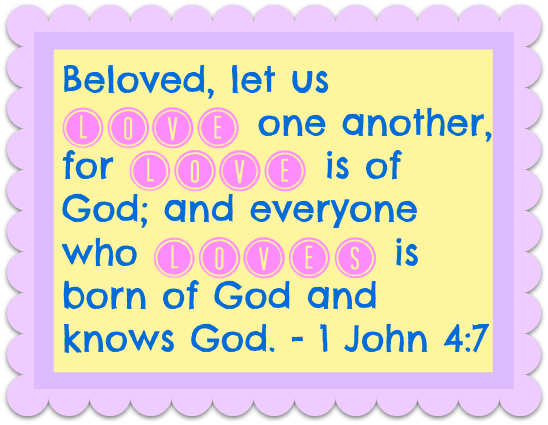 Linking up to Works for Me Wednesday