I would just like you for you to know that as I sit here typing this post, I'm wearing this "burning" face mask and doing this coconut oil hair mask.  I'll let you know if it's successful once I've tried them out a few times.  Michael tried to take my picture but I wouldn't let him.  I just didn't think y'all could handle my hottness (total sarcasm, in case you mistakenly think I'm being serious).
Anyway, on to the task at hand…FRIDAY!  Here's some fun things from my week:
1.  The preschool classes at my school had "bring your stuffed animal to school day" on Wednesday, which happens to be the day they come to the library.  So I brought my own bear, Michael Bear, to show the kids.  Michael Bear is what Michael got me for a Christmas present our very first Christmas together, 9 years ago.  We made him together at Build a Bear and he's been my special bear ever since!
2. I bought some new scents for my Scentsy warmer that I use at school.  I had never used anything other than the Scentsy brand wax before, but several people suggested trying the Walmart brand since they were cheaper.  I went a little crazy and bought five different scents to try.  I tried out the Wild Berry Cheesecake one this week and it smelled AMAZING.  Every time anyone came into the library they would comment on how good it smelled.  If the other ones I bought are as well-received, then I'm even more excited to try some of the other scents out next week.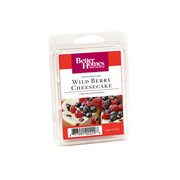 [source]
3. My friend Amy came to vist the library and eat lunch with me this week.  That was a treat!  It was so fun to catch up with her, plus all you teachers know that we rarely get to do anything special at lunch due to our schedules!  Yet another reminder of how wonderful it is to live close enough to our hometown to be able to do things like that.
4. Our school has a fruit basket program thing (not quite sure of the real name) that I am just in love with.  I think it is some sort of grant they get and they use the money to provide fruit everyday as an afternoon snack.  Each day all the classrooms get a basket of fruit with enough pieces of fruit for all the kids, teachers, and other helpers to have a piece.  They get all kinds of things – apples, bananas, oranges, pears, peaches, kiwi (the kids weren't quite sure how to eat that…one kindergartener kept saying he needed to wash his), and pineapple.  Some of the fruit they get locally from an orchard here in Bowling Green – eating local plus eating healthy…two thumbs up!  I think it is so cool that they are providing the kids with a healthy afternoon snack!  I enjoy seeing the kids snack on a pear or an orange while they are waiting to be picked up in the afternoon – so much nicer than seeing them eating a bag of chips.  Plus, I like knowing that if I get hungry at school I also have a healthy choice available.
5. We've been ushering in fall with some yummy cinnamon apple pancakes.  We used this recipe, but instead of the banana we cut up an apple, sautee it in butter and cinnamon, and add that to the batter.  Served with some pure maple syrup…so delicious!  (FYI I've also made the banana pancakes and they are wonderful, too).  I'm hungry just thinking about them (or maybe that's just the cinnamon, nutmeg, honey, lemon face mask that I'm wearing and smelling…)
Enjoy your weekend everyone!
Linking up with Lauren