When it rains it pours, and yesterday that was certainly the truth – literally and figuratively.
Where to start, where to start?  Let's begin with the leaking ceiling, shall we?  And then just go from there.
I take my first class over the story corner to read them a book.  We sit down, nothing seems amiss, until a student asks why the floor is wet.  I look down and indeed, there was a five foot by five foot section of the carpet that was soaking wet.  I look up and two of the ceiling tiles are bowed down and look like they are about to burst.  Well, how do ya like that?  So I sectioned off the story corner and the surrounding wet area.  The maintenance men were working on it when I left yesterday, so hopefully today all will be well.
At lunch I get out my delicious, healthy, real-food, homemade cinnamon apple pancakes that I was so looking forward to eating.  I pop them in the microwave to heat them up and then realize I forgot an integral part of my meal…the syrup.  So I debate – eat the pancakes dry without syrup (yuck), skip the pancakes and just eat the fruit I brought for a snack (I'd be so hungry later, and I don't do hungry well), or eat cafeteria food (not a chance).  So I jumped in my car, zoomed home (fortunately we live close to school), grabbed the syrup, zoomed back, and wolfed down my lunch.
Then of course there were the difficult students, difficult adults, and general lack of courtesy that is pretty typical school stuff but was heightened by my already stressed state.
Add to that the realization that there was no way I was going to get to leave school in time to go to the store to get cheese and get home in time to cook the beans for our chili before I left for my spin class and I was a bit of a mess.  The beans won out over the cheese (I figured we could eat chili with no cheese, but cheese with no chili to put it on wouldn't really be a meal) so I ran home and threw the beans on the stove.
Of course, my plans to have a nice, healthy, light snack before spin class flew out the window as soon as I saw that yummy jar of peanut butter calling to me.  I can't resist peanut butter and I'm a major stress eater so I dug in and ate my weight in peanut butter.  You can bet that didn't make me feel good about myself.
The beans got cooked and I made it to the gym on time.  But once I got there I realized that in my rush I had put on the chest strap of my heart rate monitor but forgotten the watch part, so it was basically useless.  So frustrating.
Regardless, I still had a good workout, I found a store that sold the cheese I wanted that was right near my gym so I was able to stop by after class and grab some so we could have chili and cheese.  Things were looking up.
Everything was going nicely so I decided to stop by FedEx and pick up the package they had brought by today but didn't leave because no one was home.  I go in, hand the lady my slip, and she looks at me like I'm crazy.  She says "did you get this re-routed here?"  I said that no, it said on the sticker to come pick it up anytime after 3:00.  She points to the address, tells me I'm at the wrong FedEx, and that the distribution center I need to go to is already closed.  Ugh.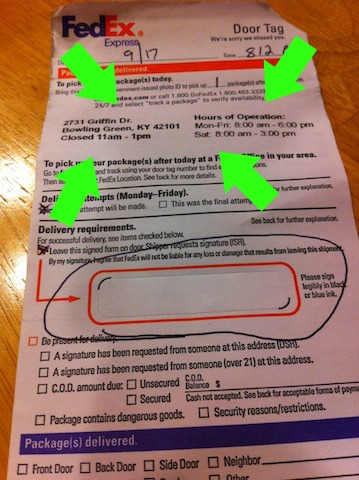 I felt like the biggest idiot.  I read over that whole page (we rarely get deliveries from FedEx, usually they come UPS, so I made sure to read it extra-careful since I wasn't used to how to pick up a package when FedEx brings it…obviously I didn't read it carefully enough…) and yet somehow I missed the address.  I had even gotten online and Googled "FedEx Bowling Green" to check the hours…of the wrong one…when the hours and the address were written right there.  So embarassing.
I slunk out the door and headed home.
Fortunately I was able to get a home cooked meal of chili and Mexican cornbread fixed and on the table, with only a minor little squirt of jalapeno juice to the eye (I mean, really, I even wear rubber gloves when I chop jalapenos to keep the juice from getting on my hands and then getting transfered elsewhere…now it appears I'm going to have to start wearing googles too).  No matter that the food didn't get to the table until 8:20…at least it was made.
Surely my day couldn't get any worse…until I open up my purse and see that my sunglasses have broken.  Then I find myself hoping for rain again tomorrow since I have super sensitive eyes and wear sunglasses the majority of the time I'm outside/driving.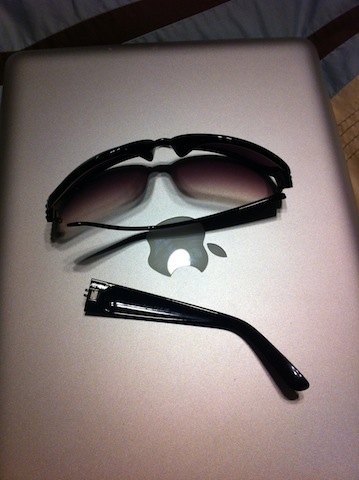 But, as I kept reminding myself, at least this gives me something to blog about.
And surely, SURELY, tomorrow will be better….
Right?