I have very greasy hair.  Always have, probably always will.  As in, within 24 hours of washing my hair it starts to look like you could use my head for your car's next oil change.  And if for some strange reason I skip a day washing, then I better plan on staying home because I'm not fit to be seen in public.
I'm sure you can imagine then why I was hesitant to try this coconut oil hair treatment that I found on Pinterest.  It sounded amazing – Lara (the girl who wrote the post) raved about it and said it made her hair so soft.  Then I read the comments and so many of the commenters were thrilled with the results, too.
It sounded so great that I decided to give it a try and figured I could always wash my hair again if it made it greasy.  I am SO glad I did!  The results were incredible!  I couldn't believe how soft my hair was after I finished.
All you need is some coconut oil and a little time.  I already had some coconut oil that I bought at Trader Joe's, but I also went ahead and bought some more from Nutiva because I found a $10 off coupon here which made the oil free and all I paid was shipping.  I've also seen it at Kroger.
I scooped out a handful (coconut oil is a solid, sort of a Crisco-consistency, at room temperature but starts to melt immediately with your body heat).  I rubbed it into my dry hair, starting at the scalp.  I scooped out some more and made sure to really get my ends saturated (that's where I seem to have the most damage).  Then I twisted it up on my head and let it sit for 30 minutes, like this: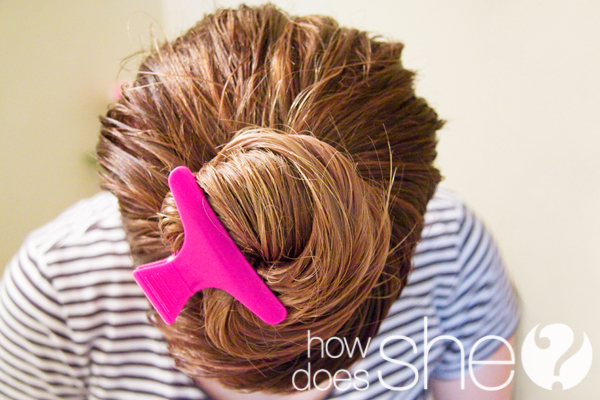 [source]
The original post says you can put on a shower cap and sit under a hair dryer but I didn't have a shower cap or the desire to sit under a hair dryer, so I just let it sit as I went about my business.
After 30 minutes I took the clip out and got into the shower.  I squeezed a blob of shampoo into my hand and rubbed it into my hair before I got my hair wet.  I don't really have a good reason for doing the shampoo before wetting my hair, it was just a tip that one of the commenters left that she said worked for her.  After I had "shampooed" my dry/greasy hair, then I started rinsing.  Then I washed it again, and then one more time for good measure.  Then I conditioned as normal.
I dried my hair as soon as I finished my shower and I was blown away (lol, pun not intended but funny anyway…blow dryer…blown away…I crack myself up) with how soft my hair was.  I literally cannot remember my hair ever being that soft before!  I didn't even really have particularly damaged hair before, but I still tell a huge difference.  Then next day it still felt so soft and I couldn't stop touching it.
It did not leave my hair greasy at all, either!  Yay!
I've done the treatment twice more since that original try, and I am more than pleased with my results.  I think this is something everyone should try, but it would be especially helpful if you're hair is damaged from coloring, heat styling, etc.
Make sure to check out Lara's original post to get more detail, see more pictures, get a coupon for free coconut oil, and learn some other hair tips (that sound great, I just haven't tried them yet).  Thank you Pinterest and Lara at How Does She? for this amazing discovery!
Using coconut oil to treat my hair works for me!
Linking up to Works for Me Wednesday