I'm so glad that Friday is here!  It's been quite a week with my terrible, horrible, no good, very bad Monday and then on Wednesday our internet was down at work all day.  That was the worst thing ever, but it did make for basically a wasted day on my part since most of the library or technology jobs I needed to do required internet access.  I didn't realize quite how much my job depended on the internet until it wasn't available anymore.  But it was back up and running yesterday morning so I hit it hard yesterday and will do so again today to get caught up.  But the good news is that it's Friday and that we only have one more week until our fall break!  Yay!
Here are my exciting things this week.
1. I tried a new fruit this week.  One day the fruit in our school's fruit baskets was something I didn't recognize.  It wasn't labeled or anything so I'm not sure what it was, although someone else said they thought it might be a plum.  But I tried it and it was very good.
Can anyone identify the mystery fruit?
2.  Tonight Michael and I get to babysit two of the cutest little boys ever so their mommy and daddy can go out on a date.  It's going to be so fun and I'm super excited!
3.  Monday was the 100th day of our 100 days of real food challenge.  Can you believe it's already been 100 days?  I sure can't!  When we started thinking about this months ago I had no idea we would complete the whole 100 day challenge and drastically change the way we eat.  I'll be doing a full re-cap and results posts in the next week so be looking for that.
4. Last Saturday night I got to catch up with a bunch of my friends from college at one of our friend's birthday parties.  Some of them I hadn't seen since our wedding three and a half years ago so it was a real treat to get to see them.
5.  I bought a food processor this week.  I have never ever used one, and figured that a blender did just about the same job.  But the more I cook, and especially as much as we cook from scratch with our new real foods lifestyle, I'm realizing that food processors serve a different purpose and might be handy for me to have.  I found this Cuisinart mini (3 cup) food processor at Kohl's yesterday – certain colors (pink and blue…I chose pink of course) were on sale from $60 down to $35, then I had a 20% off coupon, and then I had a $10 off my total purchase coupon (don't you just love how Kohl's isn't restrictive with what you can use coupons on and how they let you stack coupons?!?!), so I snatched one up and got it for next to nothing.  I haven't used it yet so I can't give a review or anything, but I'm very excited to try it out and I hope it was a wise purchase.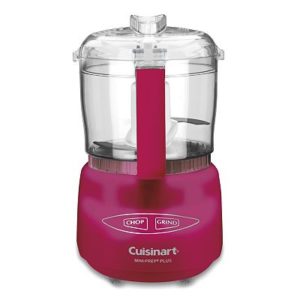 [source]
Linking up with Lauren