Apparently I'm really into doing things in fives right now since my last two posts were also lists of five.  So in keeping with that theme, today I'm going to share with you the next installment in my classroom organization series: five binders/folders/files that were essential for me as a high school teacher (for the record, I used binders, but you could use whatever works best for you).
(apologies again for the lack of examples and pictures of these binders, but since I'm not longer teaching I don't have them anymore…so just use your imagination)
1. My teacher binder.  This contains the most important information that I needed to access every day (attendance, seating charts, lesson plans, etc.).  You can see what I had and how I set up my binder here.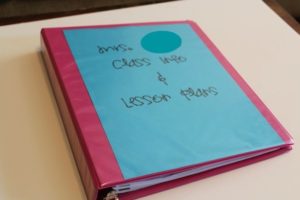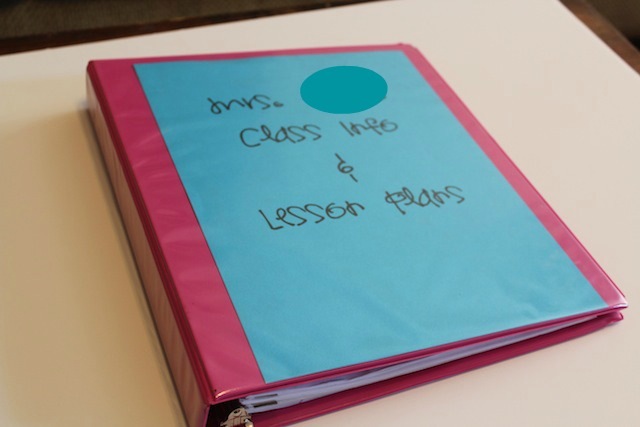 2.  Student information binder.  The first day of class I had each student fill out an information where they listed things like name, nickname, address, parent contact info, likes, dislikes, hobbies, extracurricular activities, etc.  I also sent home a form for the parents to sign and return (it was attached to the syllabus) with their contact info.  I then filled these in a binder – I had five classes so I used five tabs, one for each class.  I filed the student info sheet and the parent signature sheet together for each child, alphabetically.  It ended up being a huge binder since I had 150-180 kids.  This wasn't something that I accessed every day, but it was something that I liked to keep organized and easily accessible.
3. A binder for IEPs and 504 plans.  With that many students there are a lot of people with IEPs and 504s that you need to keep up with.  Again I used five tabs and filed the IEPs or 504s for all the students in that class under that tab.  I kept that close at hand so that I could reference it to see what modifications needed to be made for each student.
Just a quick note here: if you teach elementary, you could probably combine numbers 1, 2, and 3 into one notebook since you will probably only have 20-30 kids.  Then you could have all your student information together rather than putting it in multiple places – I only did that due to the sheer volume of it all.
4. A substitue binder.  Some schools have a certain format that they require you to use and often will want you to leave your folder in the office, but if you are at a school where they don't have specific requirements, make sure you have a good substitute folder.  I've seen several examples on Pinterest of substitute binders so if you're looking for ideas that is a good place to start.  Personally, I always put my roster, my seating chart, a list of responsible and trustworthy students from each class who can help if the sub needs something, a detailed description of my schedule (when and where I have duty, when my planning is, etc.), a map of the school, other policies and procedures they might need (fire drill, bathroom breaks), and back up lesson plans – something generic that can be used in a pinch if I suddenly can't make it to school and didn't have something prepared ahead of time.
5.  A general school information binder.  This is just kind of a catch-all binder that holds all the other random important stuff that you need, but don't want to carry around in your teacher binder.  I just named mine "school info".  Some of the stuff I included was notes from faculty meetings, instructions on how to do things like set up my website, use Infinite Campus, set up and retrieve voicemail for my phone, use SubFinder to get a sub, policies and procedures, the student handbook, and more.
So those are my five essential binders (not including the binders I used to store all my class materials – that's a whole different ballgame and I'll be posting that in my next (and last) classroom organization post).