I am so glad I started doing What I Wore Wednesday posts last year.  I feel like a goofball 99% of the time taking all these pictures of myself (or actually, asking Michael to take my picture every day) and then posting a jillion pictures each week.  I mean, who really cares what I wore?  But it has been so helpful for me in figuring out what looks good on me and what doesn't, what my style is, what I like and what I don't.
I know I've mentioned this several times before, but in case you are new here, until I was about 20 my "style" consisted of jeans and t-shirts.  I did not care what I put on and was all about comfort over anything else.  After I lost a significant amount of weight in college I started to actually care about my clothes a little but I was quite far behind all the other girls my age who had cared about clothes since middle school and I've been playing catch-up ever since.  Taking these pictures everyday has really helped me recognize and develop my own style.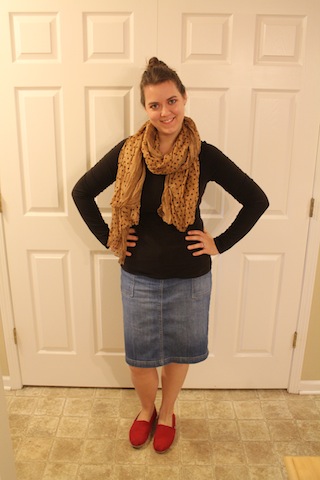 Wednesday – work and church
skirt/NY&Co, shirt/Limited; scarf/Rugged Wearhouse (Gabriel Brothers); shoes/TOMS via Journey's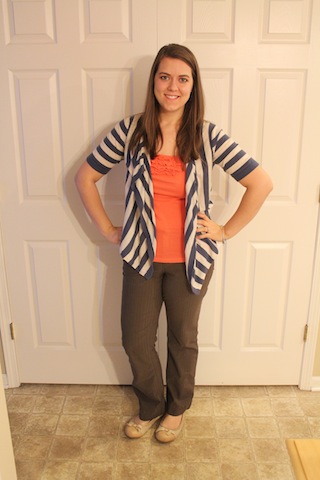 Thursday – work
pants/Kohl's, tank/Old Navy; cardi/Loft outlet; shoes/Maurices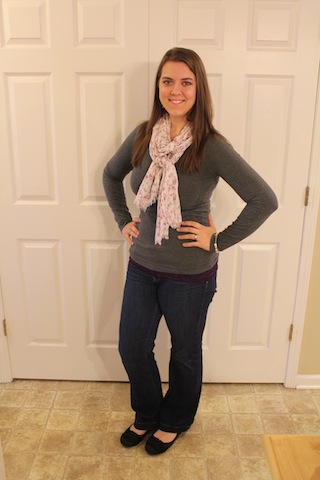 Saturday – mini road trip
jeans/Gap; gray shirt/Limited; purple tank/Gabriel Bros; scarf/Maurices; shoes/Fergalicious via DSW
I must have really liked the long sleeved shirt + scarf look from Wednesday since I wore it again on Saturday!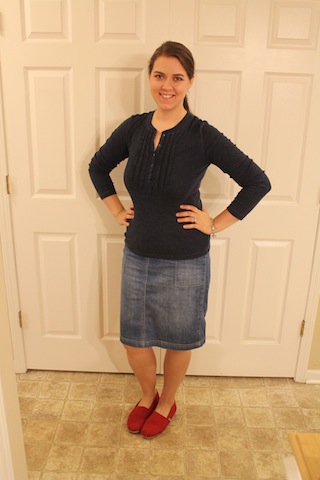 Monday – work and gospel meeting at church
skirt/NY&Co, shirt/Gabriel Bros; shoes/Toms via Journey's
(I didn't realize until I was putting this post together that this outfit is essentially the same thing I wore Wednesday, minus the scarf.  Oops.  But at least I know what I like!)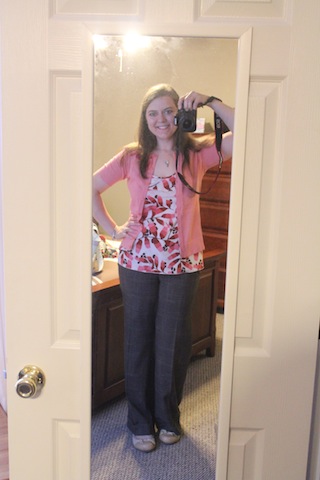 Tuesday – work and gospel meeting
pants/NY&Co; cardi/Loft outlet; top/Banana Republic outlet; shoes/Maurice's
Guess why you've never seen those pants in a WIWW post before?  Because they haven't fit since before I started doing WIWW posts last November.  Whoop whoop I was able to get them on yesterday!  They are still a bit tight, but at least they went on!  Thank you, real foods challenge.
Linking up to What I Wore Wednesday