I was 10 years old when the first Harry Potter, around 13 when I picked up the first book and found myself hooked on the series, 14 when the first movie came out, 16 when I went to my first midnight book release (Order of the Phoenix), followed by another midnight book release at 18, attended the last book release at age 20, and then closed the book so to speak when I saw the last movie at age 24.
I love Harry Potter.  The books, the movies, the whole culture has been a part of my life for over 14 years – that's more than half of my lifetime!  Nothing else has come close to touching it – not even Twilight or Hunger Games.
So when I heard that J.K. Rowling was writing a new book, I was a bit intrigued.  But at the same time, I was strangely disinterested.  I can't quite pinpoint why but I think it's because I love the Harry Potter books so much and I think she could never top those, so why would I even want to read her newest book and chance being disappointed.  It's almost like I'm afraid that if I don't like her newest book then that will taint my thoughts and ideas about her and Harry Potter in general.  Is that totally weird or does anyone else feel the same way?
I case you didn't know, her new book, The Casual Vacancy, released today.  I wouldn't have known it if I hadn't seen a little table set up at Kroger last night with a sign telling that the book would arrive today.  In fact, I had to Google "J.K. Rowling's new book" just to find out what the name was and what it was about.  It has been met with very little pomp or excitement in my world – which surprises my because although I do not watch or keep up with the news (where it has probably been talked about), I am a librarian and on Facebook and I figure I would have heard something via one of those outlets.  Somebody is interested, though, since there were 1 million pre-orders and it has already hit No. 1 on Amazon's chart.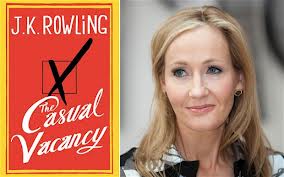 [source]
Obviously I haven't read it yet and this is not a review by any means, but based on what I've read online The Casual Vacancy is a realistic (read: no wizards) novel with many adult themes (drugs, rape, foul language) set in a small town in England.  From what I'm gathering it has quite a bit of political bent to it.  Not at all like Harry Potter, and not really anything that interests me.
Just some random musings on a Thursday afternoon.
So what do you think?  Are you excited?  Are you going to read her new book?  Or are you just odd like me and can't fathom anything she writes ever being better than Harry Potter so you'd just rather not even try?
On a semi-related-but-not-really note, on October 11 J.K. Rowling will be doing a live virtual author visit through Scholastic.  You can check that out here if you're interested in watching.  We'll be watching it at my school and I'm pumped.