I am so excited that today is Friday!  Wanna know why?
1. Michael is home!  He had to go out of town Monday morning for work and just got back last night.  I hate it when he is gone and was so happy for him to come home.  Fortunately I did pretty well not being afraid while he was done – it helped that we had our fall gospel meeting each night this week so I had somewhere to go to keep me busy.  The meeting was great, by the way, we discussed several of Jesus' parables and I got a lot of food for thought.
2. As of 3:00 today I am officially on fall break!  To be honest it feels like this school year has flown by and it's hard to believe it is already time to fall break, but I'm not complaining :).  We get a week and two days, which is the longest fall break I've ever had.  I'll have to work some during that time, but I also plan to have at least one day to sleep late, stay in my pjs all day, and read, watch tv, or quilt…whatever suits my fancy.
3. This peanut butter dip is my new favorite food.  I've been eating it every day with apple slices (ok and sometimes just straight up with a spoon…you caught me).  It's super easy – just mix yogurt, peanut butter, honey, and a dash of cinnamon.  It's sooooo good!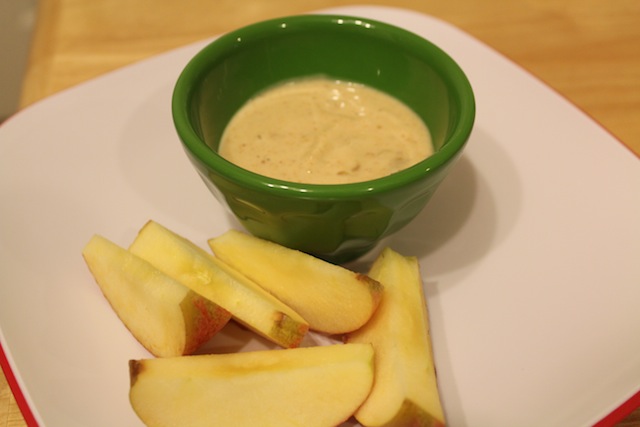 4.  I bought my first Lisa Leonard necklace (after drooling over them for a few years) last week and it came in the mail Monday.  It's beautiful and I've worn it multiple times this week already.  I choose the phrase "be still" because the coffee cup makes me think of having quiet time or an intimate conversation…something I need to remember to do more often with God and with others.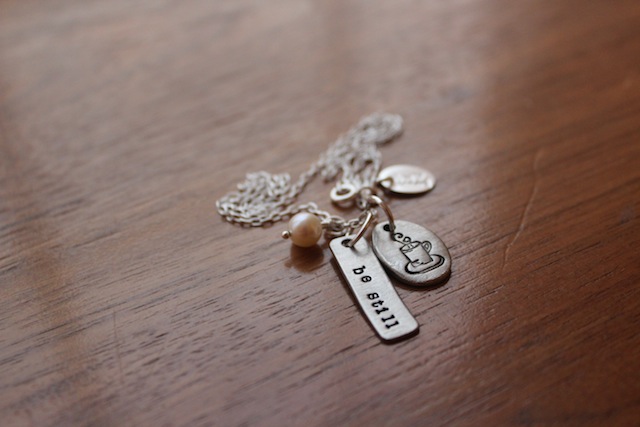 5.  These boots.  Oh these boots.  I am in love.  A fellow teacher had told me about this store called Hyder's in Bowling Green and that she had bought tons of name brand shoes like Clarks and Uggs there for really cheap.  You know I love me some shoes so I went on Wednesday to check it out.  It turns out that Hyder's is part of a chain (sort of – they all have different names) all across the TN and KY area, and that there had been one in Cookeville where I went to college (Marti & Liz).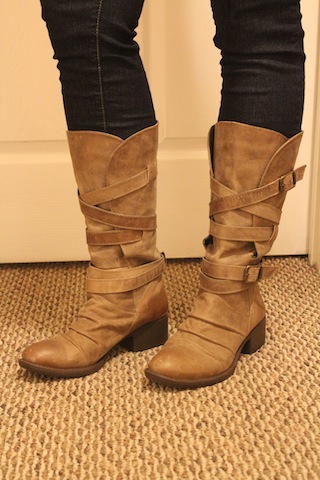 I'm not quite sure where they get their shoes – I've heard some people say they are shoes that were worn by models, others say the shoes are department store returns that can't be sold, and still others say they are overstocks.  I have no idea, but I do know that you can find some pretty great stuff.  Some of the shoes have obviously been worn before and are second hand, but a lot of the stuff is brand new with the tags, or has the tags off but still looks like they've never been worn.  When I was there yesterday I saw a ton of Uggs, Jessica SImpson, Nine West, Coach, Clark's, Nike, Easy Spirit.
I found these wonderful boots there.  They are Gianni Bini, real leather, usually sold at Dillard's for around $150.  I got them for $40.  The tags were off but you could tell they had never been worn – the soles have no marks on them and the leather is still stiff and new.  They were a wee bit tight but I bought them anyway, brought them home, used this trick on them to stretch them a little bit (thank you, Pinterest!), and now they are perfect.  I wanted so bad to wear them yesterday but it was pouring down rain and it was still a little too warm to wear them anyway.
Yay yay yay for new boots, great deals, new jewelry, husbands coming home, and fall break!
I hope your week has been as wonderful!
Linking up with Lauren