I've finished my October blocks of the month…which means I'm finished with all the blocks for my very first quilt!  I'm so proud!  This month we learned how to do paper piecing.  Once I'd done one section and got the hang of it, it turned out to be so easy!  I loved it!  Paper piecing with a template was so much easier for me then trying to cut out precise shapes and then make sure to sew the seam not too narrow and not too wide.  I'm definitely a fan.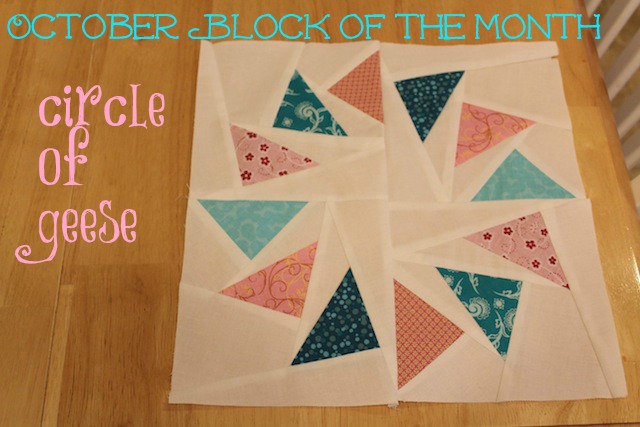 I just love how crisp and neat each block looks, thanks to the wonders of paper piecing!
Now that I've finished all 20 quilt blocks, I laid them all out to get a feel for how they will look once they are put together.  I've just had them in a stack and this is the first time I've laid them all out side by side…seeing them all at once makes me so excited to finish the quilt!
(Pardon the bad picture – our bed was the only place big enough in our tiny apartment to lay the blocks all out at once…and it's hard to get up high enough to get a good angle!)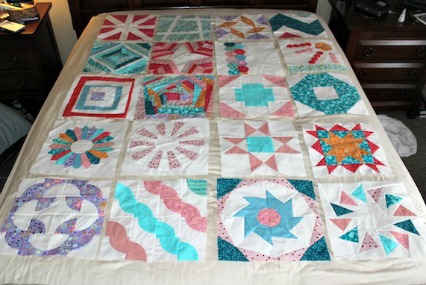 I laid them out by month for this picture (starting in the upper left hand corner, the first two are January, then the next two are February; on the second row we have March and then April, and so on).  I like the idea of grouping them together by month since this was a Block of the Month quilt, but I don't think I'm going to end up leaving them in this order because there are clumps of similar colors that need to be spaced out, like the five blocks toward the bottom right that are predominately pink and turquoise.
Next month we will learn bordering and sandwiching, and then in December we finish it off with binding and quilting.  I am a mere two months away from completing my very first quilt!  Hooray!
Wanna make your own quilt?  It's not too late – the class is free, all the past videos are still available, and they will continue to be available even after the class ends.  Check it out here: