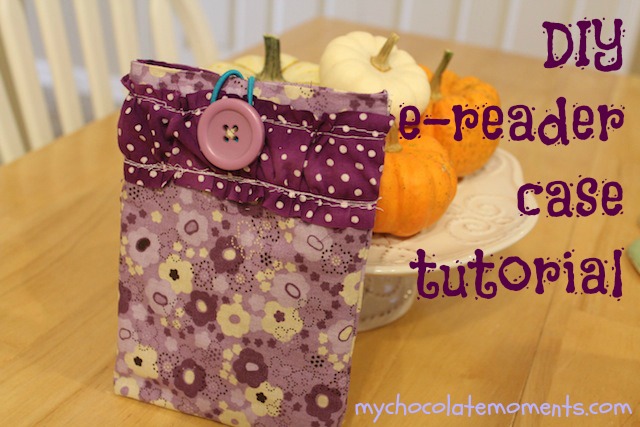 I recently switched purses from a rather small, structured purse to a large, black hole-type purse.  In my old purse, everything had its own little section and so my Kindle was sort of protected by the soft side of my purse and the soft cloth of my wallet.  However, in my current purse, everything is all tossed in there and jumbled up so I was afraid that my Kindle was going to get scratched up.
What's a girl to do?  Why, sew a little protective case for it, of course!  And because I'm so nice (wink, wink) I created a tutorial for you so you can make one too.  This is such a fast little project – it takes maybe 30 minutes, probably less if you are an experienced seamstress (which I'm not).
Just a note before we start – this is NOT a padded protective case.  I just wanted a layer of fabric thick enough to keep my Kindle from getting scratched, but it will probably not protect it if you drop your Kindle.  That would require some extra padding that I didn't use.
Also, I just make things up as I go along – there are probably much better ways to do some of these things but I just do what works for me.  Forgive my novice skills.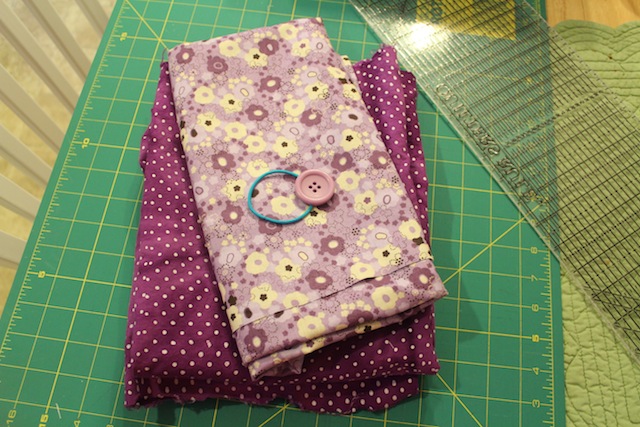 Supplies needed: 2 complimentary pieces of fabric (this is a great project for your scraps because you need such a small amount of fabric), a button, some elastic (I used a ponytail holder…it didn't match but it was free so I didn't really care)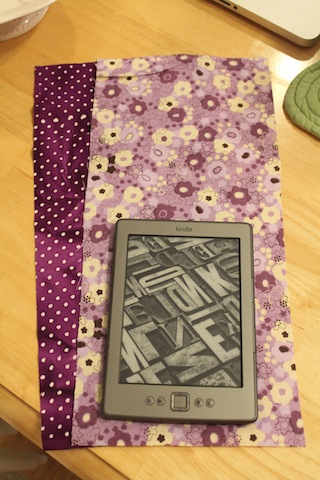 From each pattern, cut a piece that is 6 inches wide by 14.5 inches tall.  This can easily be adjusted if your Kindle is a different size than mine, or if you are making this for a different type of e-reader.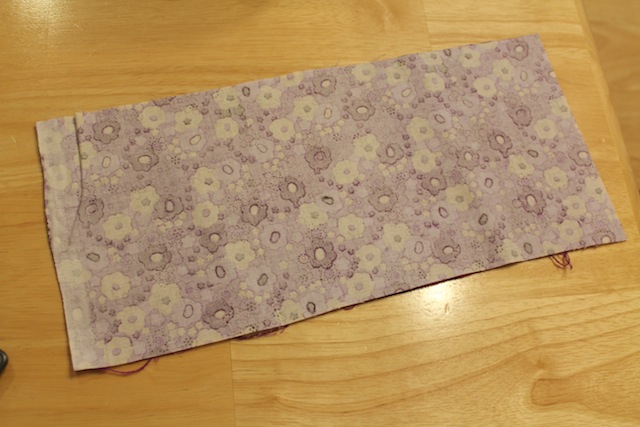 Place your two pieces with the right sides together.  Stitch the two short ends together, using a 1/4 inch seam allowance.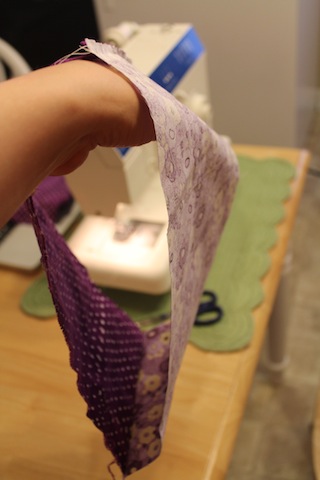 You'll end up with a large tube.  Once it is stitched, turn the tube inside out so the right sides are facing out and iron the seams.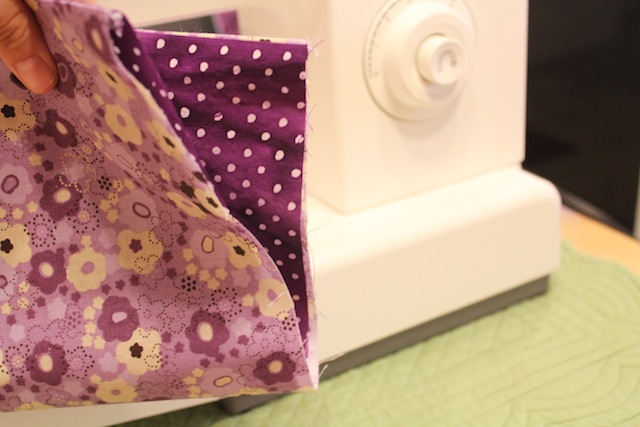 You can start to see the pocket forming.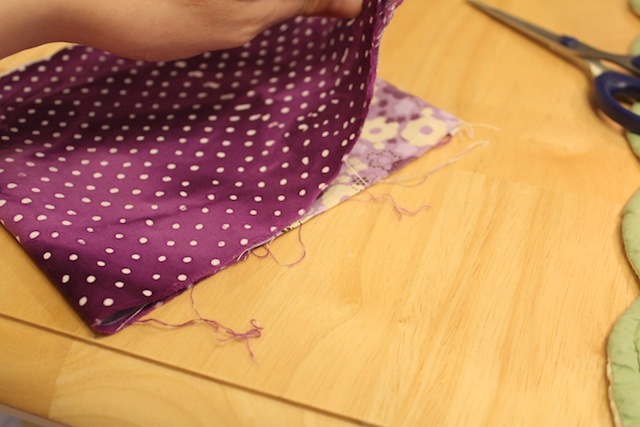 Fold the fabric in half opposite of how you want your pocket to look (I wanted the flowered fabric on the outside and the polka dot fabric as my lining, so I sewed it with the polka dot fabric out and the flower fabric inside).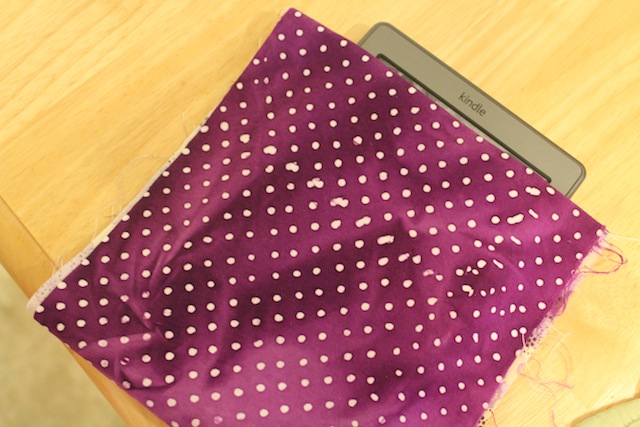 Use your e-reader to estimate where you need to sew the sides.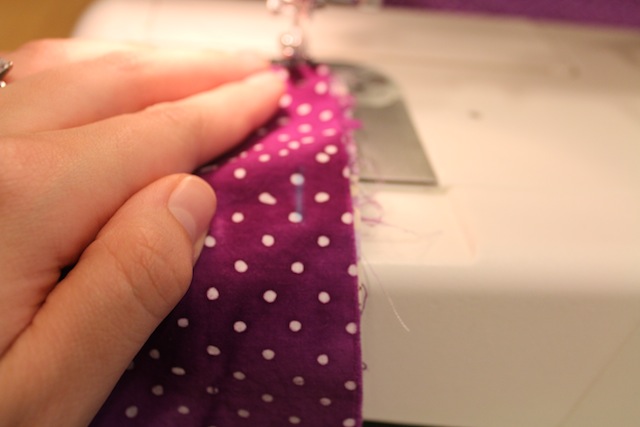 Sew up each side of the fabric, making a pocket.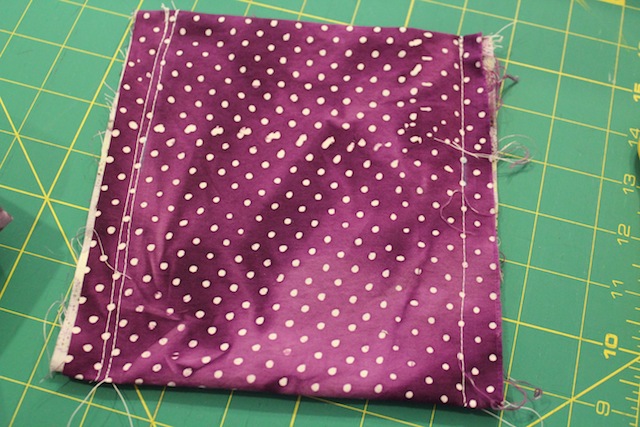 It should look something like this.  Flip it inside out and slide your Kindle down into the pocket to make sure it is tight or loose enough.  You can see on the left where I stitched a second time to make the pocket a little smaller.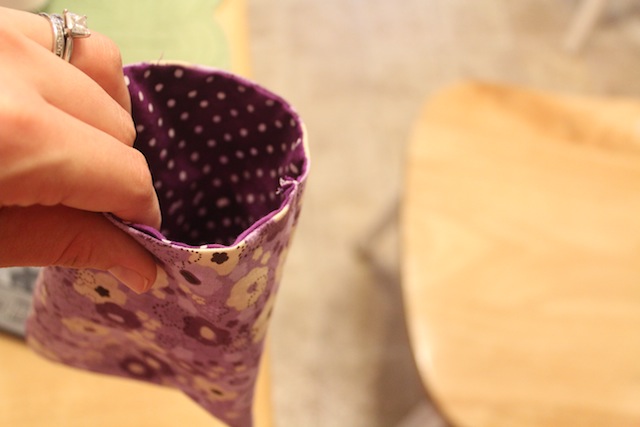 Trim off the excess fabric on the outsides of each seam, then flip inside out.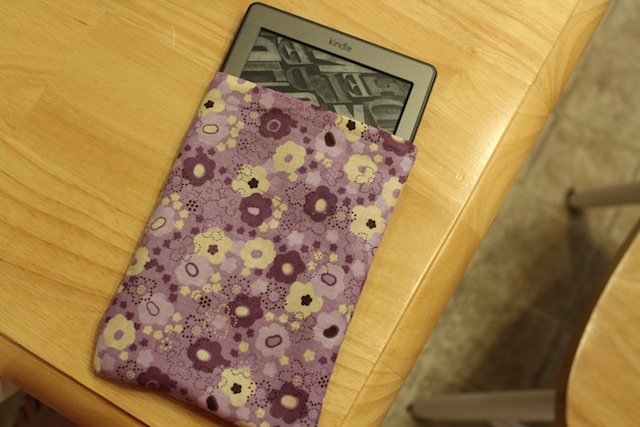 It's like a little sleeping bag for your Kindle :)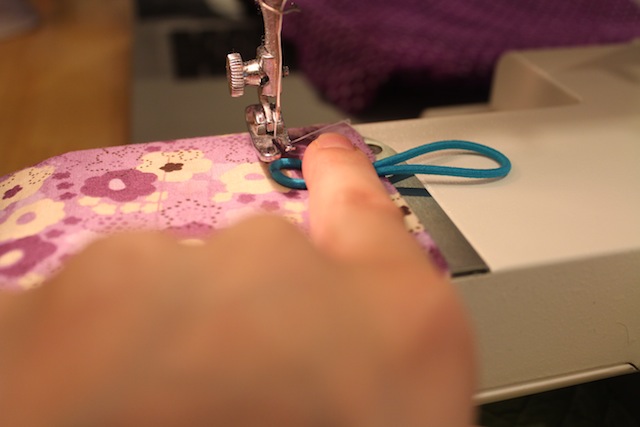 In the middle of the side that you've decided will be the back, sew your elastic on, about an inch down from the top.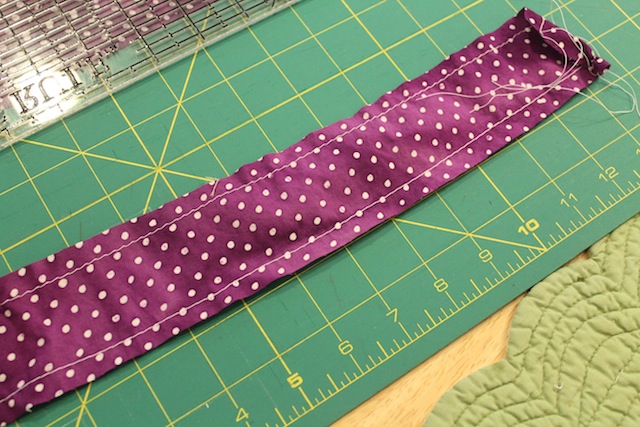 Cut a long, skinny strip of your lining fabric (I think mine was about 2 inches by 15 inches). Set your machine to it's longest stitch length and sew a long, loose seam up each side of the fabric (aka, baste it).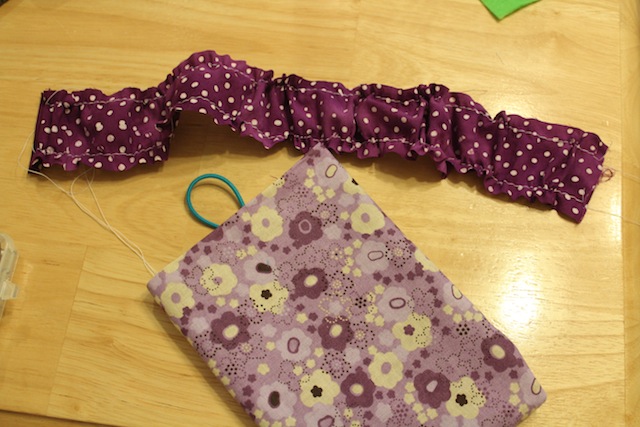 To turn that into a ruffle, pull on one of the threads from each seam – don't pull both, just grab one thread and pull.  The fabric will start to ruffle up.  Then move to the other seam and pull once of those threads too.
Now here is where I stopped taking pictures because this next part was a little difficult and required my total concentration.  So bear with me and try to imagine these next few steps.
Once you've adjusted your ruffle to the ruffley-ness you desire, wrap it around the case about a half an inch from the top (make sure it will cover the spot where you sewed the elastic to the pouch).  Pin it into place.  Then sew the ruffle onto the pocket, on top of the basting stitches you used to create the ruffle.  My machine has a piece that removes and leaves a skinny place to put a sleeve or other small circular object.  This pocket just barely fit on there and because it was such a tight fit I had some real problems with turning it while I was sewing around the ruffle.  Next time I might see if there is a way to sew the ruffle on before trimming the pocket part down.
Anyway, once you've sewn the ruffle on, then sew the button on to the middle of the front of your case (no specific measurement, it just depends on how far down your elastic will come.
A note about the ruffle – I just left the raw edges on the ruffles.  I know they will fray a bit over time and I'm ok with that look.  If you don't like that, you'll need to fold the edges over and somehow sew them down before creating your ruffle.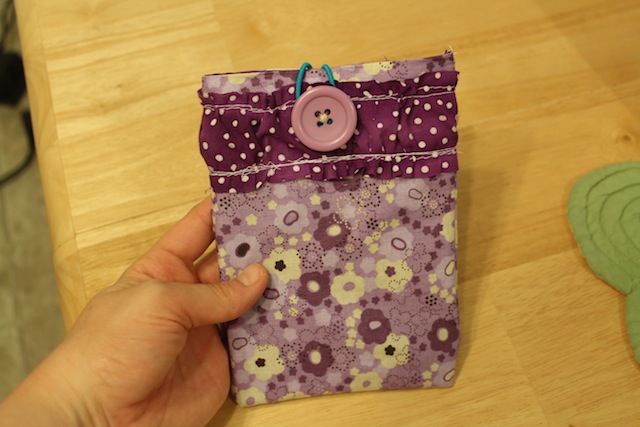 And your Kindle case is done!
I was pretty pleased how it turned out, especially since I had all the things I needed at home and didn't have to buy anything (although that resulted in an elastic and thread that didn't quite match, but oh well).
The thread that goes on the ruffle should have matched the purple fabric.  I have a camera case with a similar ruffle on it – the thread holding the ruffle on is a contrasting color and it looks good, so I thought using the white would look ok on mine.  Turns out I was wrong.  It just highlights my crooked stitches and draws attention away from the cute ruffle.  Next time I will use thread that matches the ruffle fabric.
Also, the thread that I used to sew the button on was yet a different color.  It happened to match the goldish tan color of the flowers from the fabric, but it doesn't look good right next to the white that I used for the ruffle.  Note to self: use the same thread for the ruffle and the button, and make sure the color will blend in.
Now that I know what to do differently, I could whip this up in a jiffy!  Too bad I don't need another Kindle case.  Maybe someone I know will need one for Christmas…
Oh, and on a semi-related note: hopefully this will be the last sewing project I do where I have to haul out all my sewing stuff and drag it to the kitchen table (the only surface large enough in our apartment) to sew since my next project should be done from the comfort of the permanent sewing table/area/station in my craft area in OUR NEW HOUSE.  Yep, you read that right…after 4 months of searching and 30+ houses visited, we finally found one we loved and we got a contract on it yesterday.  SO EXCITING!