Yet another week where I don't have many pictures – I wore several other cute outfits but just completely forgot to get pictures.  Silly me.  Now that I'm back to work after fall break, hopefully I'll get back in my routine.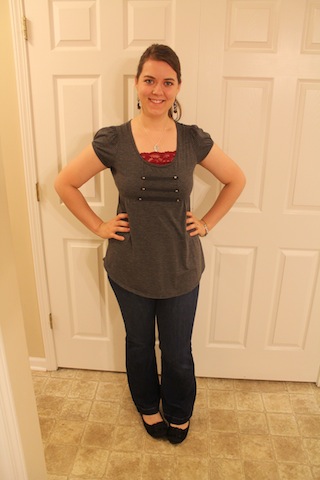 Friday – TeachMeet KY (a conference for teachers, focusing on technology – I learned a ton and got a bunch of great ideas); writing an offer on a house(!!!!!)
shirt/Belk; tank/Gabriel Bros; jeans/Gap; shoes/Fergalicious via DSW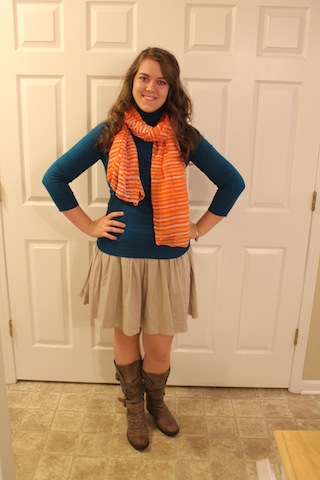 Sunday – church
sweater/Express; scarf/Rugged Wearhouse (Gabriel Bros); skirt/Banana Republic; boots/Gianni Bini via Hyder's
I loved this outfit!  Several of the pieces were new, which it's always exciting to get to wear new things, plus I just really liked how it all looked together.  This is my new fave…prepare to see these pieces again.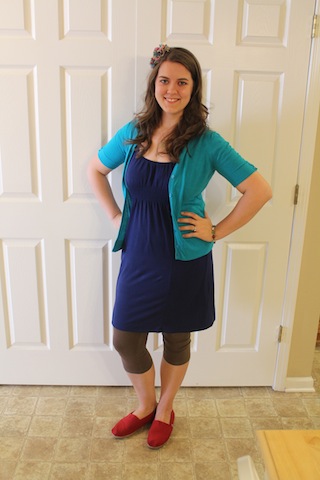 Monday – errands in Nashville, dinner with Julie and Nora, and WE GOT A CONTRACT ON A HOUSE!!! – finally, the hunt is over!
dress/Loft outlet; sweater/Loft outlet; leggings/Forever 21; shoes/TOMs via Journey's
Linking up to What I Wore Wednesday