I skipped last weeks H54F and so much amazing stuff has happened in those two weeks that I can't just limit it to five things…so you get an extra five today :)
1.  WE FOUND A HOUSE!!!  I'm so excited!  It feels like we've been searching for forever!  If all goes well, we will be closing next Wednesday and moving next weekend.  Things are moving super fast and I'm so happy we'll be in and settled soon, but also a bit overwhelmed about getting everything done in the next 8 days.  Let the packing begin…
2. Michael had his annual physical this year and his good cholesterol had improved significantly since he had bloodwork done a few months ago.  I'd like to say that it was due to our real food diet, although he also started taking some supplements around the same time so we can't say for sure.  But I think it's safe to say that it definitely didn't hurt him!  Yet another great reason to stick to eat non-processed, natural, organic foods as much as possible.
3.  My in-law's have an apple tree that randomly decided this year to produce tons and tons of apples.  They gave us a five gallon bucket of apples which I then turned in to apple butter…it turned out so good!  It was pretty easy to make, too.  I used this recipe as my jumping off point and then changed it a bit to fit my needs.  The short version: core the apples, leave the peels on, chop in a food processor, toss in a crock pot, add a splash of apple cider, a little bit of honey, some cinnamon, and cook on low for 10 hours.  When it's done and cooled, blend it in the blender to get it nice and smooth.  It is delectable.  The 5 gallon bucket made two and a half crockpots full so I've got quite a bit put up in the freezer.  And, I hear they have a bunch more apples picked so I may be cooking up another round after we move.
4. Fall break was wonderful and refreshing.  We had seven school days off and although I did work at school for two of them, I still got plenty of relaxing time as well as being productive.
5.  One of the things I did over fall break was go to the podiatrist.  Over a year ago, when I had just first started blogging, I posted about my feet issues and the orthodics that my chiropractor issued.  Well, the pain hasn't improved and in fact, got much worse until I finally just completely quit doing any weight bearing exercise.  So a year and a half after the pain started, I finally got around to going to a podiatrist.  The results were very positive – he diagnosed me with plantar fasciitis, which I suspected, and ordered me a different set of orthodics.  The best news is that he is very optimistic that I will be able to start running again.  I am thrilled since I haven't been able to run without pain in over a year.  I bought a new pair of running shoes and I can't wait to get started again!
6.  Something else I did over the break was work on re-organizing the library.  I changed my fiction chapter book section from just being organized by author last name to being organized in genres (i.e. a mystery section, historical fiction, etc.).  So far the kids seem to like the change so I hope it works well for us.
7.  I have been chowing down on this pumpkin bread this week – it is so yummy!  I think next time I make it I will leave out the ginger, as it is too strong for me, and turn it into muffins.  But boy is it good.
8.  Yesterday J.K. Rowling did a live webcast where she answered some questions that students had sent in and talked some her writing journey.  We watched it at my school and it was really neat.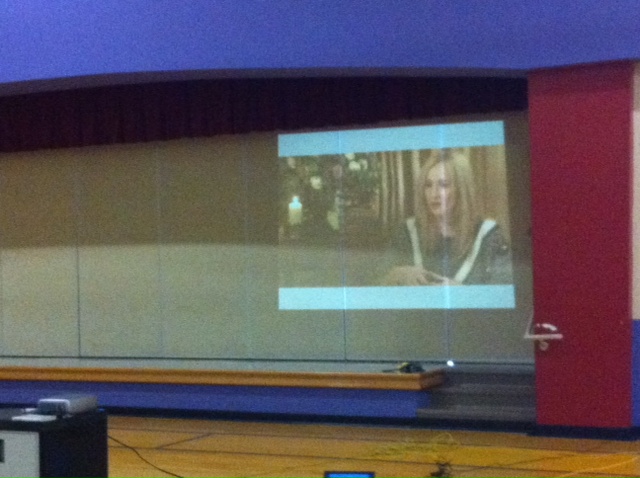 9.  I've finally allowed myself to have some non-real foods after so long without them.  To be honest, they were good but I was fine with just a small bit.  Let's hope I can stick to that mindset…a little is plenty.  One of our splurges has been some chocolate we bought at Whole Foods.  The orange chocolate is Michael's, the espresso is mine, and we bought the 85% dark to share.  The 85% was just too bitter for us, but the others are great!  Mine has little crunchy espresso pieces in it – yum!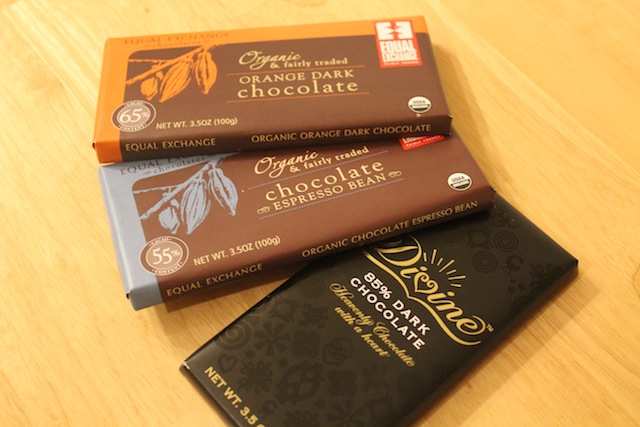 10.  We made a trip to Nashville to get some staples from Whole Foods and while we were there we met up and ate with Julie and Nora (I can't believe she's almost one!  It feels like we just had her baby shower!).  While we were at the restaurant we saw two old friends – one from high school and one from college.  It was so random and fun to see them!
Alrighty then, let's bring on the weekend!
Linking up with Lauren