Remember how I'd been graced with a gagillion wallet sized photos of myself my first two years of teaching and then this year I thought all I was going to get was a proof?  Well, turns out that wasn't quite the case.
I did get a proof, which I turned back in with my selected "pose" for the yearbook.  I did not order any pictures (I think we've already established that I think school pictures for adults are weird outside of one picture in the yearbook).
So I was a little surprised when I went to my school mailbox yesterday and found a large envelope of school pictures waiting for me.  Turns out, the company we use does in fact give complimentary pictures to teachers, you just have to pick your pose first (unlike in the past years where I was never given a chance to pick…the many wallet sized pictures just magically showed up a few weeks later).
And, how delighted (*ahem* sarcasm) I was to find that I didn't not just get a large quantity of wallet sized pictures this time.  Oh no, they went above and beyond – I got 24 wallet sized pictures, plus two 5x7s, and, get this, an 8×10.  That's right – a full 8×10 of yours truly in all my teacher glory.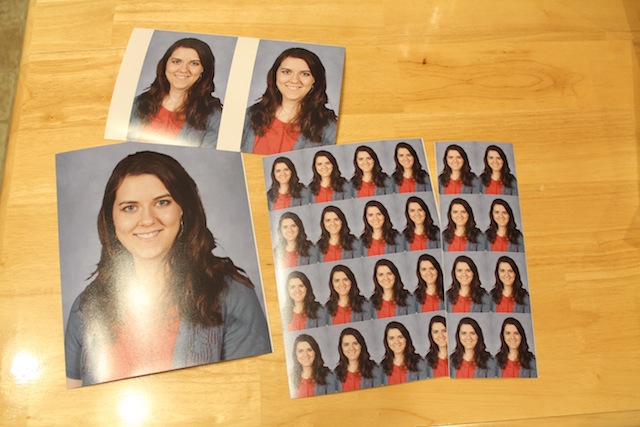 As if having a million tiny pictures of myself wasn't awkward enough, now I have a lovely huge picture of myself.  I guess I know what I can use for decor at our new house.
Or not.
So tell me, fellow teachers, do all school systems do this?  Do you get a bunch of school pictures of yourself each year?  Or have I just happened to work at two of the most generous weird different districts around?
You know those frames where you put your kids school picture in it each year from Kindergarten to 12th grade?  Well, I never had one of those; in fact, I think the only school pictures we ever purchased were my Kindergarten ones, 8th grade, and then my senior year.  Maybe I should get one of those and put a picture from each year of teaching and watch myself get older.  Hmmm.
Not quite as cute as watching a kid grow up, huh?
(Don't worry guys, I'm totally kidding.)