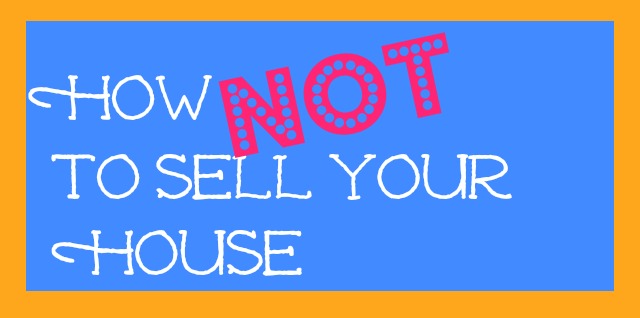 So….we've looked at a lot of houses.  Like 30+ houses since June before finding the one. I figure that makes us kinda experts at house hunting and all that stuff.  We've seen the good, the bad, and the ugly…unfortunately waaaayy too much of the bad and ugly variety. So similarly to what we did after we had visited so many churches, we've come up with a list of things NOT to do when trying to sell your house.  These are things that are a major turn-off for your average house-hunter (a.k.a. me) and should be avoided if at all possible.
Bonus: all tips come complete with at least one real-life example!
(Ok let's be honest…I really just wanted to share all our weird house hunting stories with you…but if our crazy experiences serve to help anyone else then the world is a better place)
Tip #1: Leave the premises!
Having the owners of the house there automatically makes the potential buyers feel awkward and much less relaxed.  It is hard to be objective and truly take your time looking at a house when the owners are hanging around.  So just go grab a nice cup of coffee at Starbucks and read for an hour or two.
Examples:
Bad: Driving away from the house but telling us not to worry about locking up because you'll "be watching from a distance and will see when you leave".  Creepy.
Worse: Staying on the property but going outside to work in your garden.
Absolute worst: Being on house arrest.  Following us around and telling us all the great things about your house while simultaneously telling us about your ankle monitor.
Tip #2: Avoid overly quirky decor.
You don't have to completely rid your house of any personality, but use an objective eye (or ask a friend or your realtor) and remove some of the more obnoxious and/or potentially distracting things.
Examples:
Cherub mural covering the living room ceiling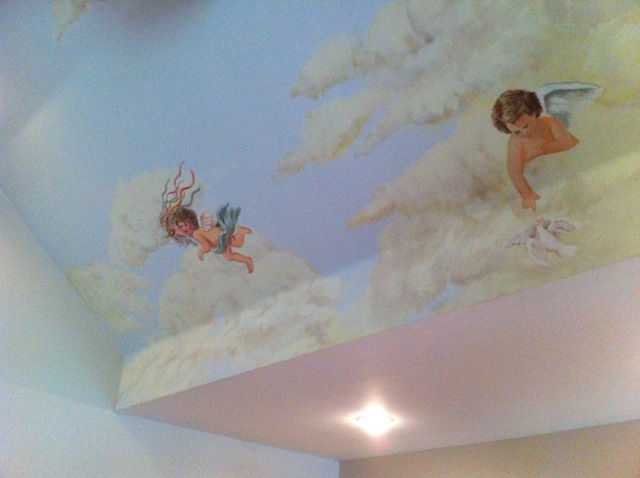 Pink lights in the bathroom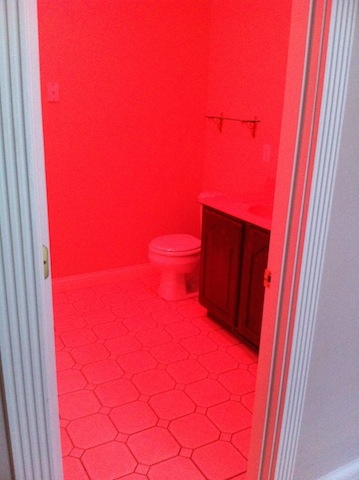 (Same house as the mural…and the house was vacant so the pink lighting would have been an easy fix – just change out the bulb!)
Bedroom full, and I do mean FULL of dolls – dolls all over the bed, in display cases all around the walls, pillows embroidered with dolls, and more
 Naked pictures.  Enough said.
Tip #3:  Clean Up!
Your house doesn't have to be spotless – we realize that there are people living there.  But please don't let it be a dump, either.
Examples of things to avoid:
Half-eaten bowls of cereal sitting out.
Dog toys strewn all over the living room
Tons of whisky bottles stashed in your kid's closet…yes, we do look in the closets…not to be nosey, but just to see what the closet space is like.  So don't think you can hide stuff there.
Having a showing before you've removed the old couch off the front porch or the litter from the yard.
Tip #4: Make sure your house doesn't smell bad.
You may have to ask a trusted friend to be honest with you because you may be immune to the smell yourself.
Examples:
The house that smelled so strongly of cat pee that I could smell it even before we had walked onto the front porch.
The (multiple) houses that smelled so strongly of cigarettes that I had to leave the house even before we finished looking at everything.
Tip #5:  If your house DOES in fact smell, DO NOT try to cover it up with air freshener   That just makes is even worse.
Examples:
The house that tried to cover up the cigarette smoke with air freshener, which made the smell so bad that when we left I had to spit in the bushes and then get some gum in order to get the taste out of my mouth.
Tip #6: Remove all pets or at least alert us to the fact that they will be there.
Many people are afraid of pets, and so even if Fido is the friendliest dog around, they may not know that and be totally unable to look at the house because they're afraid Fido will eat them.  It is my opinion that cats can be left if they must (but make sure you let us know they will be there), although then we have to worry about making sure they don't escape when we leave so it still isn't a great idea to leave them there.  Dogs should always be removed or else put in a cage.  Even tied up or fenced in isn't good because we'll probably want to look at the yard.
Examples:
Cats sitting on the bed very stealth-like that scare you out of your wits when they move
Dogs in the yard that run up to your car and bark as soon as you pull in
Huge scary dog inside the house (another instance where someone was at home when we got there) that lunge at you through the screen door.  This was the most terrified I've been in all our house hunting experiences.
Tip #7:  If you have renters staying at a house you are trying to sell, check up on them periodically to make sure they haven't made the house un-sellable.
Example:
When we went to the house mentioned above with the huge, scary dog that lunged at us.  There were several people there when we got there (that thankfully rescued us from the dog) and said they would go out in the yard while we looked.  It was one of those things where you couldn't pinpoint what was wrong, but you just a feeling that something was fishy.  The bedrooms were completely empty but there were beds set up on the sunporch and in the living room.  There were broken refrigerators and things scattered around inside the house.  I don't know what the deal was, but there must have been some sort of drug operation or meth lab going on in there.  Come to find out, the people staying there were renters.  I have no idea if the owners of the house realized how badly the way the renters were living was effecting how we viewed the house.
Tip #8: Keep the house at a comfortable temperature
I know you want to save money, but if the house is too hot or too cold then we will be uncomfortable and want to leave as soon as possible.  If it's the dead of summer then crank that AC on!  An hour or two of running your AC won't kill you and it will be a welcome relief as we come in from the heat.  Likewise in the winter, make sure the heat is running.
Tip #9: Make sure we are able to get in to your house
Example:
At one house, the special lock thing that only the realtors can get in to was on the handle of the door, sandwiched between the "normal" door (I have no idea what to call it) and the storm door (the glass, flimsier one that is on the outside).  The owner had locked that storm door, so we could see the realtor box but we couldn't get to it because it was locked in.  Not good.
Tip #10: Be specific with instructions about alarms
If you have an alarm, give the realtor very specific instructions on where it is located and how to turn it off!
Example:
We went to one house with an alarm.  Our realtor had been given the code, but wasn't told where the alarm panel was located.  When we got in the house we couldn't find it to turn it off.  Turns out, it was in the pantry (who puts an alarm panel in the pantry anyway?!?) and we didn't find it in time to shut it off, so it started going off.
Like I said before, I just had to share some of our crazy experiences with you and so I wrote this post in a bit of a jesting, facetious manner.  However, since these are real things we actually saw then there must be some people out there who don't realize these are no-no's.  Don't let that be you!  Take our advice to heart if you are going to try to sell your house!  You can't control what the potential buyers ultimately think of your house, but you can at least make it not offensive to them.
Let's recap.  Keep it neat, a comfortable temperature, and odorless (or else a pleasant odor – think cookies, not pee).  Remove yourself, your pets, and any really quirky decor.  Leave good instructions, if necessary.  Then sit back and let your charming house do the rest of the work!
Fine print: No houses, pets, doll bedrooms, owners on house arrest, murals, pink lighbulbs, or scary renters were harmed in the making of this post.  However, some may or may not have been mocked closely observed.  Extreme house hunting is for professionals only and not for the faint of heart; don't try this at home.
Linking up to Works for Me Wednesday