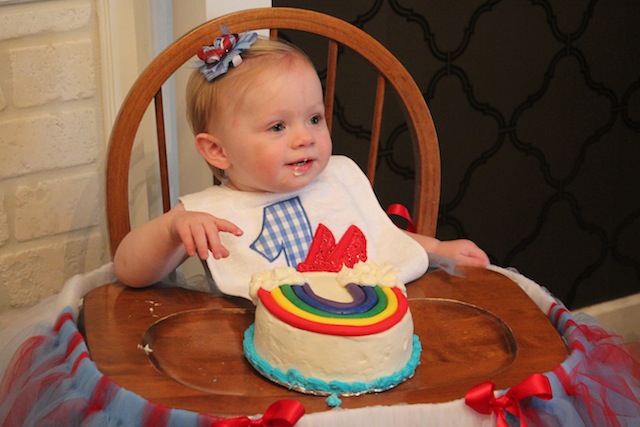 This lil' cutie turned one last week (hold the phone…how is that even possible?  I'm pretty sure I attended her baby shower just yesterday…but I digress)
Her momma took a major leap of faith and asked me if I would be interested in making her cakes so I could practice using my newly acquired cake decorating skills.  Outside of the cakes I made and decorated in class I've only made two other cakes – both which were very simple.  So being asked to make the party cake and the smash cake for Nora's party made me feel incredibly honored but also quite nervous!
The party had a Wizard of Oz theme (I can't wait to share more pictures of the rest of the party later…Julie did an AH-MAZING job with all the decor and food!).  Julie found some cake ideas she liked and we bounced around some ideas until we settled on one like this (although this one was absolutely incredible…no way could I recreate that but it was certainly fantastic to look at…go ahead, click over and check it out, you won't be sorry).
Not only was this my first cake for someone else but it was also my first tiered cake.  As I started looking at cake pans to figure out the size of the cake, I realized that in order to have room on the tiers for the little figurines to stand that I was going to have to have some pretty big layers!  The bottom layer ended up being a 14″ round that took 15 cups of batter and was almost too much for me to remove from the oven myself!  It turned out quite a bit larger than I expected but the overall finished look was totally worth it!
Michael and I were also nervous about transporting a cake of that size and weight but fortunately it arrived unharmed.  We put a bunch of dowels in it for support and that seemed to work really well.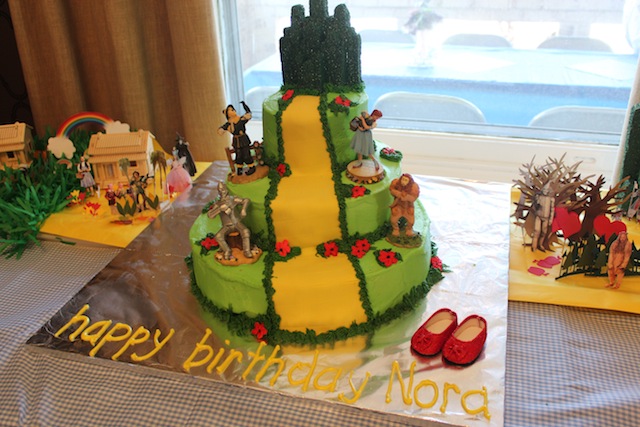 Here it is – my first tiered cake!  I had a really hard time getting a picture because of the window behind the cake so I'm hoping the photographer got a better one I can use later.
The bottom layer was chocolate, the middle layer was white, and the top layer was white with chocolate filling.  The green icing was buttercream, the yellow brick road was made out of fondant, and the poppies are made with royal icing.  Julie made the Emerald City for the top.  The little ruby slippers were American Girl doll shoes.
I was really pleased with how it turned out!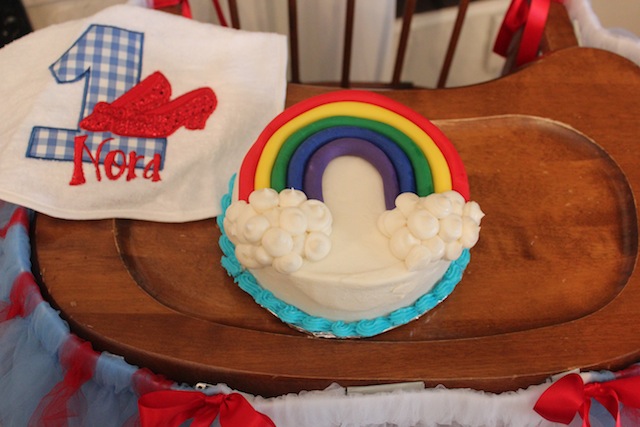 I also made Nora's smash cake – a simple, 1 layer chocolate cake with buttercream icing, buttercream clouds, and a fondant rainbow.
Let's zoom out and check out that high chair, shall we?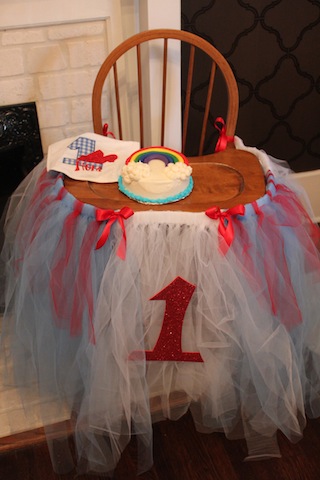 Adorbs.  I love the high chair's decorations!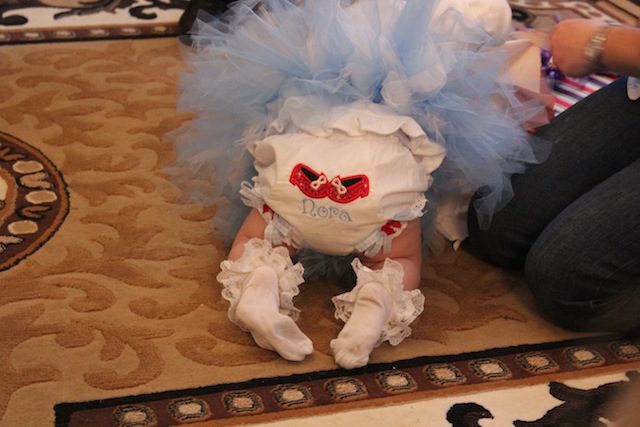 I also love this little munchkin and am so glad I got to be a part of her birthday!