Hey peeps!  Happy Wednesday!  Today is like my Monday since we had a long weekend and the bookfair starts today…so let's take a minute to ignore work and look at some cute outfits.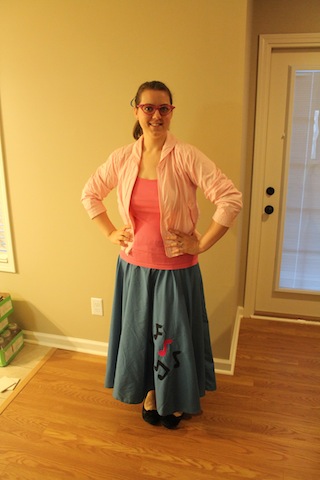 Wednesday – Halloween
We got to wear our Halloween costumes to school Wednesday but I just didn't have enough time to make anything creative so instead I used my 'ole fallback – my '50s poodle skirt…which my students totally didn't get and asked me a gagillion times what I was supposed to be…
Back in high school my mom and I sewed the skirt and added a cute little embellishment to the back of an old jacket of Mom's.
And just to properly document my outfit (because you care so much about my Halloween costume…), the tank is from Old Navy, the shoes are my Fergalicious flats that you've seen just about every week, and I can't remember exactly where I got the glasses but I think it might have been Claire's.
P.S. I'm pretty sure I haven't worn my hair in a ponytail that high (or with the addition of a lovely ribbon) since about 9th grade…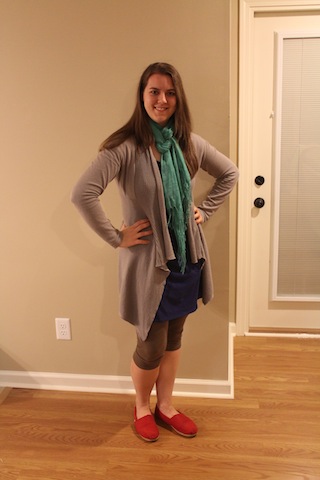 Wednesday night – church (didn't quite think a Halloween costume was appropriate, ya know?)
dress/Loft outlet; sweater/NY&Co; leggings/Forever 21; shoes/TOMS via Journey's; scarf/???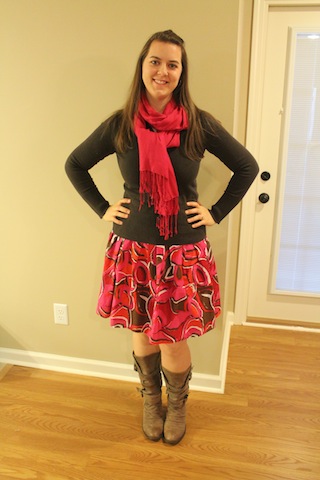 Thursday – work
This was definitely my favorite outfit all week…I thought it was quite cute!
sweater/Gap via Goodwill; skirt/Goodwill; boots/Gianni Bini via Hyder's; scarf/???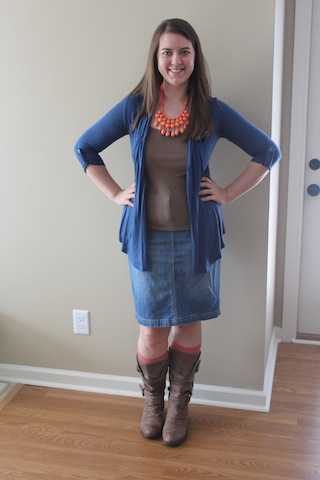 Saturday – Nora's birthday party
skirt/NY&Co; tank/Old Navy; sweater/Dress Barn via Gabriel Brothers; socks/Forever 21; necklace/Our World Boutique
I'm not loving how the button on my skirt shows through my skirt and makes it look like I have a major outie belly button.  I would have really liked this outfit if that hadn't happened.   Alas.
And that's that my friends.  Have a happy week.
Linking up to Works for Me Wednesday