**************************This Giveaway is Now Closed********************************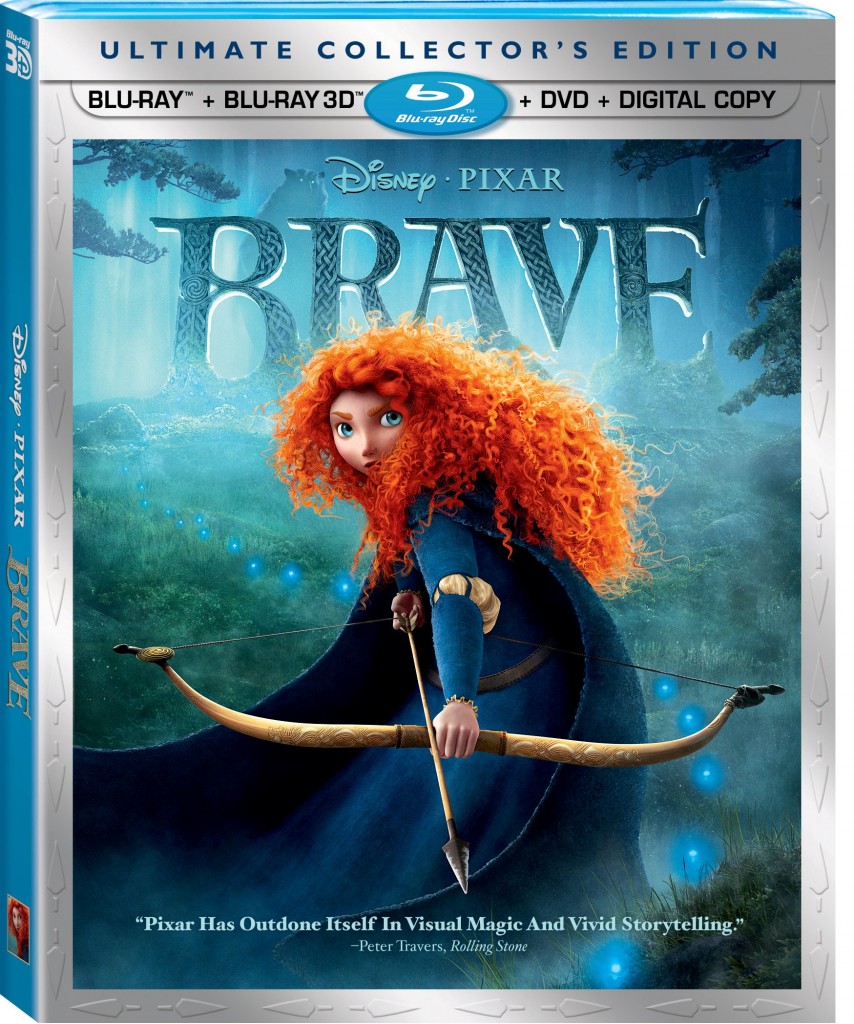 I was so excited to be contacted about doing a review and giveaway of Disney-Pixar's newest movie, Brave, which comes out on DVD next week.  I didn't see Brave when it was in theaters (I rarely see any movies in theaters…too expensive!) but I had seen the previews and knew I wanted to rent it when it came out on DVD.  Lucky me I didn't even have to wait that long!
Let me just say, Brave did not disappoint.  I loved this movie.  It was hilarious (Michael and I laughed throughout the whole thing), sweet, inspiring, sad, and scary.  The animation was out of this world; I spent the whole movie amazed at the detail and movement.  I also really liked seeing a Disney "princess" movie that wasn't strictly about falling in love.  Don't get me wrong, I love all those movies and don't have problems with them at all (lest you think I'm a total feminist), but it was nice to have a little change.  Instead, Brave focuses on the importance of family, listening to others who have different opinions, and being yourself.
Brave is about a young Scottish princess named Merida who, although she is a princess, does not exactly embrace the quiet and dainty lifestyle that her mother would like her to lead.  Instead, she is tomboyish and headstrong and has a propensity toward archery.  Determined to set her own fate, Merida challenges the traditions of her clan by refusing to marry the suitor chosen for her.  However, her actions set in motion a series of events that could destroy her family.
Like I said, I loved this movie!  The characters and dialogue were hilarious, it wasn't too predictable, there was a good message, and you could even tie it in to a little history lesson and Scotland.  Not to mention, have you seen Merida's hair?  Is it weird to have hair envy of an animated character?
I wouldn't recommend this for young children as it was a little scary and there was a bit of "humor" that I could have done without.  But overall, a great family movie that I will gladly watch again.
And, one of you lucky ducks will get your very own copy!  There is a ton of stuff included in the 5-disc combo pack you will receive…including a Blu-Ray 3D disc, a Blu-Ray disc, a DVD, tons of bonus features, and more.  You can read all the details in the press release or check it out on Amazon.
You have two chances to enter using the Rafflecopter below – 1 entry for leaving a comment and a second entry if you are/become a follower of My Chocolate Moments (psst…look to the right in the sidebar where it says "follow me" if you haven't signed up yet)
The giveaway ends Saturday, so act quickly!
I was not compensated for this review, although I did receive a copy of Brave to review.  All opinions are my own.