For all intents and purposes, I'm lazy when it comes to appearances.  Like, I want to look nice but I don't want to spend much time in order to achieve that.  So, when it comes to fixing my hair in the mornings I have a few options:
1. Get up and shower in the morning so I can dry my hair before work (it looks best after a fresh blow dry).
Yeah right, that is not happening.  I do like my hair to look good, but I like my sleep more.  Plus, I have to shower at night anyway since I usually work out after work and although some people don't mind showering at night and in the morning, I am definitely not one of those people.  Once a day is more than enough trouble for me.
2.  Go to sleep with wet hair.
We can just call this one a disaster.  My hair is bad enough when it air dries, but when it air dries while being slept on the results are terrible and usually the only way to hide the shameful hair is a messy bun or a hat.
3.  Dry my hair at night after I shower.
This method is fine, the best out of the three in fact, and I do it quite a bit, especially if I work out and then go somewhere else that night (i.e. church on Wednesday nights).  However, after sleeping on it, my hair looks pretty flat in the morning.
But recently, I came up with another method that is working pretty well for me.
4.  Put my hair in a braid at night while wet, then dry in the morning.
Yep, it's as easy as that.  After I shower I braid my hair in a semi-french braid (I start about halfway down my head rather than all the way at the top), then I sleep with it like that.  When I wake up the top and bottom are mostly dry, but the majority of my hair (that was inside the braid) is still damp.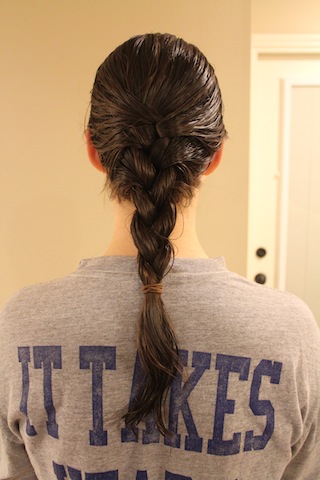 (try to ignore my faded volleyball t-shirt circa 2001)
I finish drying my hair when I wake up.  It only takes about two minutes since my hair is barely damp, but it also gives it that just-dried look without having to do a full-blown wash and dry.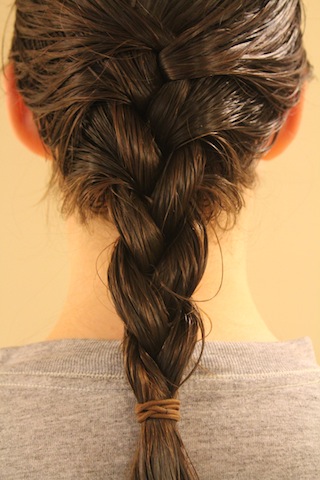 Occasionally I will have an odd cowlick on the top of my head since that part air dries overnight, but it's never bad and the heat from the blowdryer in the morning usually helps it smooth out.
I know this trick won't work for everyone since it is so dependent on the length and texture of your hair, but since it works for me hopefully it will help at least one person.
Linking up to Works for Me Wednesday