Wednesday, Thursday, and Friday last week I wore the same thing each day: jeans, TOMS, and a t-shirt or sweatshirt (and when I say the same thing, I do mean the exact same pair of jeans 4 days straight…yep, wore them again Saturday…don't judge…however, I did change shirts, socks, etc. so no worries there).  I totally broke my own no t-shirt rule but it was all for a good cause – we had a bookfair fundraiser where we could pay to get to have dress down days on Wednesday and Thursday, so of course I had to support the bookfair (and let's be honest – I didn't want to have to think about anything other than comfort and ease of getting dressed the first two days of the bookfair) and then Friday is always school spirit day so I wear a school t-shirt each Friday.
Needless to say there are no outfit pictures for those days.
Moral of the story: sometimes I don't care about cute clothes.
Enough about that – on to the clothes that no one someone, somewhere might care to see.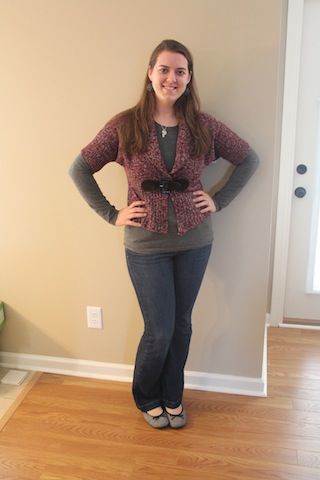 Saturday – Ladies' Day at church, chili supper and auction for local Christian school
long sleeved shirt/Limited; sweater/Gabriel Brothers; jeans/Gap; shoes/Rugged Wearhouse (aka Gabriel Brothers)
Sunday – church
skirt/J.C.Penney's; shirt/TJ Maxx; blazer/Gabriel Brothers; necklace/Burlington Coat Factory; shoes/Sofft via Rugged Wearhouse (Gabriel Brothers)
Monday – work
sweater/Gap via Goodwill; shirt/Loft outlet; skirt/NY&Co, books/Gianni Bini via Hyder's; necklace/Our World Boutique
I wasn't sure about wearing a big coral necklace with such a loud coral sweater, usually I would just wear each piece alone with more neutral colors around it, but I think it looks ok.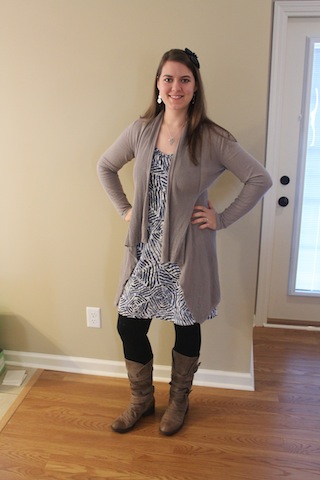 Tuesday – work
dress/Loft outlet; sweater/NY&Co; tights/???; boots/Gianni Bini via Hyder's
This outfit made me very nervous…brown sweater, black and blue dress, black tights, and brown boots!  I think I've only mixed brown and black together maybe five times total in my life.  I know that they (whoever they is) say it's ok but it just feels wrong.  However, we went from nice, 70* weather on Sunday and Monday morning to freezing cold weather Monday night and Tuesday (I think it was 28* Tuesday morning!  Yikes!), and I was more concerned about staying cozy and warm then fashion.
I didn't end up needing all the layers because it was quite warm at school and I was actually sweating some.  But I think I might have gotten over my fear of brown and black because I don't think it looks too bad together in this outfit.
But please, enlighten me if I'm making a poor fashion choice.  It happens quite frequently so feel free to steer me in the right direction :)
Linking up to What I Wore Wednesday