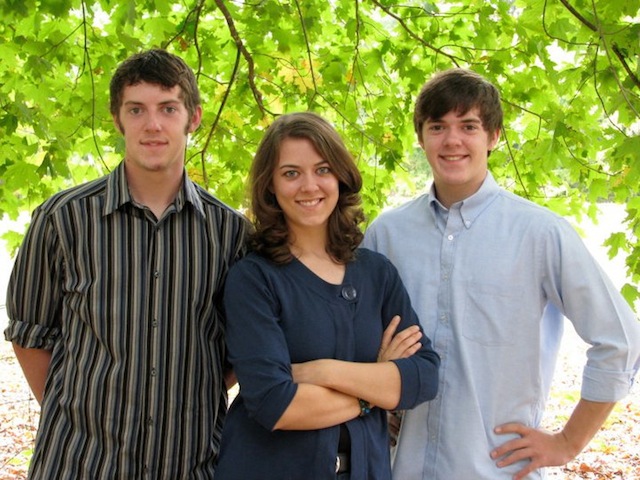 my brothers and me, fall 2008
I've been seeing these family rules all over Pinterest and the blogs I follow for quite some time.  The idea is cute: make a list of your family rules and post them somewhere in your house.  Most of them are things like "Share", "Work Hard", "Tell the Truth", etc.
Now don't get me wrong, I'm not making fun of or mocking these at all.  In fact, I may make one someday when we have kids.  However, they make me laugh because they are just such warm, fuzzy, cliche rules.  Either I had the weirdest family ever growing up, or else there are a lot of families out there who aren't writing down their real family rules.
Such as…
You can't start a song until the first person finishes theirs
Yep.  That was an unofficial rule at our house.  We all love to sing and apparently we had a problem where one person was singing a song and someone else would start singing a different song at the same time.  So the rule became that you had to let the first person finish before you started yours.  (This makes is sound like my life was one big episode of Glee or High School Musical…this wasn't quite the case but there was a lot of singing involved)
We are also a family of avid readers and this "rule" had to be put into place so that we would put our books away and socialize with the rest of the family during meals.  Otherwise we would have silent meals with three little heads bent over their books
I had no idea that "snack" wasn't the 4th meal of the day until I was at least in middle school.  We very, very rarely ate dessert, but every day at 3:00 (or as soon as we got home from school) we had snack time.  Snack time was our time to eat junk food/dessert-type things.  I thought everyone had breakfast, lunch, snack, and supper at their house.  Only later did I find out that most of my friends didn't have a big snack time in the afternoon.
Car front seat rotation schedule
Up until I was about 13, we didn't have a car with airbags and "back then" you could sit up front at any age (FYI for my non-TN readers…in TN you have to be 13 to sit up front in a car with airbags).  My brothers and I would fight over who got to sit in the front, so a schedule had to be created.  We each got a week at time to sit in the front seat.  I have to say I was very excited when we got a new car with airbags and I was the only child over 13 in the house, so I was the only one who could sit up front for a year or two…until Brendan turned 13 and the rotation started up again.
I'm not sure how it started (probably from us asking for "just ten more minutes"), but somewhere along the line we started something that we just called "ten minutes" right before bedtime.  Right before bedtime (ten minutes before, I assume) one parent would holler "ten minutes" and that meant we had ten minutes to do whatever we wanted to do – read a book, play with a toy, whatever – as long as we were sitting or laying in our bed.  After those ten minutes were up, it was lights out.  And it was so exciting when someone would tell us "ten minutes" but then forget to look at the clock and we actually got quite a bit more than that to play or read.
You must take shoes (and a coat, if it was cold) in the car
Again, this is one of those where I'm not sure why it had to be stated, but apparently we got to where we didn't like to put on shoes if we were just running an errand where we didn't have to get out of the car.  So the "rule" was set that we had to take a pair of shoes, even if we didn't wear them, so that in case the car broke down we could slip them on and walk to get help.  In the winter we had to make sure we had a coat, too, for the same reasons.
Now that's a set of rules I'd love to see printed and hung up in someone's house :)
Your turn: what quirky "rules" does/did your family have?  Don't be shy – I know you have them, too!