I hope you all had a wonderful Thanksgiving – I know I did (and we're still Thanksgiving-it-up around here…one more tomorrow!).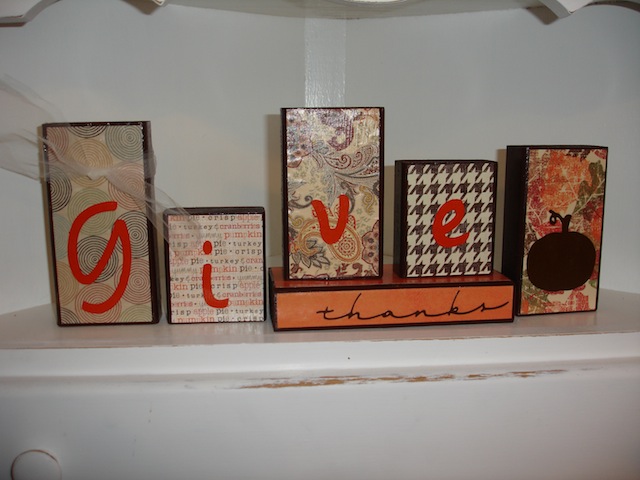 Many of my friends on Facebook have been posting one thing per day in November that they are thankful for.  I don't have it quite together enough to do that each day, but I do want to take a minute to post some of the things I am thankful for.  I try to be thankful every day, but it's nice to take time to sit down and really thank God for what he's given me.  Obviously this is not an exhaustive list and in no particular order, but some of the things that come to mind are:
a husband who is my best friend and treats me like a princess – I couldn't have asked for a better man in my life.  I love him more than I ever thought possible.
family and friends – This has been a very difficult year for our family and we've been so blessed by the people that have wrapped their arms around us.  I gotta tell you, we have some of the best family and friends.
our house – Living in a small apartment with not-so-great neighbors for a year has made me even more appreciative of our new home.  We have great neighbors
our church family – Your church truly becomes your family, especially when you don't live in the same town as your biological family.  We are incredibly blessed to have found such a wonderful church.
a garage – I know that goes along with our house, but I have to put it as it's own thing…I am so happy to have a garage again and not have to get in a freezing car in the morning or try to unload groceries in the rain.
social media and the Internet – After growing up in one city, going to school in another, living in yet a third for three years, and finally moving to our fourth (and Lord willing, final) city last year, I have friends all over the place.  Things like Facebook and email allow me to keep up with many of those friends.  I love being able to read about what's going on in my friends lives, see pictures, watch their children grow…even though I don't get to see them in person on a regular basis.
this blog – Along those same lines, I'm thankful that I have this blog as an outlet to write (I never ever thought I'd to write…my how things change!) and as a way to keep our family and friends updated on the goings-on in our lives.  Plus I've made new friends and have become part of a great community of bloggers.
our jobs – What a blessing to have jobs that we both love!  This is the first time I've ever had a job that I really enjoyed.  I love my job as a librarian and I adore the kids that I work with.  I am so very thankful that I was able to find a librarian job so quickly after getting my degree.
my iphone – Seems frivolous but it really is so useful.  From taking pictures of the way cords are hooked up at work so I know how to put them back to looking up recipes while I'm at the grocery to being able to access my documents and notes, it  does much more than I ever expected when I first got it.
my masters – It felt amazing to walk across that stage and get my diploma!  It feels even more amazing to not have to do any more homework :)
peanut butter – Hey, it's the little things in life, right?
my faith – This year my faith has been tested and strengthened.  I can say for sure that I don't necessarily know the future, but I know Who holds my future and I trust in Him.
our local farmer's market and other local stores – This has been a huge help for us as we made our switch to mostly all real, natural foods.
That's just the tip of the iceberg but it's time to get ready for tomorrow's Sunday school lesson, birthdays (Michael turns 27 tomorrow!), and Thanksgiving #3.
Happy Thanksgiving from our house to yours!