We had yet another weird weather week (I say weird, but I'm beginning to think this is just typical southern Kentucky weather) – unseasonably warm on Thanksgiving to freezing temperatures just a few days later (with some places even predicting snow!).
Oh man…am I sounding old or what…sitting here discussing the weather with you.  Nerd.  I seem to have a hard time figuring out how to start these outfit posts – I feel like I need to do an introduction of sorts and for some reason that seems to end up being about the weather.
Enough rambling…on to the good stuff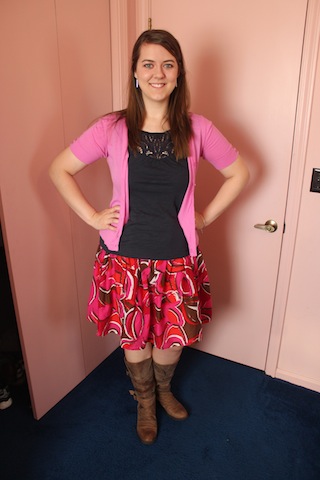 Thursday – Thanksgiving #s 1 and 2
cardi/Loft outlet; shirt/Loft; skirt/Goodwill; boots/Gianni Bini via Hyder's
Truth: I only wore these boots for the picture and then ended up putting my TOMS on for most of the day – it was so hot that I couldn't stand having tall boots on.
Another story: the water at my Mema's house is amazing and when I shower there my hair is unbelievably soft.  I felt like I had Pantene model hair while I was there ;)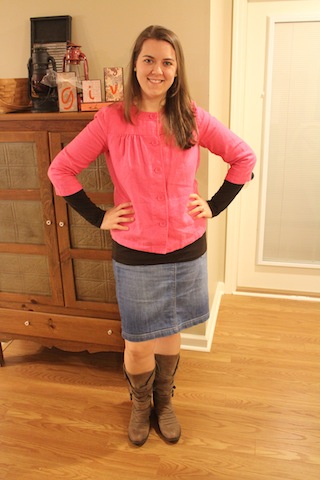 Saturday – Michael's birthday dinner
brown shirt/Limited; pink top/Liz Claiborne via Goodwill; skirt/NY&Co, boots/Gianni Bini via Hyder's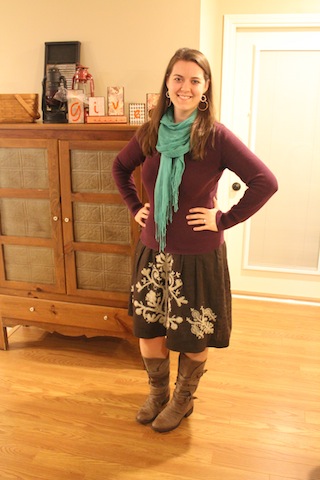 Sunday – church and Thanksgiving #3
sweater/Gap via Goodwill; skirt/Loft via Gabriel Brothers; scarf/??; boots/Gianni Bini via Hyder's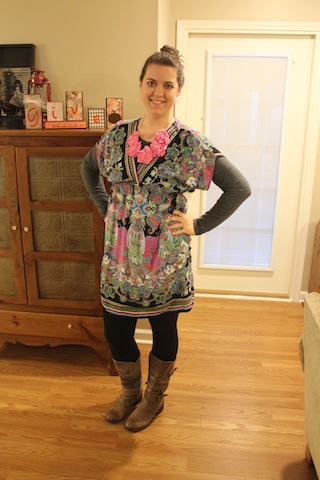 Tuesday – work
dress/Gabriel Brothers; leggings/???; shirt/Limited; boots/Gianni Bini via Hyder's; necklace/made by me
I sure am getting my money's worth out of those boots, huh?
Linking up to What I Wore Wednesday