Happy Friday!  I hope you've had a great week and have recovered from your Thanksgiving feast induced coma.  Here's what's exciting this week: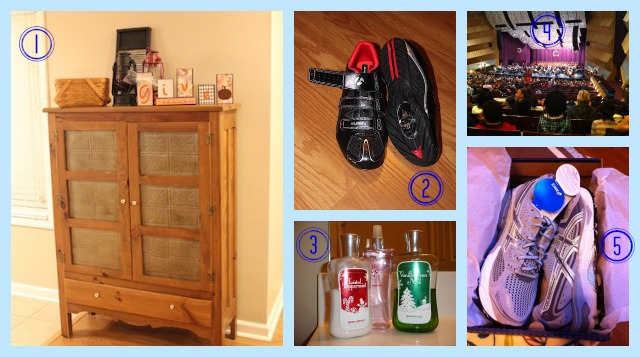 1. My in-laws gave us one of their old pie safes.  I love the punched metal front, it fits perfectly in the spot in the kitchen that I had planned for it, and it is the exact right size to store all the things I wanted to store in it.  It's fantastic!
2.  After two years of spinning I finally bought a pair of spin shoes.  They are made of a harder material to help support your foot on the metal pedals of the bike and they have a metal cleat thing on the bottom that clips in to the petal.  They have been a little hard to get used to but by my third time wearing them it was starting to get much easier.  These were the first of my two purchases on Black Friday…they weren't even on sale and I didn't go in the middle of the night to get them, Friday just was the only day I was able to go to the store.  But I guess I can say that I have officially shopped on Black Friday now.
3.  Now that Thanksgiving and Michael's birthday are over, it's time to break out the Christmas stuff…starting with my special, Christmastime only Bath and Body Works scents.  Mmmm Vanilla Bean Noel and Twisted Peppermint – some of my favorite scents ever and I look forward to using and wearing them each year.  My second (and last) Black Friday purchase was to stock up on these scents during BBWs big sale.
4.  Our whole school (yes, all 400+ kindergarten through 5th grade students) went on a field trip Monday to hear the Kentucky Orchestra.  They were really good and the concert was all Christmas music so that got me in a very Christmasy mood.  The kids were really good and seemed to enjoy it as well.  My favorite part was when one of the weathermen from our local news channel, who has a really great announcer/reading voice, read The Night Before Christmas while the orchestra played a song that went along with the story and had cool sound effects to match various parts of the story.  I so wish I had videoed that!
5.  My new running shoes came in this week!  Finally!  I ordered them through my podiatrist back at the beginning of October so I've been waiting a while.  I've been using new orthodic inserts and taking medicine for my plantar fasciitis and I've seen a lot of improvement, so my doctor gave me the go ahead to start running again…yay!  Now as long as the pain in my feet doesn't come back and my knee doesn't start giving me problems, I'll be running again!  It's been a year and a half so I'm starting slow – I'm doing the Couch to 5K program starting all the way back at Day 1.  I ran for the first time Wednesday after I picked my shoes up ("run" is a loose term…it was more like a slow jog with a whole lot of walking, per the C25K program).  It was a little frustrating to not be able just to take off and run 3 miles like I used to, but I know that easing into it slowly is the best way to prevent old injuries from flaring up or new injuries from occurring.  It felt great to run again, though!
Have a great Friday and don't forget to enter to win a copy of The Odd Life of Timothy Green on DVD and Blu-ray
Linking up with Lauren