I've never been one for themed trees….or I guess I am if the theme is colored-lights-meets-country-meets-sentimental-ornaments-of-all-types-and-colors….'cause that's basically what our tree consists of and I love it!  I like the idea of all white lights or a tree decorated with a color scheme, and someday if we ever have a second tree I might do one like that, but it wouldn't be Christmas without my colorful, crazy tree.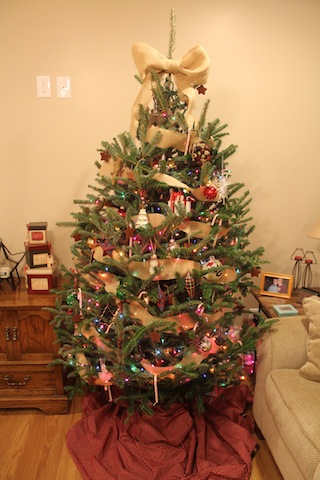 Our beautiful tree – I love it!  Someday I'm going to have a real tree skirt, but until I get around to making one, I just use some fabric (with small white stars on it) draped around the bottom.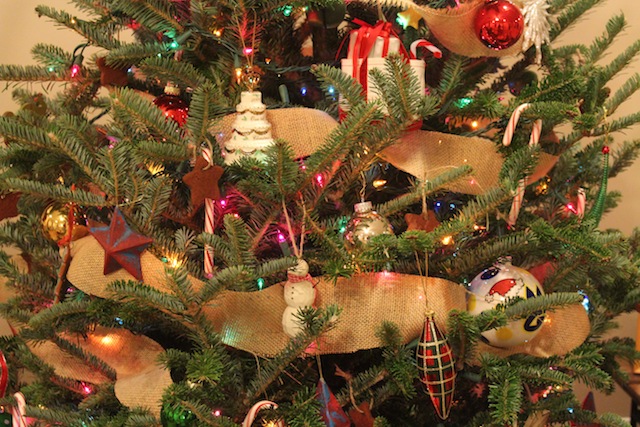 I really wanted to have a garland of some sort on our tree this year.  Most of the ribbon I found was too shiny for what I wanted and I couldn't find exactly what I had in mind.  You can actually buy burlap ribbon, but I couldn't find any in the stores, I was too impatient to order some and wait for it to arrive, and I new I could make my own for much cheaper.  So I ended up just cutting strips of burlap and draping the around the tree like ribbon.  The edges aren't nice and neat, but that's ok with me.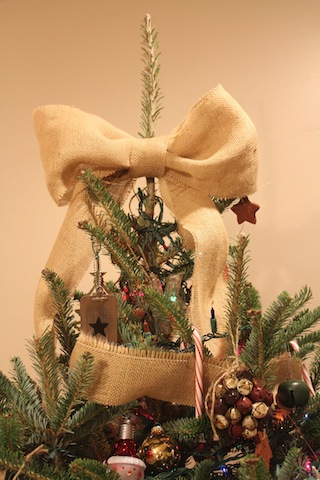 I also used the burlap and make a bow for the top of the tree.  I've never had a tree topper because I've never been able to find or make one that I like, so this is our first one and I really like how it turned out (I need to get my handy husband to trim of that top branch though, huh?)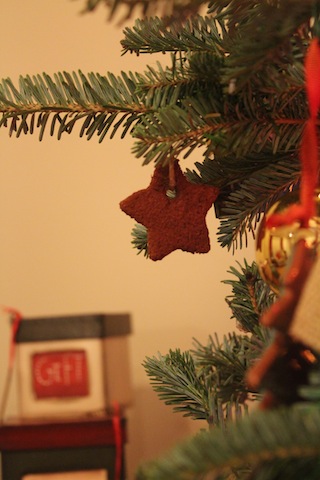 Growing up my mom made some cinnamon ornaments that smelled so amazing year after year.  I found out it is really easy (mix equal parts applesauce and cinnamon, roll out like dough, cut with cookie cutters, and bake on a cookie sheet at 200* until dry) and they made our house smell amazing!  I made a bunch of little stars.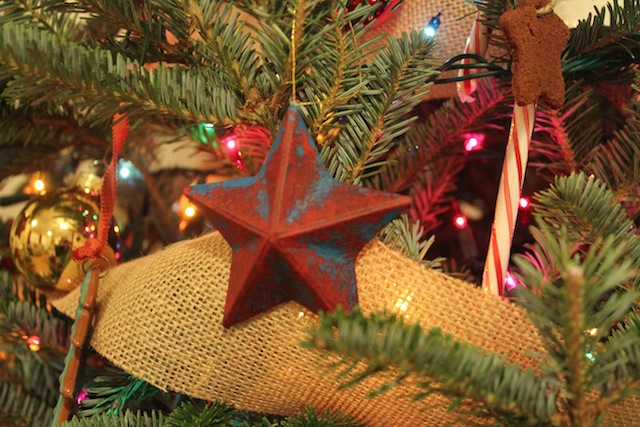 I also found these great paper ornaments at Hobby Lobby that looked like barn stars (stars are kinda my thing, if you haven't noticed) so I gave them a turquoise base coat and then dabbed some red on top with a paper towel.
Of course I had to play around and practice taking pictures of the tree (I never can quite capture in a picture the way the tree looks in real life).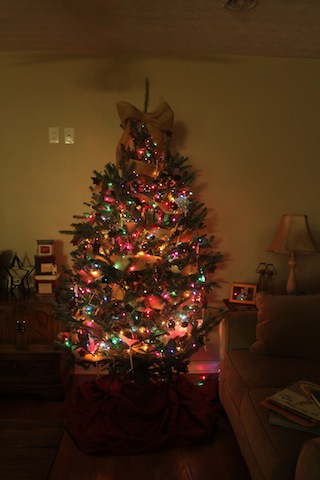 I love looking at all the beautiful lights twinkling in the dark.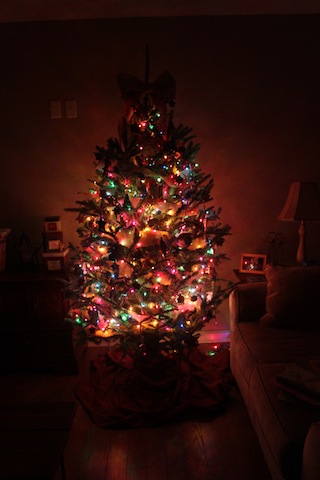 It looks like the tree is glowing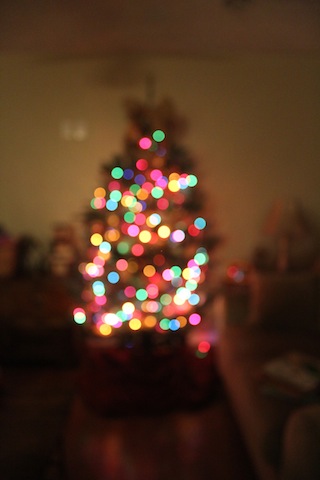 Lovely bokeh (and coincidentally, exactly what the tree looks like to me when I don't have my contacts in….)
A Christmas tree is definitely my favorite Christmas decoration!