I'm excited to be participating in The Nester's Christmas Tour of Homes!  I haven't really shown any pictures of our new house yet because I wanted to get some decorations up.  Well, I still don't have curtains in most rooms, pictures on the wall, or even all the furniture I want, so still no full house tour yet, but I do have our Christmas decorations up and I want to show you those.
(P.S. If you want to see my home apartment tour from last year, check it out here)
So, step into our home.  Enjoy the Christmas music and this cup of hot chocolate I made you…I mean, turn on Pandora to a Christmas station and make yourself a cup of hot chocolate, and take a virtual peek into our home :).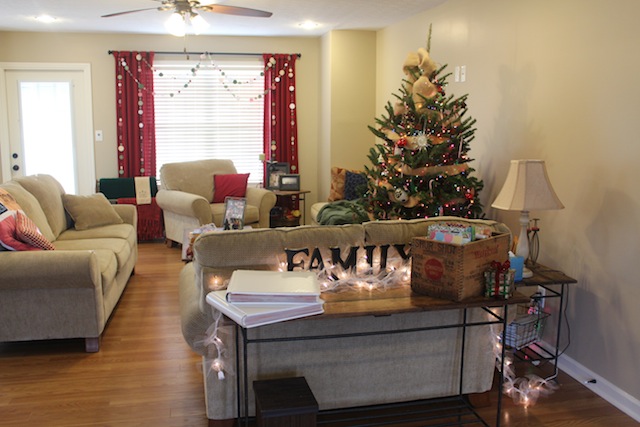 As you walk in the front door you'll see our living room.  This is the main area that I decorate for Christmas.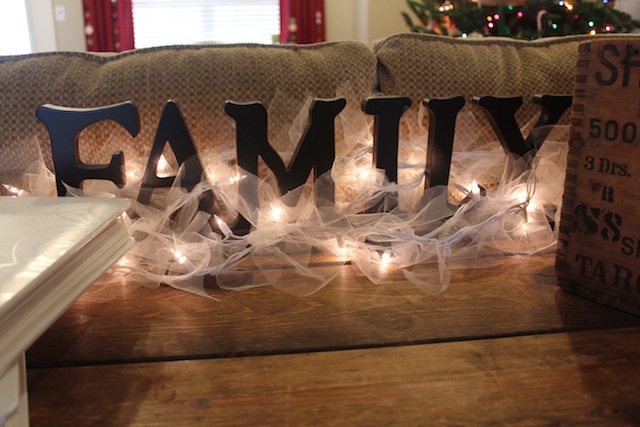 I used the all-inspiring Pinterest for many of my Christmas decorations this year…including my tulle and lights.  I just cut strips of tulle and tied them in between the lights on a strand of white lights.  This would be beautiful on a mantle but we don't have a mantle so…the sofa table it is.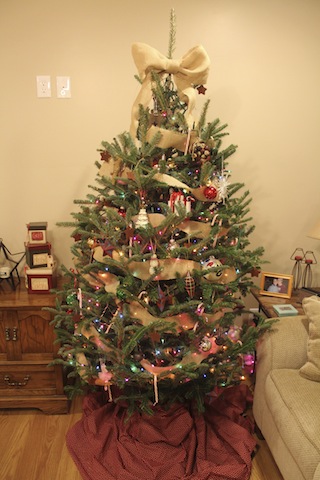 I already showed you all the details of our Christmas tree, but here it is again.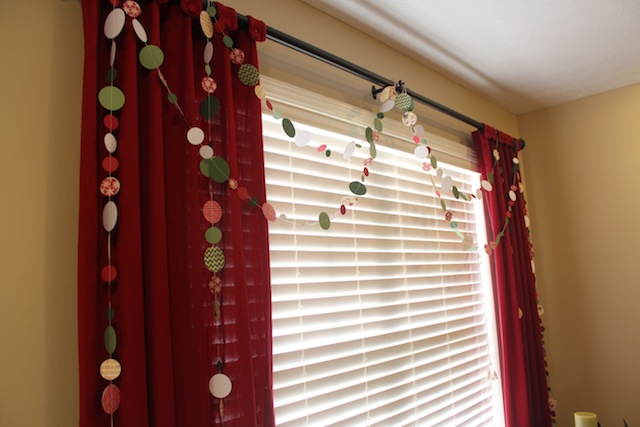 This garland I made it probably my favorite Christmas decoration this year.  It was super easy to do (another Pinterest find), I cut circles of various sizes out of Christmas-y scrapbook paper, and sewed them together into a long strand.  An easy and cheap way to add some Christmas pretties!  It can be done in any color combination too…so I'm definitely going to be using this for other holidays and events!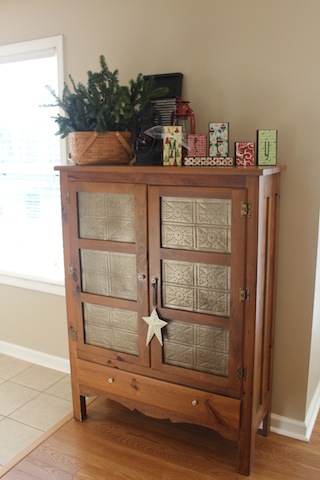 I used some of the extra branches from our Christmas tree and my Merry Christmas blocks to decorate the top of the pie safe.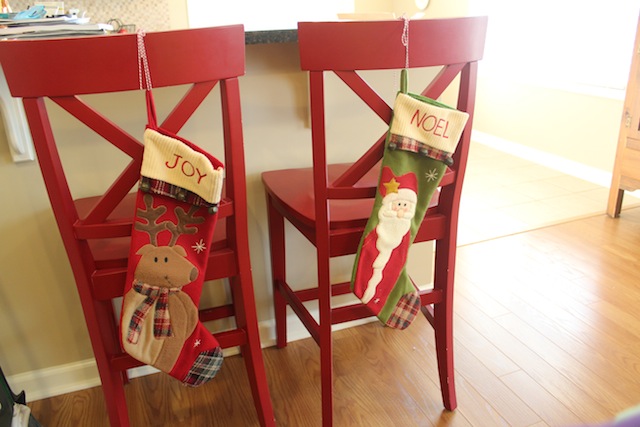 The stockings were hung on the barstools with care…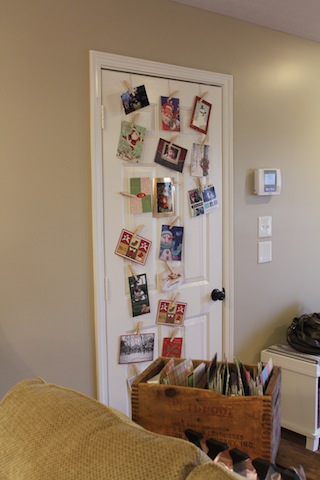 I used a similar method to last year and hung the Christmas cards with clothespins.  I'd love to make a cute Christmas card display thing that I can use year to year, but so far that hasn't happened so twine and clothespins are working for us right now.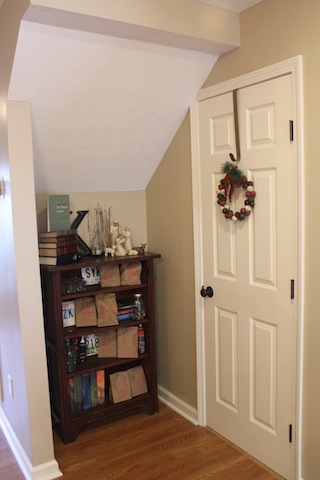 We have this funny little alcove in the living room next to the bathroom, and this bookcase fits just perfectly.  I'm using it to hold Michael's Christmas Countdown bags.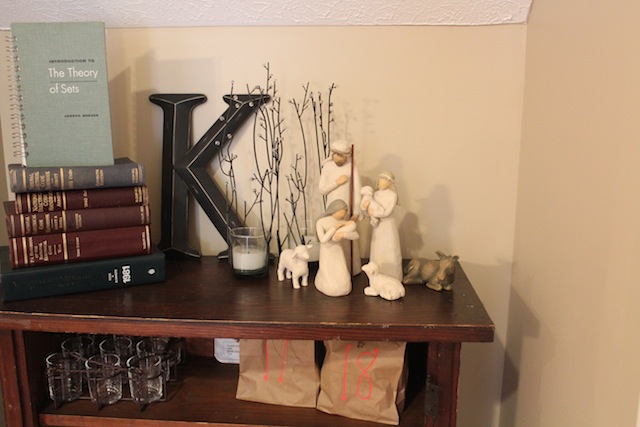 My Willow Tree nativity is on top.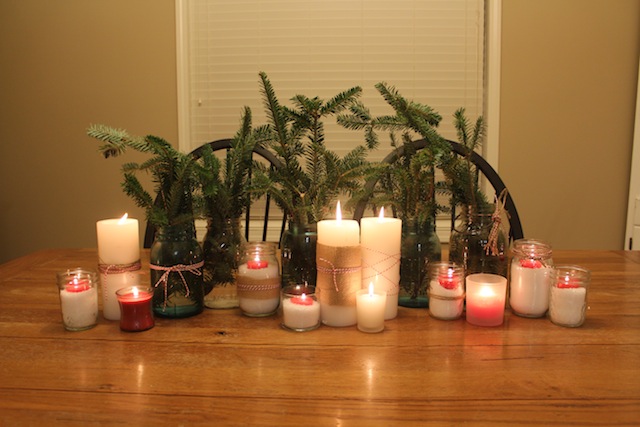 In the dining room we have a centerpiece (see more about how I made it here) on the table.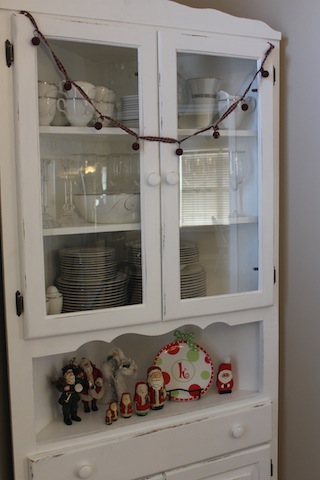 And the china cabinet hold Michael's collection of Santa's that he had from when he was little.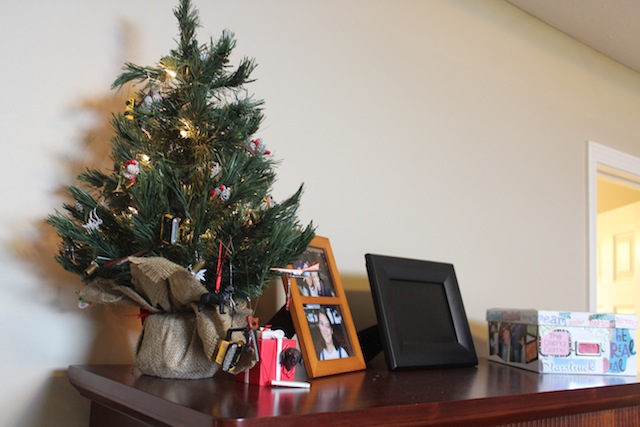 And then finally in our bedroom, we have Michael's little Christmas tree.
A few simple decorations this year, nothing huge since we just moved in, but still beautiful and festive and very us.
Merry Christmas!