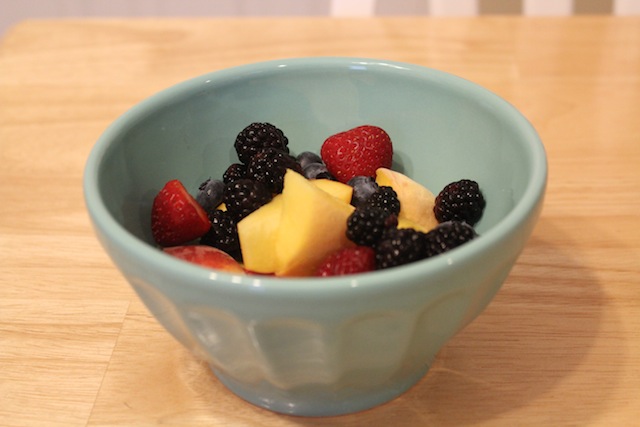 Just like last year, I'm putting together a list of the things that happened in 2012.  The running theme from 2012 seems to be "The Year we Became Crunchy" since many of the things we did this year veered on the edge of crunchy ("crunchy" is the term I use to refer to all-natural, organic, homemade, hippie-type, people).
Crunchy things we did:
We grew some of our own food (herbs, tomatoes, and aloe) in a small container garden on our apartment patio.
We did a 100 day challenge where we ate only local, real, non-processed, organic food for 100 straight days (then continued that type of eating once the challenge was over)
We also did a 100 day challenge where we went 100 days without watching tv (well actually, watching less than 2 hours per week).
We started shopping at the Farmer's market each week in order to get more natural, local produce.  We now buy most of our cheese, milk, eggs, bacon, honey, maple syrup, fruit, and vegetables from local farmers.
We canned 7 quarts of sweet lime pickles, 7 quarts of tomatoes, 11 pints of green beans, 13 pints of tomato sauce, 17 pints of salsa, and 9 pints of pizza sauce.  We also made and froze about 9 pints of sugar-free crockpot apple butter.
As a result of our real food lifestyle, we started making and cooking things that we normally would have purchased pre-made.  We now cook whole chickens in our crockpot, debone them and use the chicken for sandwiches or cooking, then use the chicken bones to make homemade broth.  We make our own whole wheat biscuits, whole wheat bread, whole wheat tortillas, whole wheat pizza dough, tomato sauce, pizza sauce, and cream of chicken soup.  We also now shred blocks of cheese instead of using bagged shredded cheese, soak dried beans to use rather than buying canned, make our own popcorn using kernels and butter rather than microwave popcorn, and make our own red wine vinaigrette dressing.
I made homemade laundry detergent using this recipe.  It made a ton and we haven't even made a dent in it.  The total cost was $20 and will last us at least a year, based on the rate we are using it now.  I haven't had any problems with it cleaning our clothes; I think it works just as well as the store-bought stuff.
I made homemade cleaners.  I use a 50/50 vingear+water mix one on our counters, sinks, and mirrors, and this one on our laminate and tile floors.  Both work very well and are cheap and easy to make.  I used the vinegar and Dawn tub cleaner that is all over Pinterest to clean our tub and fell in love with it – works better than any other cleaner I've ever tried!  I also use baking soda and vinegar to clean the toilet bowls.
I made homemade hand soap.  This one is the most disappointing homemade project I've tried so far.  It wasn't hard to make, but the soap is a very weird texture – very slimy, kind of a snot-consistency.  Neither Michael nor I like it so I think we will be going back to store bought soap.  I'd like to find some that is natural and doesn't have a ton of chemicals, but we're definitely going to have to find a better option.  I like saving money by making my own, but sometimes saving money just isn't worth it when you end up with a yucky result.
I learned to hand quilt and made my first quilt.  I pieced the blocks on my machine, but the quilted the whole quilt by hand.  It was laborious but satisfying.
I quit using the facewash and face lotion I've used for years and started using a combination of the oil cleansing method (olive oil and castor oil), coconut oil, and apple cider vinegar.  I still haven't figured out the very best combination that works for my face (which is why I haven't posted about it yet), but I'm working on it.
Other notable things from 2012
I worked as a graduate assistant for the library media education program (January to April).
I participated in one of the best Bible studies I've ever done through BSF (January to May).
I turned 25 (February)
I took cake decorating classes (March – April)
We finally settled on a church home (April)
I sewed a dress (my first piece of clothing) (April)
We sold our house in Lexington (May)
Michael went to Gatlinburg for a work trip and I got to go with him (May).
Michael also traveled to Murfreesboro, Chattanooga, Alabama, Ohio
I finished my last graduate school class and graduated with my Masters in Library Media Education (May).
We went to Chicago for our anniversary/my graduation/vacation (May).
We celebrated our third wedding anniversary (May)
I got a job as a library media specialist at a local elementary school (June).
I went to church camp with our church here and my old church in Springfield (June and July).
I overcome my fear of heights and ziplined at camp (July).
I switched my blog from being hosted by wordpress.com to self-hosting with wordperss.org.
We bought a house in Bowling Green (October)
We got to move out of our rather unpleasant apartment (October)
Michael turned 27 (November)
Michael passed his Principles of Engineering exam and is now a professional engineer (December).
Michael and I read through the whole Bible together (January – December)
While 2012 was a great year for many reasons, it was also a very sad year for us due to some family issues and deaths of friends.  I pray that 2013 brings a smoother, happier year.