Fridays are always exciting but this Friday is the best, because…
1.  I woke up to this text this morning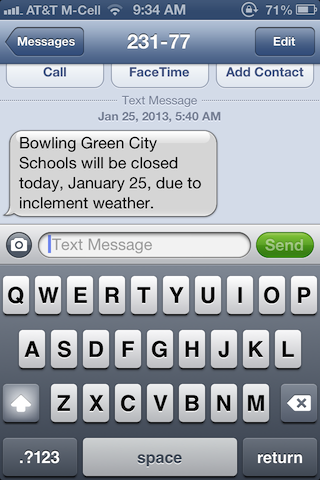 Sweet action!
There had been predictions of "wintery mix", but I honestly didn't think for a second we'd be out of school.  This is my first year in this school district, but from what I hear they hardly ever get out of school, even if the county schools do.
So last night I packed my lunch, packed my workout clothes, and went to bed never even anticipating a snow day.  When my alarm went off at 5:30 I had a text, but it was from Fayette County where I used to teach (and apparently had forgotten to unsubscribe from the alert system) saying no school, but nothing from here in BG.  So I hit my snooze like normal and headed into my next 9 minute stretch of sleep.  But then my phone went off again, and low and behold, BG was out!  Exciting!
Too bad it wasn't pretty snow…it's just a lot of freezing rain, but a snow day is a snow day, right?
2.  So with that exciting news I went to bed for another hour or so, and then when I woke up again, got to watch my favorite show ever…Project Runway!  The new season started last night, but since we don't have cable I have to wait until Friday's to watch in online.  Usually that's my Friday evening post-work-and-workout treat, but today I got to watch it first thing :).  Yay!  This season looks like it's gonna be a good one.  It's a different format from the previous 10 seasons with the designers working in teams from day one and I think I'm going to like that.  I have to say, I was supremely disappointed with Project Runway All Stars Season 2 that just ended last week, so I'm hoping that the original PR will bring its A-game this season.
3.  In other good news…I've FINALLY figured out my coffee dilemma.  See, since we started our real food challenge/diet, I've been struggling with how to drink my coffee.  My prior M.O. was coffee with A LOT of sweetener.  Like 3 or 4 packets of Splenda.  When I started eating healthier and doing South Beach back in college, I switched from drinking coffee with sugar to using Splenda.  But then when we started real food, I wanted to cut out anything artificial or processed and that included Splenda.  So no sugar and no fake sweetener.
I tried drinking it black but I just could.not.do.it.  While I LOVE the smell of coffee, I can't handle drinking it black or even with milk.  Must.Have.Sweetness.  Black coffee is vile.
I tried it with honey, thinking that would at least be a more natural, real food sweetener.  Ick.  Coffee with honey is terrible.
I tried hot tea, thinking that could be an alternative.  I tried a gagillion varieties, thanks to some tea-drinking friends at school who graciously lent me samples, but I hated them all.  The "best" one of the bunch tasted like hot kool-aid to me, so it was drinkable but not preferable.  I'm just not a tea drinker.
I finally tried my coffee with a little maple syrup.  Lisa Leake, my inspiration to do our real food challenge, actually has a recipe for a maple mocha, but for some reason I just never tried it…I guess I thought the maple would taste awful in coffee.  Guess what…it doesn't!  You can't taste the maple at all, just the sweetness!  So finally, after 7 months of unsatisfying coffee attempts, I found a solution.
Fortunately, I'm not a huge coffee drinker.  I don't need, or even want, it every morning like many people.  For me it's a little treat that I like to have once in a while.  In fact, I drink it so rarely that I have a hard time remembering how to use my coffee pot.  But since I'm having a snow day lazy morning, I decided to indulge :)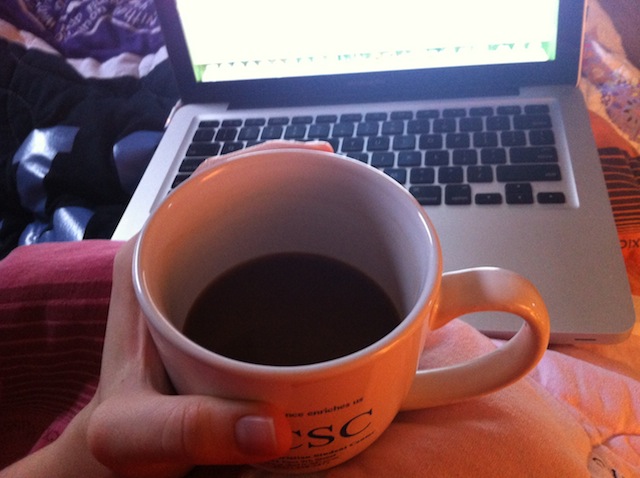 It was delicious but that bad news is that the only coffee I had was regular, not decaf.  I might have mentioned it before but I just don't handle full strength coffee well.  I used to do caffeine just fine, but then one day it started making me super jittery.  I try it every once in a  while to see if I'm over that, and this morning I only had one cup, but yep, still makes me jittery.  As I type this, my hands are all trembly and my eyelids are crazy.  Whoops.
4.  I think my favorite part of being a librarian is new books.  I placed my first really big order for the library last week and all the books came this week.  There's just something about boxes of brand new books!  The only problem is that I want to hoard them all and read them myself before putting them out for the kids.  But that would be bad and I would never do that…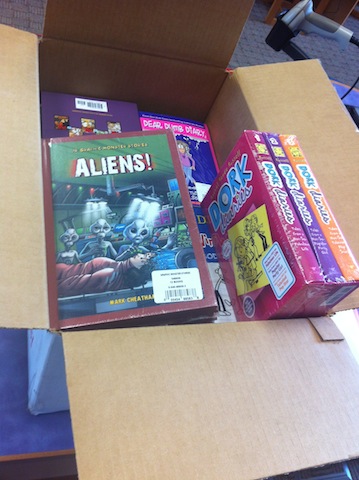 That's not to say that I hadn't planned on bringing this complete set of Junie B. Jones books home this weekend to read a few of them before setting them out Monday.  Too bad I didn't anticipate the day off and left them at school!
I'm actually a *tiny* bit bummed about our snow ice day, because my plan had been to spend the whole day getting all these books cataloged (I don't have any classes on Fridays) so that they'd be ready to go on Monday.  Obviously that's not going to happen now, so I'll have to wait until next week to get that done.
5.  I'm also thankful for the impromptu long weekend because it gives me a chance to rest and recover.
About two weeks ago I started having some soreness in my lower back.  Within two days it was so bad that I couldn't even bend down to put my shoes on.  Weird.  I went to the chiropractor who has thankfully been able to help a lot.  Apparently, I have a bulging disc in my back (possibly caused by me trying to stand up straighter to fulfill my 2013 goal of having better posture…how's that for irony?).  I'm way better now although I'm still a little sore, I can't lift heavy things, and my exercising is restricted.  So getting to sit around and rest and ice my back today is nice.
I'm also battling my second round of laryngitis this year.  What is up with that?  I usually get one round of it during the school year where I lose my voice completely, and the sometimes another round each summer during church camp thanks to my allergies + lots of singing and hollering.  But I just had a pretty severe case right before Christmas, and here I am again with a cold and losing my voice.  Stinkin' elementary school germs that my formerly-high-school-teacher body isn't used to!  So maybe getting to rest this weekend will help me get my voice back before my classes on Monday.
Okie dokie…so that might have been the longest H54F post ever…I guess I had a lot to say this week (way to go, highly caffeinated delicious coffee!).  If you made it this far, high five to you (*snort* high five.  Get it? I crack myself up…)   I hope you all enjoy your Friday and weekend.  Stay warm and safe if you're in icy conditions like me!
Linking up with Lauren