It's Friday.  That makes me happy.  Here's what else is making me happy:
1.  Big news…after 3.5 years of marriage, 3 moves, 2 apartments, 2 houses, 2 cities, 6 jobs and 1 masters we finally joined the 21st century and bought our first tv.  How exciting!
When we first got married we had a huge dinosaur of a tv that someone had given Michael.  Right at the time we got married, everything switched to digital and we would have had to get a digital converter box in order to even get it work.  It was so big and took up so much space in our tiny apartment that we just decided to get rid of it and put a glider in its place.  Then we just never bought another one…we didn't really miss it and we wanted to spend our money elsewhere more.  We still watched shows on Hulu, Amazon, and DVD and for a while Michael even hooked up an antenna to his iMac so we could watch tv that way.  So we were still able to watch tv, just in an unconventional manner.  But still, people thought we were crazy not having a tv.  In fact, it shocked my students so much that I had some sweet kids offer to bring me an extra they had at their houses.  They just couldn't grasp that I was still able to watch tv, just not with an actual tv.
Anyway, that was a lot of backstory to say that we finally decided we were ready to get a "real" tv.  It was a pretty exciting day!  I don't even know what to do with myself :).  We're still cheap though, so we're rocking our fancy flatscreen old school and using an antenna rather than paying for cable and DVR and all that snazzy stuff.  Hey, when you can get the basic channels with an antenna and watch Netflix, Hulu Plus, and Amazon shows through your tv, who needs cable anyway?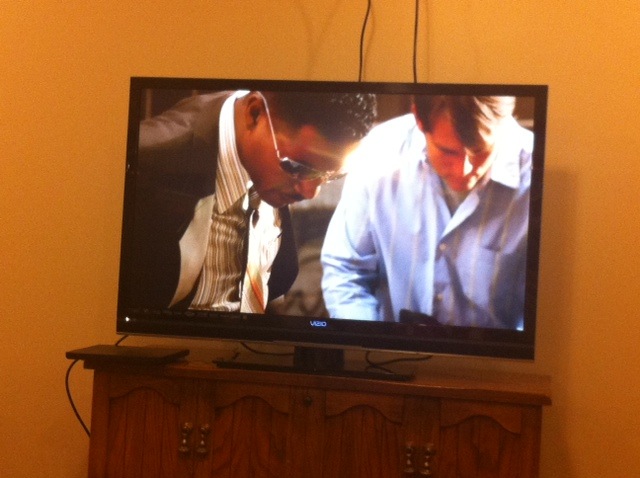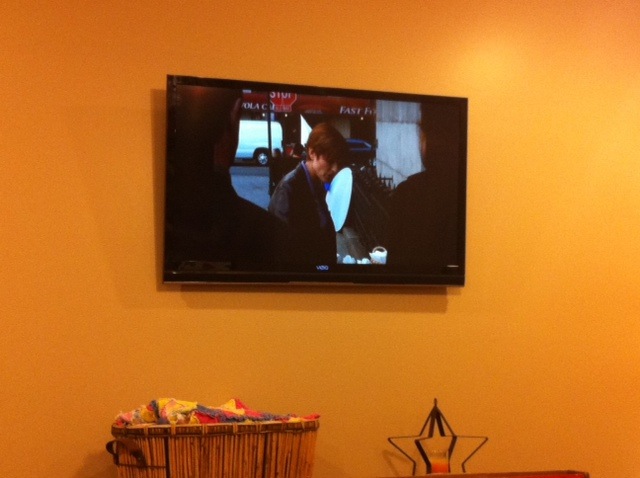 2.  We got our new tv just in time to host a Super Bowl party on Sunday.  Honestly, I care not one bit about the Super Bowl and don't even really care about the commercials, but I do like a good party :) so we're having our young adult group from church over to sit around and talk watch the game.  I'm so glad we're finally out of our apartment and have enough space in our new house to be able to actually have people over!
3.  I know I mentioned it earlier this week, but I just have to say it again…this banana "ice cream" is amazing!  It is so cool to watch the frozen banana pieces turn into a little gravelly pieces and then a taffy like substance and then finally reach a soft serve/fro-yo ice cream texture.  Add a little cocoa powder and peanut butter and you have a delicious healthy dessert.  It feels so much more decadent and indulgent to come home after a workout and have "ice cream" rather than just a boring old banana.  If you haven't tried it yet, give it a shot!
4.  If you need a chuckle, read The Worst Fitness Advice You'll Ever Receive.  It is hilarious and totally hits the nail on the head.
If you need another chuckle, ponder the irony of this situation: I found myself shouting "NO SHOUTING IN THE LIBRARY" to one of my classes earlier this week to try to be heard over their noise.  Fail.
5.  I was contacted yesterday by the people at Gabriel Brothers/Rugged Wearhouse…they said they had found my blog, saw that I talked about their clothes a lot, and wanted to know if they could feature my blog on Facebook or Twitter!  I think a little happy squeal might have squeaked out when I read that email…I LOVE Gabriel Brother/Rugged Wearhouse (as evidenced by the many clothes from there that I wear) and I've often said they should pay me for my advertising :).  I'm so excited that they found me!
Enjoy your event that serves as a good excuse for eating yummy treats and having a party Super Bowl weekend.
Linking up with Lauren