Growing up I was a huge BabySitter's Club fan.  I so bad wanted to be a part of their group.  I distinctly remember in one book when Dawn's friends from California threw the BSC a party and served hummus, one of Dawn's favorite foods.  I didn't really know what it was (in my head I pronounced it "hew-muss", not "huh-muss" like it's supposed to be) but I imagined it to be some crunchy, health-nut-y, weirdo food.
Fast forward to college.  That heath-nut-y weirdo food was starting to become part of my life.  I was so fortunate that we had an AMAZING cafeteria at our school.  We had a ton of choices and lots of pretty heathy variety.  One day there was homemade hummus.  I tried it and thought it was delicious.  I still didn't really know what it was, but I definitely liked it.
After that hummus experience in the cafeteria I searched for more hummus.  However, every batch or brand of hummus I'd ever purchased at the store was not at all like the hummus I remembered   Every single one was way too garlicky and had a super strong flavor.
Until one day while shopping at Whole Foods.  They had a sample station set up with pita chips and hummus.  I tried a bite and felt the relief of the end of a long journey…I had finally found a hummus that tasted like the stuff we had in college!   We bought some immediately and I gobbled it up.  We went back a few weeks later and bought some more.  It was so so yummy.
The only problem was that the closest Whole Foods is an hour away from us.  We only make it there once a month at the most so buying hummus there to have on a day-to-day basis just wasn't practical.  So I checked out the ingredient list…it only had a few ingredients listed (garbanzo beans, lemon juice, tahini, extra virgin olive oil, garlic cloves, salt, and cumin), so I figured I could make it myself, I just didn't know what proportions to use.  Making it myself would also be a cheaper option than the pre-made hummus.
Thanks to Pinterest, I found The Barefoot Contessa's hummus recipe.  It had almost the exact same ingredients as the Whole Foods hummus so I used that as a jumping off point for my recipe.  I've now made this recipe at least five times and we love it!  I eat it every day for a snack with some raw veggies.  Hummus is a perfect alternative to ranch if you want some variety, it has less calories, and it's much more "real" than bottled ranch.
So here it is.  The best hummus recipe ever.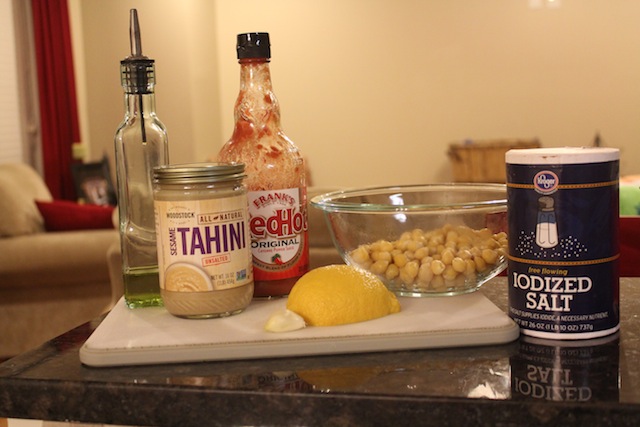 What you need: garbanzo beans (chick peas), tahini, hot sauce, olive oil, lemon juice, garlic cloves, and salt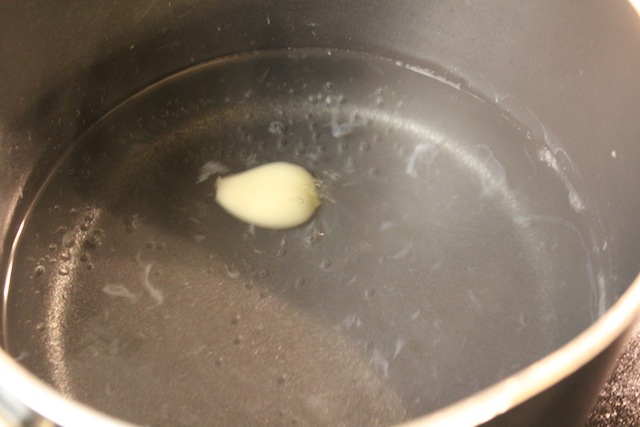 Put a little bit of water in a pot and bring it to a boil.  Drop the garlic clove in and let boil for 30 seconds.  From what I've heard, this takes the bite out of the garlic and gives it a nice, garlic flavor without being too strong.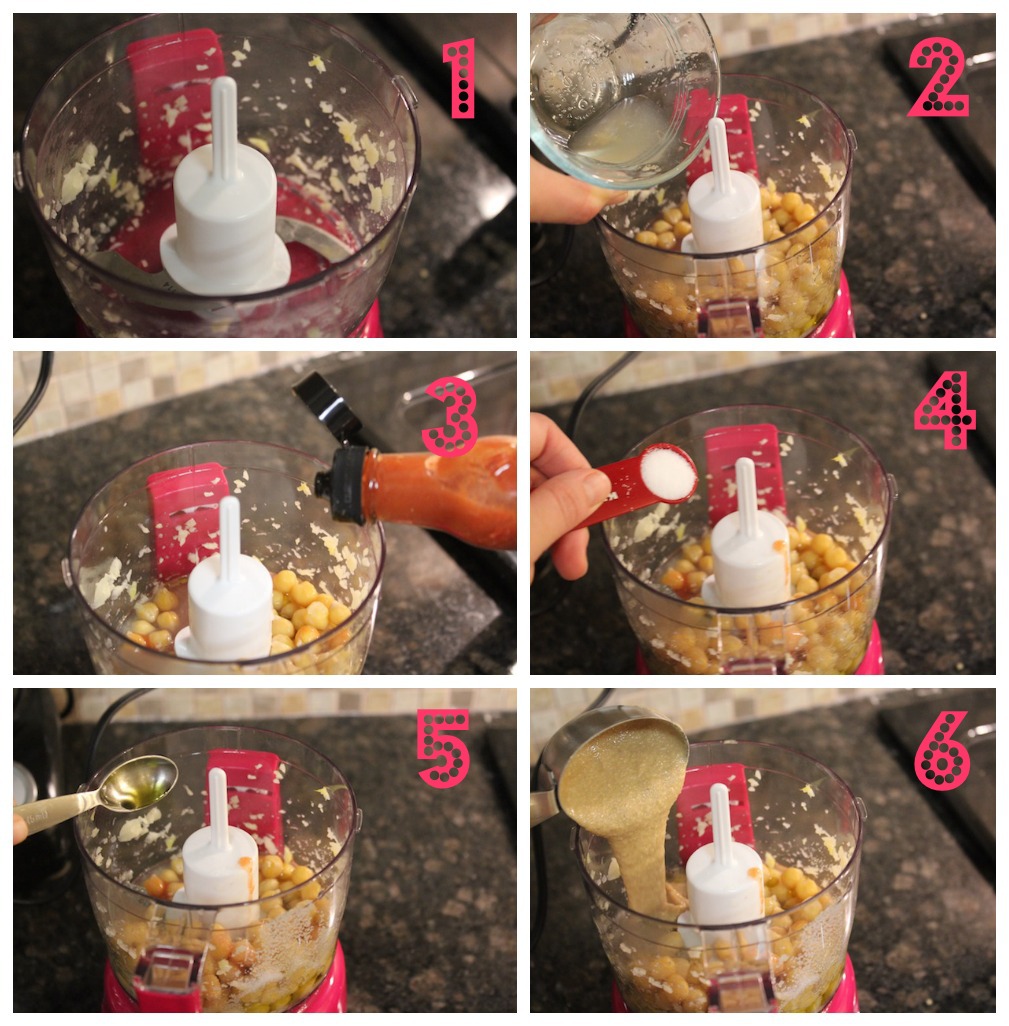 The rest of the recipe is easy…just a bunch of mixing in your food processor.  Chop the garlic (picture 1), then add the chickpeas and lemon juice (2), the hot sauce (3), the salt (4),   olive oil (5), and tahini (6).  Then process until smooth.  Easy peasy.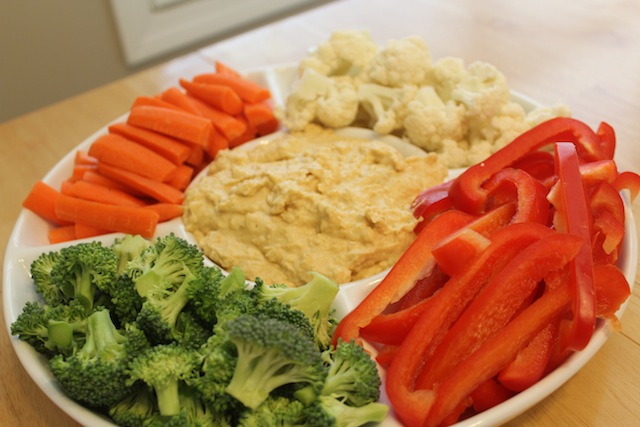 Yum.  So good!
Hummus Recipe (adapted from here)
Ingredients:
2 cups garbanzo beans (chick peas) – I use dried beans.  I soak them overnight, rinse them, boil them in water until soft, and rinse again.  You could also use canned beans to save a few steps
1/4 cup tahini – It's like peanut butter but made out of sesame seeds.  I found mine in the organic section at Kroger
5 tablespoons lemon juice
1 tablespoon olive oil
1 large clove garlic
1 teaspoon salt
5-7 tablespoons water or liquid left from cooking the beans (depending on how thin you like your hummus)
4-8 dashes of hot sauce (depending on how hot you like it)
Instructions:
Put enough water in a pot to cover a garlic clove, bring it to a boil.  Drop the clove of garlic in the boiling water for 30 seconds, then remove.  Chop the garlic with your food processor.  Then add chick peas, tahini, olive oil, salt, lemon juice, hot sauce, and water/liquid.  Process until smooth.
Enjoy!
This is a South Beach Phase 1 food and has 30 calories per tablespoon.