[Psst…hey men (the whole three of you men who read my blog…), did you know Valentine's day is this week?  You better make sure you've got something planned for that special lady in your life.]
Since it's Valentine season, I thought I'd spend some of this week talking about LOVE.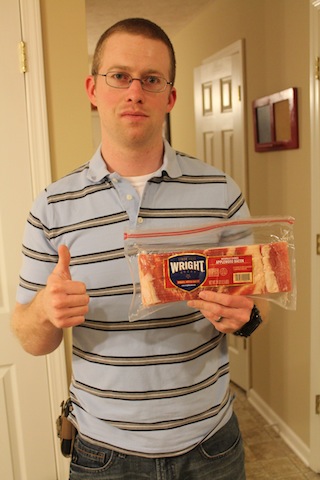 Starting with this guy (what can I say…the man loves his bacon)
You know him as the man behind all my outfit pictures and co-conspirator in all my crazy ideas.  I know him as my very best friend, the most gentlemanly guy I know, protector, provider, and so much more.  I've bragged on him several times before and I could go on all day, but today I just want to tell you one thing…
Michael cooks me breakfast every morning.
I'm not talking heats me up a PopTart, I mean a real breakfast…bacon and eggs.
When we first got married I was so excited to get up each morning and fix my new husband a healthy breakfast before work.  I'd make a breakfast sandwich or smoothie for him to eat on his way out the door.  Quite the improvement over the many PopTarts he ate during bachelorhood.  But then the summer ended, I got my first teaching job, and that stopped.  We were on our own for breakfast, and breakfast became quick cereal rather a cooked meal.  Because of different waking times, refusal to drag out of bed until the last minute, me going to spin at 5:30 and then eating breakfast later at school, etc. we just kept doing our own thing for breakfast for the next few years.
But this summer, when we started doing our real food challenge, that all changed.  Michael started cooking an egg, cheese, bacon biscuit for breakfast each morning (local organic eggs, cheese and bacon with homemade whole wheat biscuits of course :)).  We would make a batch of biscuits ahead of time and he would heat one up each morning, but he would cook the bacon and eggs fresh every morning.
I didn't even like bacon, but it smelled so good every morning that I started to want some too.  So he would cook an extra piece for me and leave it on a plate for me to have when I woke up (this was when school was out in the summer and I got to sleep in).  I'd cook my own egg and heat up the biscuit and bacon when I got up.
Then school started back and we started getting up and leaving at the same time, so he progressed from just cooking my bacon to also cooking my egg.  Then assembling my breakfast.  Then getting my drinks ready.  And now every morning I get to sit down to my breakfast cooked for me, my milk and water poured, and my vitamins laying out.
I'm spoiled and I love it.
What an awesome husband!
And the story gets even more amazing.  A few weeks ago we chaperoned a youth group trip.  I, as usual, was trying to eat healthy and stick mostly to our real foods lifestyle, so I brought a lot of our own food to eat.  And do you know what my wonderful hubby did?  He brought his little camping stove and skillets and cooked us bacon and eggs each morning on the balcony of our hotel room.  Now that's some delicious room service!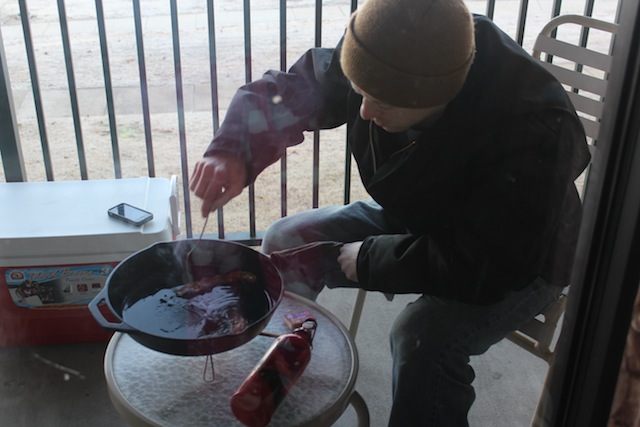 Swoon.  I love that guy <3.
So yep, that's my valentine.  He's thebomb.com.  He's super great for a ton of reasons, but one of my favorites is that he cooks me breakfast :).