I went shopping this weekend for the first time in a few weeks for.ev.er. I got some pretty great stuff at my favorite place…Rugged Wearhouse (or Gabriel Brothers, name changes depending on the location).
(Oh hey, Gabriel Brothers/Rugged Wearhouse peeps…feel free to sponsor me at anytime.  Send me on shopping sprees.  Pay me to promote you.  Oh wait, I already do that for free. *crickets*)
Moving on.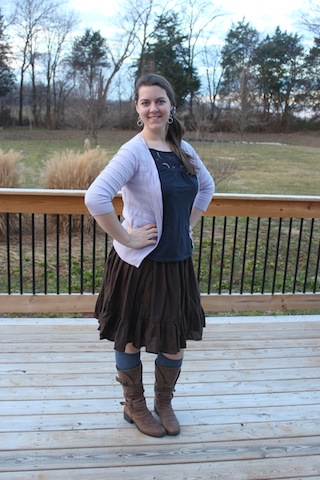 shirt/Loft outlet; cardigan/Limited; skirt/Old Navy; socks/Forever 21; boots/Gianni Bini via Hyder Burkes
Kinda looks like my leg is screwed on weird, doesn't it?  Strange pose, sorry.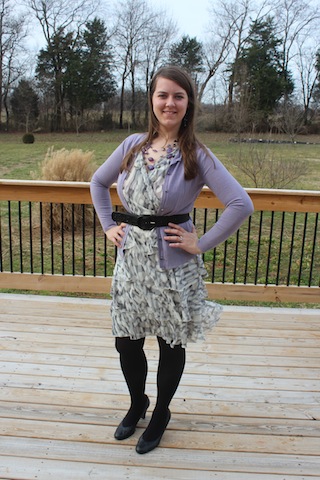 dress/New York & Company via Rugged Wearhouse; necklace/NY&Co.
(I didn't mean for that to become a New York and Company add)
(I can't remember where I got the belt, tights, or shoes)
I love, love, love this dress.  It's so beautiful!  Plus the neckline is nice and modest without having to add a tank top underneath (pretty hard to find sometimes).  I hate that I had to cover it up with the cardigan (it's sleeveless and although it's been unseasonably warm for February, it hasn't been that warm).  I can't wait until spring so that I can wear it as-is.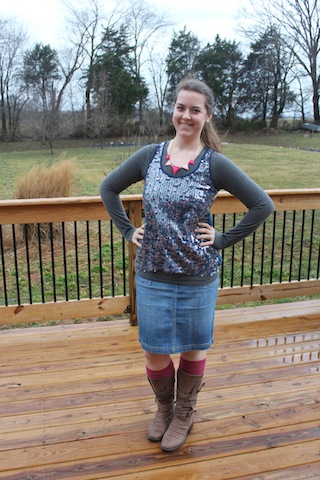 tank/Rugged Wearhouse; long sleeved shirt/Limited; skirt/NY&Co.; socks/Target; boots/Gianni Bini via Hyder Burkes; necklace/Rugged Wearhouse
Hello, sparkly tank!  Another fantastic Rugged Wearhouse find.  I actually don't think I owned anything with sparkles until now.  What is wrong with me?
Target had these super comfy boot socks on clearance so I grabbed a fun pink pair.  I think I need to go back and get some more, though, 'cause I really like them.  They don't have a tight band around the top that lots of socks have.  I dont know if I just have abnormally large calves or something, but lots of socks make my legs feel like sausages and give me a muffin-top of sorts spilling over the top of my socks.  Yikes.  These don't do that thankfully.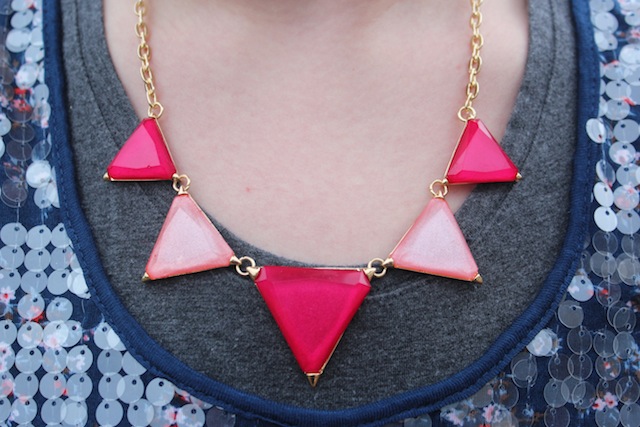 And check out that necklace!  I adore it and I want to wear it every day.  What a great find.
So wow, finally a diversion from the same 'ole same 'ole!  I have a few other new things that I haven't worn yet that I'm excited about showing off soon.
Linking up to What I Wore Wednesday.