I went to my favorite store, Rugged Wearhouse, a few weeks ago and got some great new pieces to transition to spring.  I hadn't bought any new clothes in a while so feast your eyes on some new (finally) items in my rotation.
shirt/Loft outlet; sweater/Forever 21; skirt/NY&Co., tights/Vera Wang via Kohl's; boots/Gianni Bini via Hyder's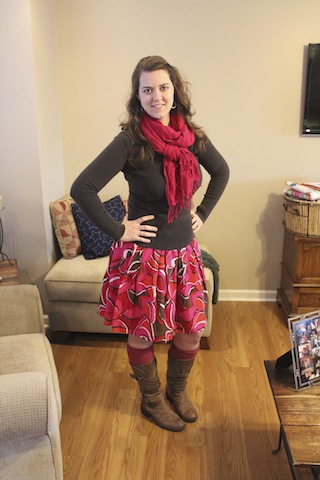 sweater/Gap via Goodwill; scarf/??; skirt/Goodwill; socks/Target; boots/Gianni Bini via Hyder's
An oldie but goodie for my birthday (I feel like I wear that skirt every week…but I just love it!).  Target had some great chunky book socks on clearance recently.  They are comfy!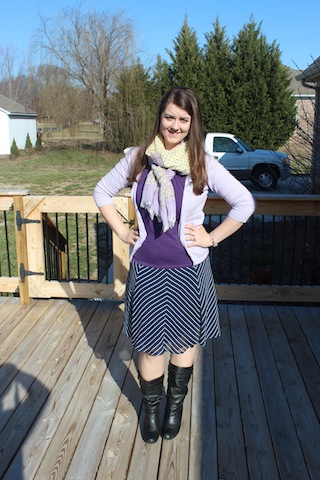 shirt/Loft outlet; cardigan/Limited; skirt/Goodwill; boots/Madden Girl via Marshall's; scarf/Rugged Wearhouse
Sorry for the crazy expression – the sun was really bright and this was the best picture we got.
I don't usually wear yellow and especially not near my face (it makes me look jaundiced), but this yellow and lavender scarf was so pretty I just couldn't resist.  I'll have to take a close up picture so you can see the details.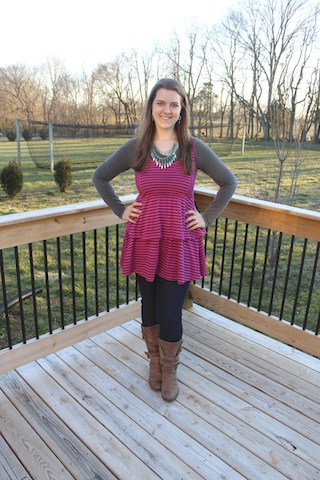 long sleeved shirt/Limited; pink shirt/Rugged Wearhouse; jeans/Forever 21; boots/Gianni Bini via Hyder's; necklace/Rugged Wearhouse
I love this fun pink shirt!  It isn't the most flattering (looks a bit maternity from the side) but I like it just the same so I'm going to keep wearing it.  So there.
long sleeved shirt/Limited; sweater/Dress Barn via Rugged Wearhouse; skirt/NY&Co.; boots/Gianni Bini via Hyder's
Thoughts:
1.  Rugged Wearhouse is killing it right now!  It's very hit-or-miss for me; sometimes I'll go in and find very little, sometimes I find tons and tons.  I've gotten several good things there recently, especially jewelry (they had tons of New York and Company jewelry for $4…and that stuff is way more than that at NY&Co.!).  The various brands that they carry varies from time to time, but this weekend I saw that they had Anthropologie pants that are normally $118 for $14.  $14 people!  Crazy.
2.  If you haven't looked to see if you have a Gabriel Brothers/Rugged Wearhouse (same stuff and company, different names) – go check!  You won't regret it.  That's where I get probably 50% of my clothes.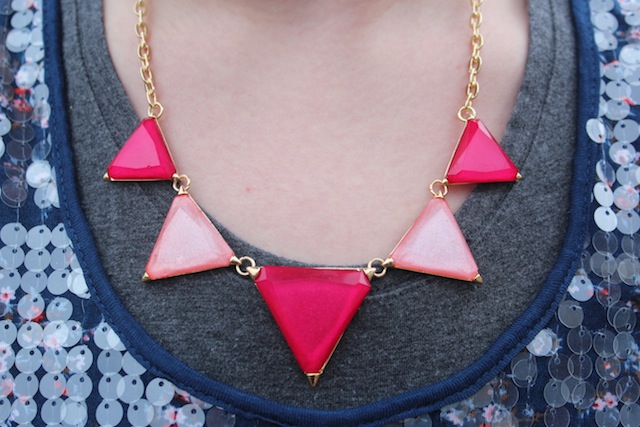 3.  Speaking of new items and Rugged Wearhouse, don't forget to enter to win this necklace from last week!  Giveaway ends tonight so hurry!
Linking up to What I Wore Wednesday