I'm not really sure why, but pot roast was one of those meals that I was really intimidated by.  It seemed like it would be super hard to make and I avoided it for years…little did I know that it is literally one of the easiest and quickest meals I have in my repertoire.  Lucky for you, I'm going to share my recipe so you too can make this delicious dish.
Forewarning, if you desperately cling to precise recipes then this recipe might be a bit vague for you.  But I promise, it's hard to mess this one up, so try to give it a chance.
Also, if you have an aversion to raw meat, you might want to skip over the next few pictures…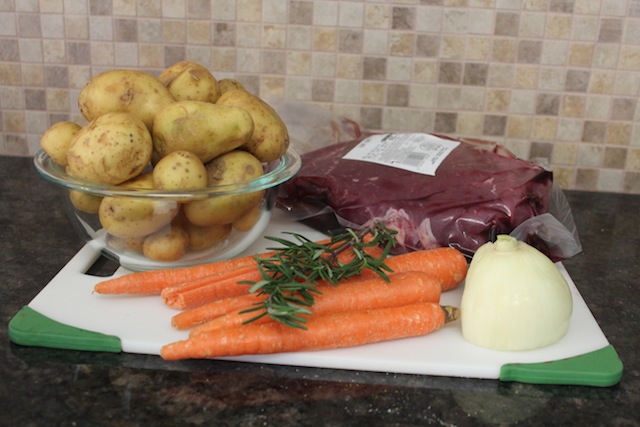 What you'll need: rump roast, onion, carrots, potatoes, and rosemary (not pictured: salt and pepper)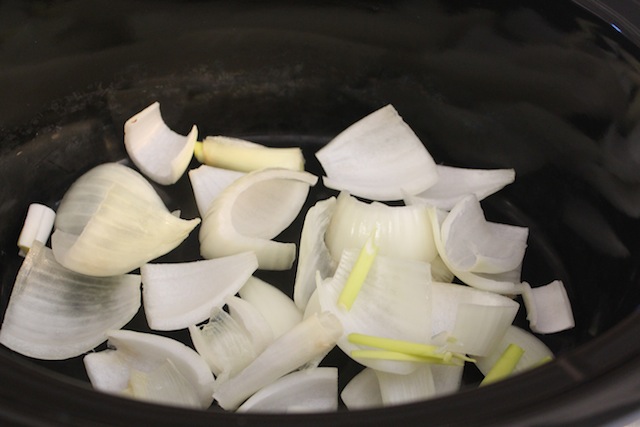 chop the onion in large chunks, layer in the bottom of the crockpot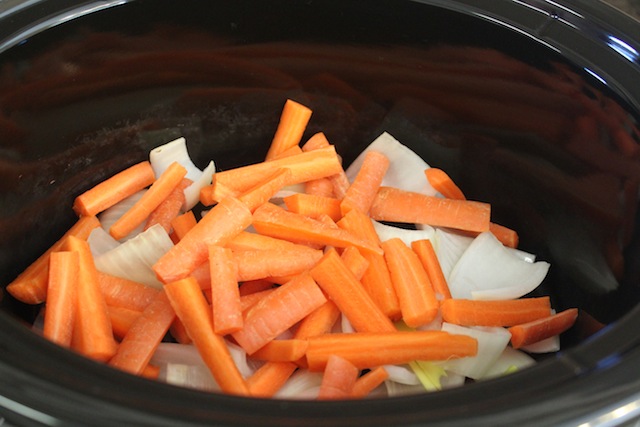 peel and chop the carrots and add to the crockpot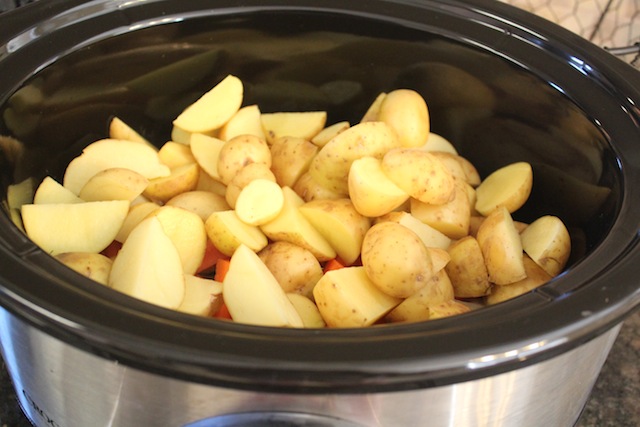 then chop and add the potatoes (I leave the peel on)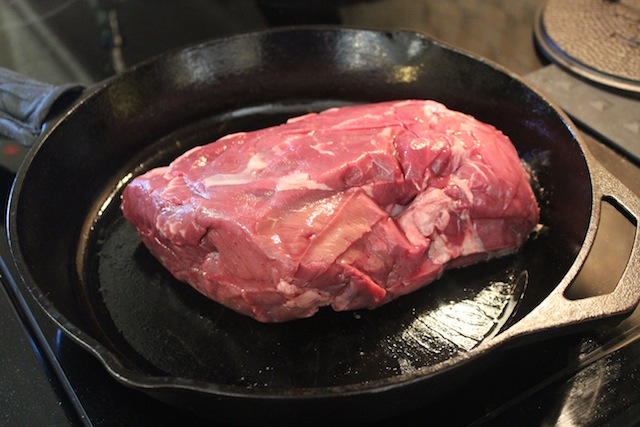 have your wonderful husband brown the roast put on your big girl pants and brown the outside of the roast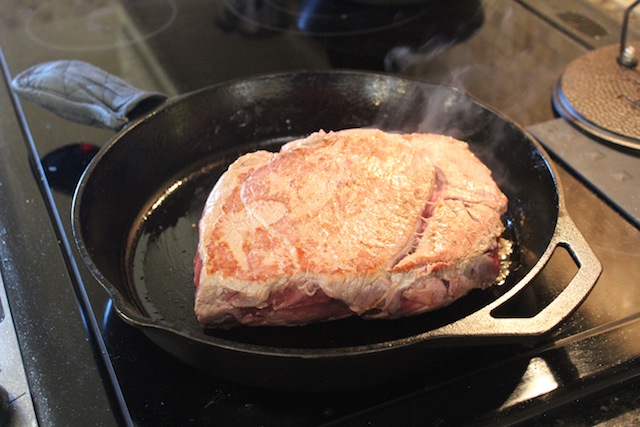 you don't have to brown it long, just a few seconds on each side until it looks like this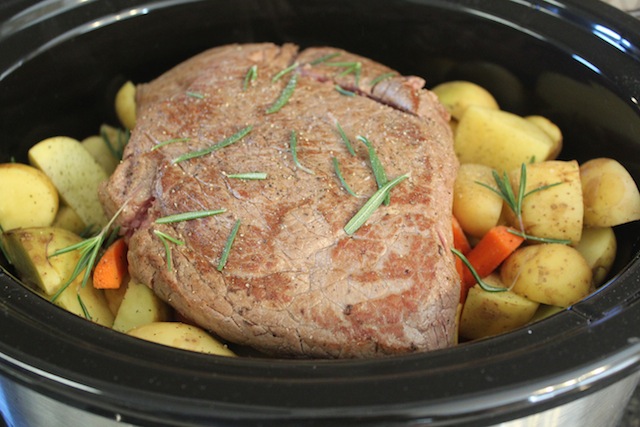 place the browned roast on top of the vegetables, and sprinkle with salt, pepper, and rosemary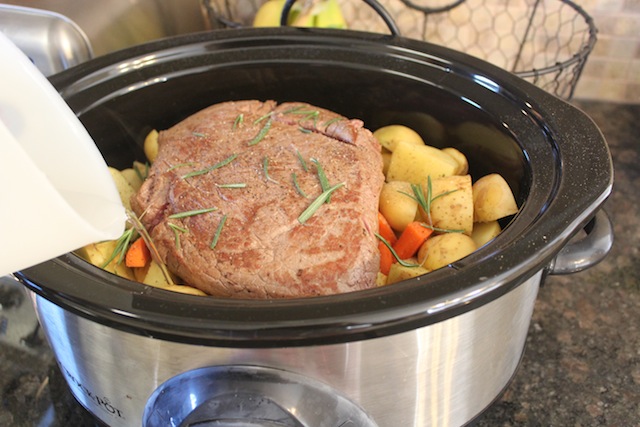 add a little bit of water to the bottom of the crock pot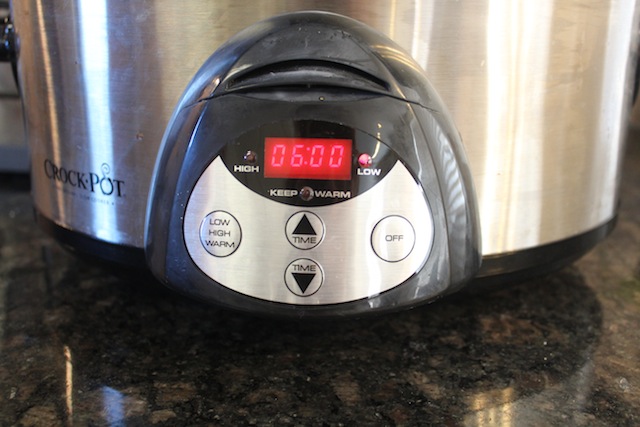 cook on low for 6 hours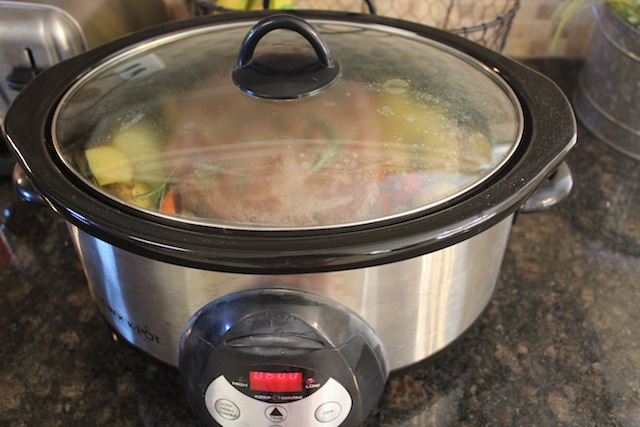 prepare for a party in your mouth
This is so easy to throw in the crock pot and then have a whole meal – meat and veggies – ready in just a few hours.  It's a perfect meal when you're having guests over.  The vegetables absorb the flavor from the meat and become so much better than plain veggies.  In fact, I don't like carrots, raw or cooked, and yet I'll eat tons of them cooked like this with pot roast.
This is a very flexible recipe and can be adapted based on what you like and have on hand, but here's a general guideline.
Recipe
Ingredients
3 lb roast (I like rump roast)
half an onion, chopped in large chunks
2-3 cups carrots, peeled and chopped
2 pounds of potatoes, chopped, peel left on
1/2 cup water
salt, pepper, and rosemary (I try to use fresh, but dried is fine too) to taste
Instructions
Put the chopped onions, carrots, and potatoes in the bottom of a large crock pot (mine is 6 quarts).  Brown each side of the roast over medium heat for a few seconds.  Browning the roast makes it look nicer in the end and helps seals in the juices.  Sprinkle salt, pepper, and rosemary over top of the roast and veggies.  Pour 1/2 cup of water into the bottom of the crock pot (this may not be necessary since the roast will make plenty of juices and moisture itself, I just like to make sure there is a little liquid in the bottom to start).  Cook on low for 6 hours.